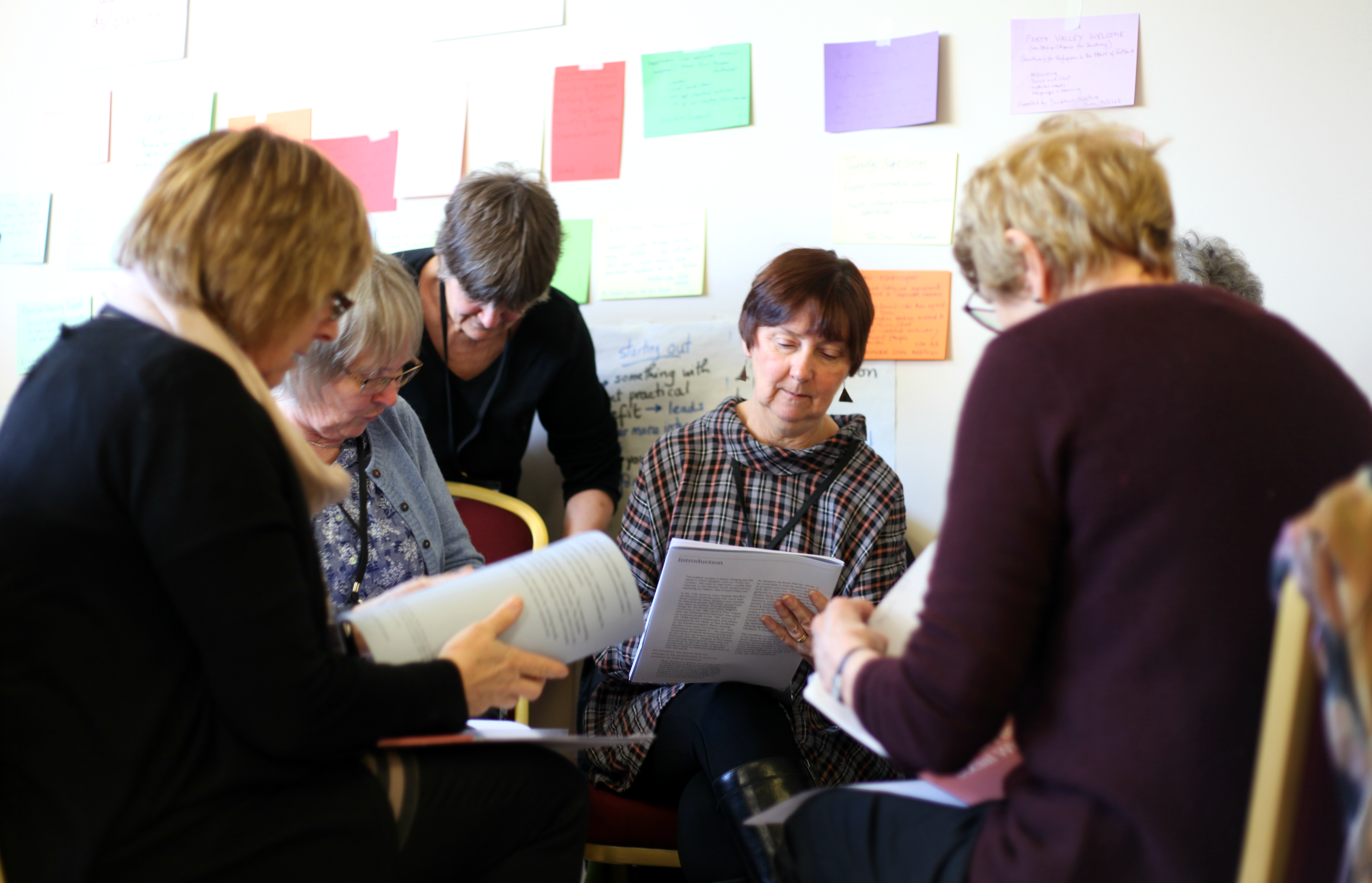 Book a climate or new economy workshop
There are five climate or new economy workshops available to all Quaker meetings in Wales, Scotland and England. They are free to book, run for two hours, and are designed for a general public audience, creating an opportunity for meeting outreach and networking in the local community.
To book any of the workshops listed, please email neweconomy@quaker.org.uk or call 020 7663 1046. Session plans for the workshops are available for groups who would like to run their own event.

Quakers and climate justice – an introduction workshop
Worried about climate breakdown but don't know what to do? This workshop is for you. This is a session for people who feel led to take action on the climate, but are unsure where to start.
Perhaps you have made some changes to your life, but don't feel able to make more radical steps. This session suggests wearing an ever-harsher hair shirt isn't the answer, and looks at what can be done to bring about system change without being wrenched too far out of our individual comfort zones. It will touch on the Quaker testimonies, explore what 'climate' and 'justice' have to do with one another, and point to some simple actions you can take.
Transforming our economy for climate justice
The UK government says it is committed to cutting carbon emissions. Yet it also continues to back our continued dependence on fossil fuels. How can we transform our economy to work for us and not against us? And what does all this have to do with Quakers?
This session looks at how our dominant economic system is driving climate breakdown, and invites us to imagine an economy where people, communities and ecosystems can flourish. Using examples of groups who are working for a just transition to a zero-carbon society, it offers an opportunity to discuss actions we can take.
Tax justice – a Quaker concern
How can we use tax as a tool to build 'an economy where Quaker testimony can flourish'? This session looks at why tax is key to equality and justice, and how Quakers can take action for a just tax system. It includes an opportunity for small group discussions exploring the big questions about tax and its role in our society, and starting to imagine a better tax system.

Mapping the new economy
The new economy is already happening – in food co-operatives, in repair workshops, and in the unpaid help people give their neighbours. This session offers an opportunity to discuss the projects that are building the new economy in your local area, and consider how Quakers might use our strengths and assets to support and amplify that work. This workshop has a practical focus and is suited to those who are keen to take action locally.
How inequality harms us all
What has economic inequality got to do with the health of individuals and society? And how are its effects connected with what we are doing to our planet?
This talk by Martin Wilkinson from Muswell Hill Meeting presents these issues as explored in the work of Richard Wilkinson and Kate Pickett (authors of The Spirit Level and The Inner Level and founders of The Equality Trust) and invites Quakers to discuss what can be done to address inequality and increase understanding of its impacts.
Turning the Tide
Turning The Tide (TTT) is a Quaker programme that supports groups to bring about imaginative, nonviolent action for positive social change. We do this by providing facilitation, training and ongoing accompaniment and support.

For over 25 years we have worked with UK-based anti-nuclear campaigners, co-housing projects, anti-fracking networks, and many more. We have also worked extensively with peace and social justice activists in East Africa. Read more about our work in East Africa.
We believe that nonviolence is the most powerful tool for achieving transformative social change. We draw inspiration from ordinary people who respond to injustice and divisions in creative and compassionate ways, as well as campaigners like George Lakey and Martin Luther King.
Lisa Cumming, the Turning the Tide Programme Manager, writes about conflict and community actions for peace and social justice here.
Free resources for social action

Quaker Peace & Social Witness publish Toolkits for Action, booklets that drawing on stories of Quaker witness across the UK and campaigning expertise. Covering different areas, each guide offers practical tips on organising actions, managing group dynamics, and reaching the media, among other things. Go to the Toolkits for Action.
Turning the Tide also publish free and printable tools and tips designed to aide you in running your own social action training sessions. Go to the Turning the Tide facilitator's toolkit (offsite link).