Average read time: 6 minutes
How to support the anti-DSEI arms fair actions from afar
Lyndsay Burtonshaw suggests 10 ways to support those taking part in the week of action to stop DSEI, and shares how to get involved in anti-arms fair actions.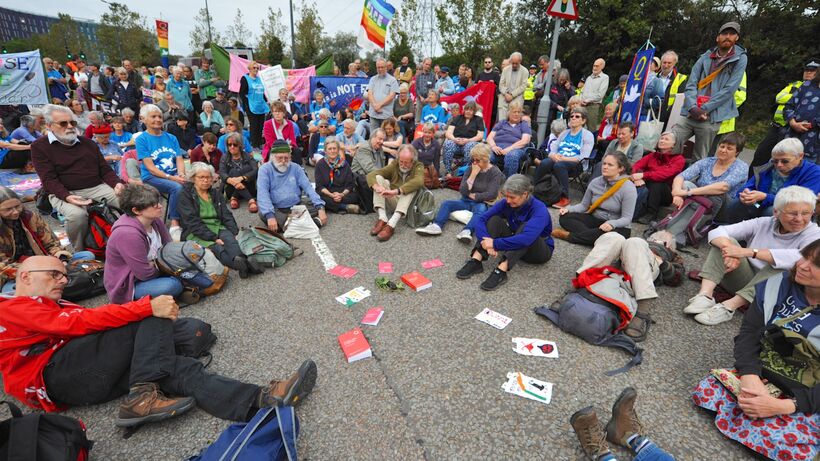 In September, hundreds of Quakers will descend upon the London borough of Newham to protest the set-up of the DSEI arms fair. DSEI 2021 featured over 1,600 exhibitors, including most of the biggest arms companies. This year is set to be no different.
[QUOTE-START]
Because of DSEI (Defence and Security Equipment International), more weddings in Yemen are at risk of being bombed, more drones in Afghanistan will traumatise children, and more democracy protesters the world over will be met by armed police. We believe that each one of us is unique, precious, a child of God. And so we have decided to act.

- Quaker Roots
[QUOTE-END]
Weapons on display range from small arms and armoured vehicles, to combat aircraft and warships. Companies market their wares to more than 30,000 attendees. These include official military and security delegations from around the world, including many that represent human rights abusing regimes and countries involved in conflict.
The arms fair is organised by Clarion Events and the government's arms sales unit, Defence & Security Exports. Government support is crucial to the success and continued existence of DSEI. DSEI takes place behind heavily protected security fences and police lines – designed to allow arms dealers to trade their wares unhindered by transparency or public protest. This is where those who profit from war, repression and injustice do business.
Quaker Roots has been organising Quaker action against the arms fair. Go to their 'get-involved' page to find out more.
But what if you can't be there in person this time? Here's 10 things you could do:
1. Join the online meeting for worship
There will be a Quaker meeting for worship as part of the Quaker witness in London from 13:00 on 7 September. There will also be an online space at the same time, to uphold those taking action, and those experiencing the devastating consequences of the arms trade. Register to take part.
2. Join a peace pilgrimage
Quaker Roots are inviting Friends to lead a Peace Pilgrimage in your local area in the build-up to DSEI, or join the Peace Pilgrimage from Oxford to DSEI between 5-11 September.
3. Hold a local vigil, public event, street stall or action
Include information about DSEI in awareness-raising events, such as public meetings or street stalls. Actions could include holding a candlelit vigil to remember victims of the arms trade, an interfaith service for peace, or screening the documentary War School.
Have a look at the toolkit for action for further suggestions.
4. Get involved in local campaigns
DSEI is not the only arms fair in the UK. Malvern Quakers were part of a successful campaign to stop an arms fair being held at the Three Counties Showground in Malvern. But there are many others. Campaign Against Arms Trade have a list of arms fairs happening around the country and you could join a campaign against your closest one.
5. Uphold those taking action
Advices & queries challenges us to "uphold those who are acting under concern, even if their way is not yours." Once names of those charged are publicly available, you could name those involved and provide them with the prayerful support of the meeting.
Friends who are arrested and charged at the arms fair protests will be recorded by Meeting for Sufferings, the national representative decision-making body for British Quakers. Meeting for Sufferings records all Quakers arrested for faith-led action in the Court and Prison Register, in records going back to the 1650s. Minutes from Meeting for Sufferings are made available to all Quaker meetings and you can share these names in meeting.
6. Provide police station support
It is so important that we support arrestees, which includes meeting people at the police station when they're released. Friends are often exhausted, hungry, cold and far from home when they leave the police station. Green & Black Cross is organising the arrestee support rota for DSEI. Read more about what Police Station Support involves.
This would be an especially useful role for London-based Friends (you don't need to have been at the protest to help with this role). Call outs for police station support during the protests will happen in a Signal group. If you would be willing and able to support in this way, please contact Dixe Wills at: peace@quaker.org.uk.
7. Visit the Art the Arms Fair exhibition
Art the Arms Fair is partnering with Demilitarise Education to highlight university ties with the weapons industry. Art produced by internationally acclaimed artists will be exhibited at Gallery 46 in Whitechapel, London starting 11 September. Exhibition includes art by Gavin Turk, Jill Gibbon, Ken Nwadiogbu and kennardphillips; Jeremy Deller will create a limited edition print for the show.
8. Raise awareness in the media and online
With little coverage in traditional media, raising awareness online is vital. It's crucial to go 'beyond the bubble' and reach people who would not normally talk about the arms trade, or protests against it. For example, a Mail Online article led to many discussions about DSEI and the demonstrations to stop it. You could also raise your concerns about the arms trade in local media.
9. Contact your local MP, MS, or MSP
Even if they don't agree with you completely, many MPs, MSs, and MSPs support ending the trade in arms to countries with poor human rights records. Asking for their support in opposition to the arms trade lets them know where some of their constituents stand.
10. Become a legal observer
Actions like stop the arms fair always need legal observers. They provide basic legal guidance and act as independent witnesses at protests. Find out more about being a legal observer.
Read more and get involved with Quaker action against the arms trade