Average read time: 4 minutes
A living heritage: sharing the significance of our Quaker meeting houses
Some of the most historically important Quaker meeting houses now have protected status thanks to a three-year project that involved Quakers across the country. It's something we should all be proud of, says Ingrid Greenhow.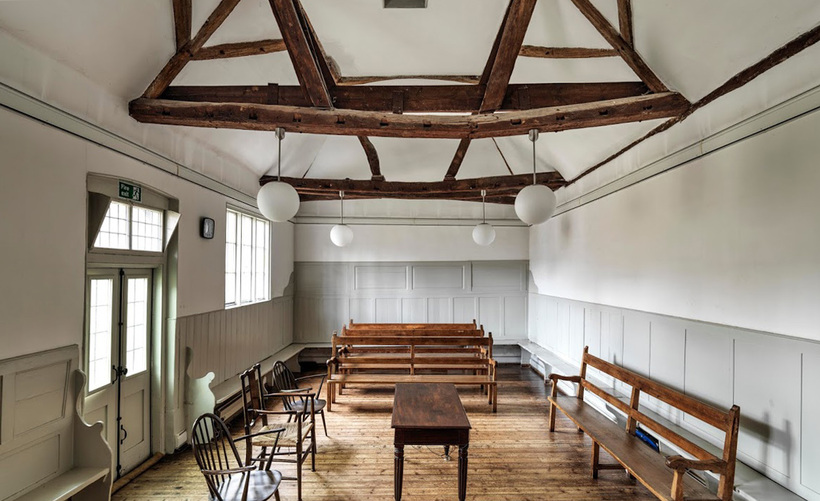 The recent news of new or upgraded protected status for 17 Quaker meeting houses across Britain emphasises the importance of not only our Quaker history, but our continuing presence as a worshipping group. It underlines that ours is a living heritage, as all these buildings are still being used.
Listing may bring some restrictions and a few headaches, but we should be proud of this national acknowledgement of the significance of the work and faith of early and indeed present day Quakers.

Buildings given protected status include the very earliest we have. These include Hertford, newly upgraded to grade I and constructed in 1670 – the oldest meeting house in continuous use – and Cartmel (1859, grade II) with its stable and gig house, designed by Alfred Waterhouse, the architect of the Natural History Museum. More recent meeting houses have not been ignored, and Blackheath, built in 1970-71 and described by the survey team as a "small, concrete, Brutalist jewel", has been newly listed at grade II.
I was personally delighted to see that Aylesbury Meeting House (1727), in my own area meeting, has been listed at grade II. It is in the historic core of Aylesbury, set back a little way from the road, up a path, and is an oasis of peace and calm in a busy town.
Documenting our heritage
The new status of these buildings is thanks to the Quaker Meeting Houses Heritage Project, a collaboration between Historic England and Quakers in Britain. Its aim was to gain an overview of all 345 Quaker Meeting Houses currently being used by Quakers across England, Scotland, Wales and the Channel Islands. It was a real opportunity to take stock of what we've actually got, and explore the history, condition, use and significance of these buildings.
The project ran for three years, ending in 2017, and I had the very rewarding job of serving as clerk to the hard-working project group (four of us in all). We worked closely with Historic England to find consultants who could help us to get literally hundreds of Quakers involved in the project.
We went on to hold six regional training days so that Quakers could understand why we were doing this, and how they could help. Then, with great professionalism, tact and persistence, the survey team got into every single meeting house and met with local Quakers who came up trumps with maps, documents, tea, cake and enthusiasm.
Wonderful places
The resulting survey describes each meeting house in detail, and already some meetings are starting to use this information as the basis for visitor guides to their meeting houses. The survey also provides information for local planning and heritage officers so that they understand the significance of our nonconformist heritage, our often modest and unassuming buildings, and our commitment to sustainability.
Interest in our buildings has grown nationally in recent years, largely thanks to this project, and I've had the opportunity to talk about it to many national organisations and groups. Another plus is that Quakers in Britain are now represented on Historic England's Places of Worship Forum, a group pursuing the conservation and sustainable future of historic places of worship.
The survey also gave Historic England the information necessary to decide on listed status for our properties, and lead directly to the recent announcements. This news got a lot of press attention, including an article in The Observer, a report on ITV and mentions on BBC Radio. A book on Quaker Meeting Houses is in the offing and should be available in 2020.
This coverage is valuable, but for me the best part of the project was experiencing the willingness of Quakers across the country to engage with it and recognise its worth. Without this help, it just would not have been possible. More than once Historic England has commented that we are an exemplar of cooperation. Marion Barter, the consultant who led the project, told me afterwards: "I'm proud to have been involved in the Quaker meeting houses project – wonderful places and great people. It is one of the most rewarding things I have done."
Informed decisions
I hope that the survey will continue to help planning officers understand why our meeting houses are as they are, and that we as Quakers also understand the wider significance of our buildings and do what we can to retain their unique character. In times of declining numbers, difficult decisions may have to be made about our buildings, but now we have the information and understanding to make sure they are informed ones.
Above all, let us use our buildings wisely, share them, care for them, throw open our doors and share our faith and witness.