Average read time: 5 minutes
Welcoming young people: 5 insights from visiting Quakers in the USA
Lucy Sam explores the similarities and differences in how British and American Quaker meetings are working to ensure young people are more included.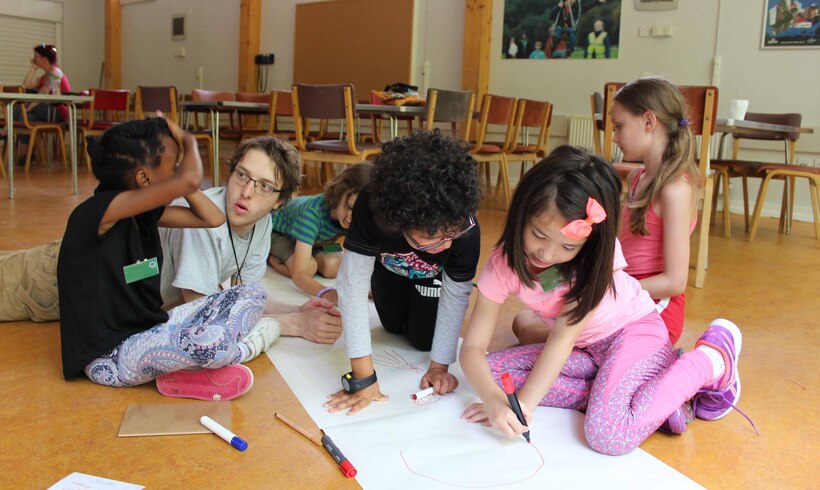 Helping Quaker meetings be more welcoming to children, young people and families is something Quakers across both Britain and the United States are doing to ensure the faith is accessible to all.
With Quakers on both side of the Atlantic working on this, there is plenty of potential for sharing challenges, ideas and inspiration. As part of a growing exchange in this area, I visited New York, Philadelphia and Baltimore Yearly Meetings to find out more about how they are working with children and young people, and share some of the approaches we in the Children and Young People's team have been taking.
Despite the difference in size and geography of the yearly meetings I visited to ours in Britain, I found that there were many similarities to our experiences – and some interesting differences too. Here are the top five things I learnt from the visit.
1. Shared resources can lead to interesting discussions
At one meeting I joined a reading group for seekers. When I told them about Living our beliefs, the publication for and by young Quakers, they asked for copies so they could read it together and reflect on their interpretations.
It was a beautifully rich meeting, where we spent time discussing how to engage young Quakers. Ideas included shadowing opportunities, meeting at different times, using social media.
One idea was to form more discussion groups. I met an inspiring Friend in his early twenties who was keen to start a similar group for young people, to help them explore faith with their peers and help young people engage with Quakerism.
2. Quaker camps aren't just for Quakers
A big difference between American and British friends is the role that Quaker camps play in outreach. I spent two days at Catoctin Quaker camp run by Baltimore Yearly Meeting. Interestingly, although the camps are run by American Friends, not many of the young people attending them are Quakers.
Young people stay for two to four weeks at the camps. Last year, Catoctin experimented with letting first timers stay for a week. This was a bold new step and included 9-year-olds staying away from home for the first time.
Similar to the Quaker summer events in Britain (Yorkshire Friends Holiday School, Summer Shindig etc.), Catoctin had a unique spirit with a real sense of community and belonging. Many of the camp counsellors and those responsible for running the events had attended the events when they were children.
Pressing play on the video below will set a third-party cookie. Please see our cookies page to find out more.
3. We share the same challenges
In both Britain and the US there are vibrant all-age communities worshipping, growing and working towards positive change together. In Britain, we have seen how integral the contributions of children and young people were to the recent decision to revise Quaker faith & practice.
But everyone feels isolated at times. In both countries, young Quakers can find themselves in the minority, either at school or among other, older Quakers. We agreed that attending national events can help provide a greater sense of Quaker community for young Quakers as well as spiritual nourishment.
We also discussed two key challenges from our work: what are the best ways to actively welcome and include young people? And what are the existing barriers preventing them from engaging more their Quaker faith and community?
4. But we have differences too
One key difference between us concerns Quaker schools. In the US Quaker schools are well known and respected, and it's considered a good thing to send your child to one. Many meeting houses are also situated in school grounds. In Britain, Quaker schools are often seen as creating and reinforcing inequality, though we're working on identifying opportunities for local Quaker youth events to be more accessible to people attending Quaker schools.
We've also been working differently. New York Yearly Meeting's Melinda Wenner Bradley (who delivered an inspiring session at Yearly Meeting 2018) works directly with meetings to generate ideas for them to try with young people. The meeting then tries to put those ideas into action, with Melinda returning every so often to support the work.
In Britain we are currently running a pilot project with similar aims but a different approach. It involves employing youth workers in Yorkshire and South-West England to see if they can help bolster work being done by Quaker meetings in these areas. If successful, this project might provide a model for use in other areas of Britain.
5. Distance isn't a barrier to collaboration
Visiting the US yearly meetings in person was really valuable. I came away enriched, full of insight and thought, and I hope that my visit paves the way for future collaborations. But of course our future interactions don't have to be done face to face: technology allows us to continue the conversation virtually in webinars, Facebook groups, email groups and all sorts of other ways.
If we continue this rich dialogue we can carry on finding ways of inspiring each other to reach our shared vision: to build a community of Quakers that includes many more young people.