Average read time: 4 minutes
'May love be amongst us' as we walk the many pathways of faith
Lynda Williams shares practical instances of loving interfaith relations.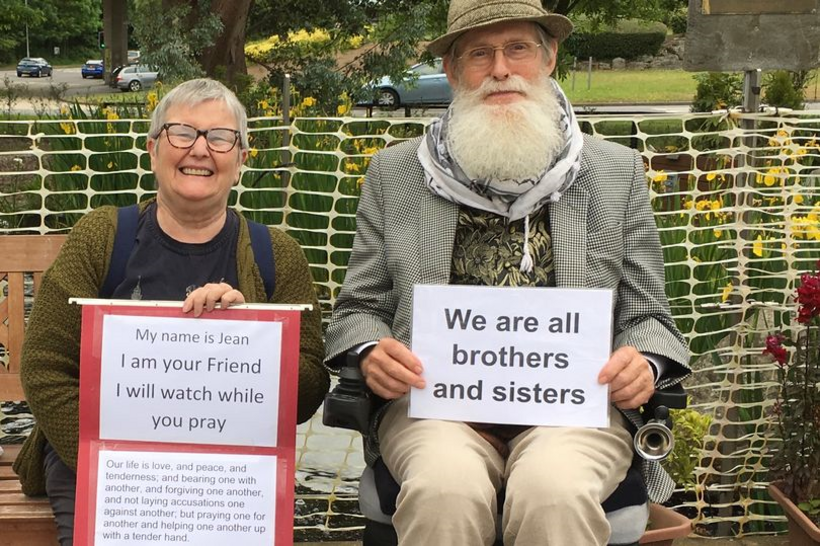 For me, the finding of the Quaker pathway of stillness and silence as the gateway to transcendence was criss-crossed with walking – sometimes running – along other pathways of faith. These explorations have been a real joy in my life. But since being a member of the Quaker Committee for Christian and Interfaith Relations (QCCIR) I have deepened that joy by meeting each person of faith, just as they are.
A Sufi I met said "may Love be amongst us". He told me that he says this before every meeting, teaching or conversation. This flew like an arrow and opened my heart, affirming as it does, that pathway through love to the Divine in each other, whatever faith tradition we may belong to.
When the terrorist attack on Christchurch, New Zealand happened in March 2019, Jean Scott-Barr of Reading Quaker Meeting was horrified. Speaking to Berkshire Live in August, she explained that she wanted to show "that there are people in this country, and in the world, who do not subscribe to the demonisation of Muslims and Islam."
In the week following the attack on the Christchurch mosque, Jean wrote 'I am your Friend I will watch while you pray' on a placard and stood outside of the Aisha Masjid and Islamic Centre during prayers. She has done so, with her Quaker husband Frank, since, saying "we still go because the friends we have made at the mosque have told us that they regard it as important; a sign of love made visible… We have received such a warm welcome that it has become one of the most enjoyable times of the week."
A local doctor tweeted a picture of her vigil which became popular around the world – Jean said "we were told that within a couple of weeks our photo had gone viral in Pakistan! Amazing!"
Jean's solidarity is love in action. Truly love is amongst us when actions reflect the Divine at the source of our faiths.
Faith in politics
"When we show politicians that our fears about ecological breakdown and our hopes for a peaceful future are becoming central to our spiritual experience, we also demonstrate our support for bold action. Our task is to show politicians that our faiths lead us to call for a transition to a new, sustainable economy with justice and its heart."
Interfaith action happens at the local grassroots level, from public talks with an interfaith angle in Quaker meeting houses to direct actions where the risk of arrest is high. Turning the Tide Network Support Coordinator Lyndsay Burtonshaw reflects on a recent multifaith direct action that obstructed the DSEI arms fair in London. They describe it as a "profoundly moving interfaith act of spirituality" where everyone played a part.
"There was a nun in full habit in the road blocking trucks. A phalanx of Buddhist monks in soft yellow robes, serenely cross-legged and stoically chanting, for hours. Bishops waving eight foot pacifist fellowship crosses. Muslim prayers shared with an assembled crowd of 600 Quakers, followed by a meeting for worship under the beating sun." All of these actions were peacefully taking place to stop the arms fair.
It worked in part because, Lyndsay suggests, the Stop the Arms Fair coalition has a Diversity of Tactics agreement. This meant that the blockade featured anarcha-clowns locking on, baby Quakers chalking with peace educators on the road, and many forms of worship unfolding from early morning right into the afternoon, preventing the arms fair from engaging in 'business as usual'.
Beyond celebrations
It seems that interfaith activism brings Friends precious opportunities for learning about the varied traditions of social change in other religions. And what seems 'normal' to us can, in turn, be surprising for others. Working together across difference shows us what diverse customs can bring to everything we do.
Not all interfaith events need be celebratory or focused on action – sometimes our deepest bonds are forged in contemplation, and even grief. After the Global Climate Strike demonstration in London this September, Westminster Quakers hosted worshippers from many different faith groups in an interfaith gathering that centred on climate justice and climate grief. Muslims, Anglicans, Jews, Quakers and Catholics took part and shared stories of despair, resilience, and courage.
I appreciate that Quakers do not shy away from exploring the ultimate rite of passage in their interfaith gatherings – death. Leicester Quakers offer an interfaith event in the form of a Death Café, where anyone can come along and explore their current relationship to loss and mortality. Interestingly, Interfaith Week in the UK always begins on Remembrance Sunday, a profoundly sad shared experience that connects many faiths.
Interfaith meetings and gatherings are places where we can be open and curious together – students rather than teachers. We seem to be drawn to these events because of what we have in common: we are people of faith, on spiritual journeys, meeting as fellow-travellers. We can celebrate and commiserate and contemplate together, whether we are sharing our customs, our concerns, or our own lived experiences. By opening up, we see 'that of God' in each other, and create shared gateways to the Divine.