Average read time: 2 minutes
Taking action on militarism
Ellis Brooks outlines recent developments in the rise of militarism in British society and introduces a new resource for anyone looking to resist it.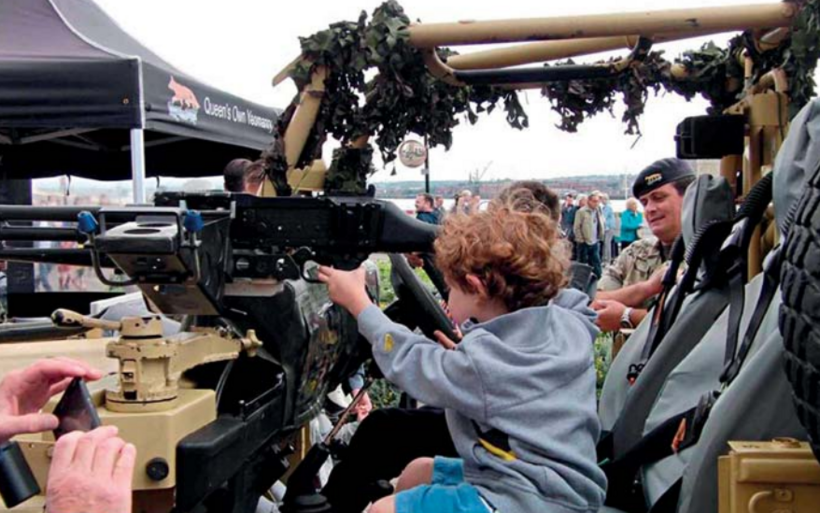 Militarism – the belief that a country should maintain a strong military capability and be prepared to use it aggressively – is nothing new. It began the first time a ruler wanted a reluctant population to fight, and it is something that Quakers have always resisted.
In Britain, as in many other countries, it is on the rise. Some things haven't changed: soldiers are still recruited at the age of 16, despite international condemnation and mounting evidence that it harms the child recruited. Economic recruitment – the targeting of the poor – continues apace.
But more recent developments, from the rapid expansion of cadet forces to local councils signing up to military covenants, mean that the fabric of society is turning an even deeper shade of khaki.
The seeds of war
There are many worrying seeds being sown in education, including the university technical colleges linked to the armed forces or arms industry, or, in some cases, both. Significant spending from the arms industry is also going into science, technology, engineering and maths (STEM) activities in schools, such as BAE Systems' 'Education Roadshow'.
When it comes to tackling this rising tide, it's worth remembering that militarism consists not only of the size of the armed forces, but also of the cultural attitudes we collectively hold. Challenging it can begin internally, reflecting on how we are influenced by what's happening around us – from what we watch to what we share online.
As William Penn asked, what are the seeds of war in your life? Understanding this also gives us an insight into how others might relate to militarism.
Resources for resistance
If you'd like some ideas on how to take this awareness and put it into practice, have a look at the new Take action on militarism pack we've produced with the organisation ForcesWatch. It includes tips and ideas for action, background information and case studies and is being launched with an action-packed event at Friends House, London, on 21 October.
Britain Yearly Meeting is working hard with and on behalf of Friends to challenge militarism in many other ways. We host a strategy group of partner organisations who are intent on challenging different dimensions of militarism and produce authoritative research, such as that being done by Veterans for Peace UK and Medact to expose the consequences of war for soldiers.
Political action is proving effective too: Quakers in Scotland teamed up with ForcesWatch to petition the Scottish Parliament about military visits to schools on children's rights and welfare grounds, prompting a wider inquiry.
While militarism in Britain may be growing, there are many ways to resist. Contact us if you're taking action where you are, or want to.