Average read time: 4 minutes
Untangling the web: change through international structures
Faith Biddle reflects on how her experiences at the Quaker United Nations Summer School reignited the desire to build a better world.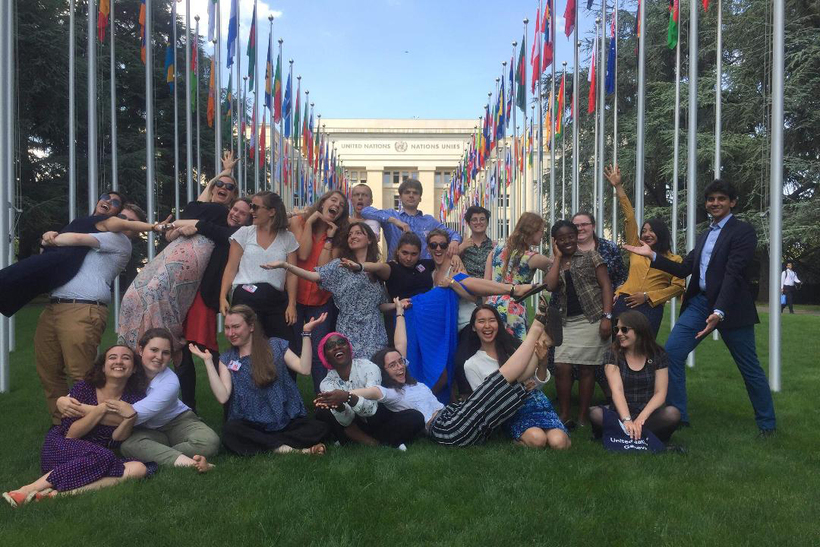 Having studied social anthropology, I have always been interested in the values we hold (both knowingly and unknowingly) and how these inform the way we live our lives. But the larger political structures that govern and influence our lives have always felt distant to me, something 'other' that I didn't know how to influence or be part of.
It's why I decided to apply to the Quaker United Nations Office (QUNO) Summer School. I wanted to challenge myself. I wanted to debunk some of the myths of our political and economic world. I wanted to learn about the facts of climate breakdown that our government had not yet told us. Most importantly, I wanted to reawaken the critical, questioning nature that my education had instilled in me.

I wasn't disappointed. From 7 to 19 July 2019, I joined 24 other young people from around the world in Geneva for an intense but wonderful two weeks of learning. The schedule was full of opportunities: we shadowed human rights sessions at the UN, met diplomats, engaged in model UN discussions, toured the World Trade Organisation and much more.
Spreading peace
So what is the Quaker United Nations Office and what does it do? Quakers have a firm understanding of working towards peace. But as QUNO states on its website, "peace is more than just the absence of war and violence". It's also about "recognising the need to look for what seeds of war there may be in all our social, political, and economic relationships".
It is for this reason that QUNO exists. Based in Geneva, near the United Nations, and in New York, QUNO does in-depth research and works to spread awareness of the importance of peace. It also exists to provide a space for diplomats and NGOs to meet each other, have conversations outside the normal channels of the UN, and hopefully find common ground to help shape the systems for a fairer more peaceful world.
This relationship building was also a big part of the summer school; we got to know each other, find common goals and interests, and hopefully form lasting friendships. The parallels aren't exact: I don't think QUNO staff ask diplomats to share a dorm room with five other people for two weeks, plait each other's hair and make friendship bracelets! But they definitely do encourage free flowing conversation over shared meals, and a chance to see the human behind the job title – two things I very much enjoyed during my time there.
An interconnected web
Now, less than two weeks after the programme, my experiences are still settling. I've realised that having knowledge of our political and economic systems is the key to working with them and to changing them. They are not something 'other' or something to be feared (and that's one way they can hold power over us). Instead, we should see them as being built by us, for us.
More than this, we should see the interconnected web of relationships that uphold these systems. Within every system, there are hundreds of ordinary people who are working for better human rights for all.
In short, it has reignited the spark within me that seeks to work with others to build a better world.
Building on the experience
The QUNO summer school experience is one I will not forget, and I feel truly grateful for it. I look forward to discovering how the course goes on to influence my fellow participants and to staying in touch with them for support and connection over the years. Arriving back, I had a conversation with a colleague who is still in touch with fellow QUNO participants from over 20 years ago. I hope to be able to say the same.
If you are of an age where you can go to QUNO Summer School (around 20 to 26), I urge you to go along next year. If you are not, I urge you to question what systems you are working within and ask: 'are they serving everyone?' If not, how can you empower yourself to bend or change the system? What relationships do you need to make in order to work together to create a fairer and more just world for as all?