Average read time: 3 minutes
Making peace work possible
Each year we place dedicated people in radical peace organisations to equip them for a life working for peace. This year we're looking to fund a third peaceworker and we need your help, says Sam Walton.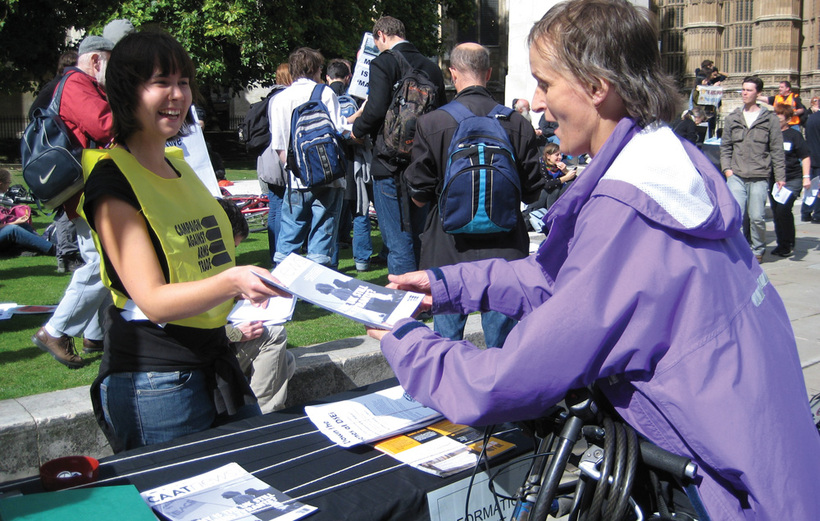 Some people have a calling to work for peace. They are going to dedicate their lives to working for peace no matter what. It could be through campaigning, community peacebuilding, peace education or research and policy work.
As Quakers we care about peace and we want to make sure these people are as effective in their peace work as possible. If someone is going to be working for peace for the rest of their life, what could be a more strategic investment than to train them up?
That's what our peaceworker scheme does. We place dedicated people in radical peace organisations for a year, so they can learn the skills they need to be effective. Most recently we've had two very different people following their calling through the scheme.
Wayne joined the army at 16. After being injured in an IED strike in Afghanistan he left the military and joined Veterans for Peace UK. Wayne has a natural gift for communication, and in his peaceworker placements at Peace Pledge Union and Global Justice Now he is finally using this talent to campaign against militarism. We think by the end of the year he will have the experience he needs to keep doing this professionally.
Abigail is very different. Raised a Quaker, she has a strong concern for the criminal justice system and had already begun to deliver workshops about conflict in prisons before she applied to be a peaceworker. At the Quaker-founded national youth charity Leap Confronting Conflict (whose CEO Thomas Lawson was one of our first peaceworkers) she has been able to pioneer new ways to work in prisons. She is becoming someone who is likely to influence developments within the criminal justice system for a long time to come.
Double the value
Wayne and Abigail were always going to work for peace. The peaceworker scheme means that they will have the skills and experience to sustain themselves and do fantastic work, professionally or voluntarily, for as long as they are called to.
I hate to sound like someone from a shopping channel, but wait, there's more! I think we get double the value – because we also want to support the organisations in the peace movement. By strategically placing peaceworkers we can significantly increase the capacity of organisations that are working in exciting new ways or are leading on a concern vital to Quakers. The peace movement is relatively small, even when compared to the climate movement, and this scheme has a massive impact on it.
During the past few years the organisations in which we've placed our peaceworkers have benefited in a variety ways. For example Conscience: Taxes for Peace emerged from a financial crisis with a powerful new campaign. ForcesWatch has been able to grow to tackle militarisation in schools. Medact has become a dynamic, growing campaigning body. Campaign Against Arms Trade, over the course of several peaceworker placements, has been able to dramatically increase its action and impact.
Support the scheme
Quakers usually place two peaceworkers each year, starting in September. This year we have an outstanding group of candidates and almost enough funding to place a third peaceworker – we are just £6,000 short. If you want to help people to develop the skills to work for peace, and help the peace movement to thrive, you can support the peaceworker scheme via our dedicated fundraising page.