Average read time: 5 minutes
Helping Quaker faith and witness to thrive
Oliver Robertson reports how the developments in Quaker Life and Quaker Peace & Social Witness aim to provide more impact, and how Friends can attend an online Q&A session to learn more about these changes.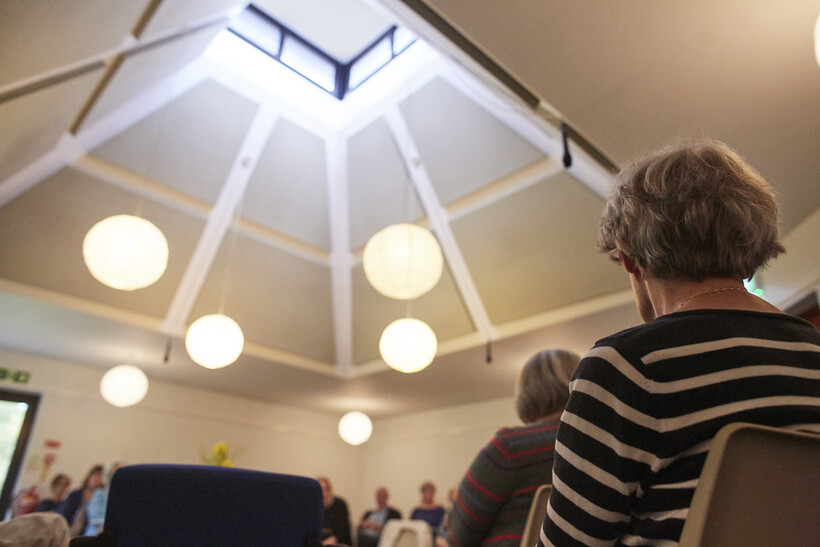 Our task at Britain Yearly Meeting (BYM) is to support Quakerism and Quakers in their lives of faith and witness.
This work is discerned by Quakers, appointed to give service on behalf of all Quakers in Britain, working out effective new approaches to supporting thriving communities and impactful witness.
As staff, our role is to put this discernment into action and there are several developments underway to improve our support for thriving Quaker faith and witness.
Expanding the local development worker network
The first four local development workers (LDWs) have been in place for some time, supporting Quaker communities in Cornwall, Devon and West Somerset; Kent, Sussex and Surrey; Wales and the Southern Marches; and NW England. They started as part of the pilot 'Vibrancy in Meetings project' used to develop the best way to design this new network. Now two more LDWs are joining the team. They will cover Scotland and Yorkshire.
The LDWs work in clusters of area meetings. They are paid staff who support and accompany Friends in all parts of their Quaker life. The success of this approach is, in part, because LDWs have the time to get to properly know the meetings in their patch. They see the connections and shared interests between them and have the links with the rest of the resources and support of the yearly meeting.
By spending months and years with Friends, they are able to see the underlying as well as the presenting need. A problem about premises may actually have at its root an issue around eldership and spiritual care, or conflict in the meeting. Learning that, they can support the meeting to deal with the real problem. We plan to continue expanding this network of support so that all our Quaker communities are within reach of a LDW by about this time next year.
All of our work to support Quaker communities will increasingly take this approach: listening and responding to the needs of Quakers. As it says in the Integrated Strategy for Supporting Quaker Communities (which guides the work of both BYM and Woodbrooke): 'Quaker communities are best placed to know their own needs and how they are called to manifest the divine commonwealth, as expressed in the aspirations in Our Faith in the Future'.
BYM and Woodbrooke are better able to support Quaker communities when we have helped them to identify their real, underlying needs and can offer support, possibilities and challenge. This is most effective when we meet Friends where they are, both spiritually and geographically.
Some support work requires specialist knowledge and will continue to be delivered centrally. Not everyone fits into the standard Quaker model of Sunday meeting. There will continue to be specific staff support to Quaker prison chaplains, who provide spiritual nourishment and more, in an often-challenging environment. Our work supporting youth, children and families, as part of all-age communities, will also retain specialist staff. They will look at existing and new ways of building community for these groups, in person and online.
Supporting more impactful Quaker witness
Many Quakers express their faith by putting it into action, working to create the world we want to see. Supporting Friends in their witness is a key part of the work of Quaker Peace & Social Witness (QPSW), the faith in action department of BYM. We want to provide more support for Quakers to act directly on their concerns, rather than create a new QPSW programme for each new issue.
Not all Quakers will feel the call to action, and not all will have the leadings of how best to express it. But for those who do, we want to support their witness. Staff can offer experience of campaigning for those who need it. They can connect up Quakers and others with shared concerns, giving the support and accompaniment that Friends need. In many ways, this is the faith in action end of the work of local development workers, part of how we support Quaker communities.
QPSW will continue to work centrally on behalf of Quakers, focused on two major, interconnecting, themes: climate justice, and peace. In discerning the work to be done, the committee of Quakers overseeing this work realised that the distinctive thing Quakers bring to social action is our methods and ways of working, more than the issues we work on.
Traditional hallmarks of Quaker work include bringing people together, sticking with issues for the long term, seeking to speak to the humanity in all those we meet, and not needing to take the glory or hog the limelight. We do this because, for Quakers, changing the world has never been only about a secular idea of helping others. It is a spiritual imperative. Part of being close to God is hearing and healing the world's wounds.
These two developments in the way we work for Quakers, discerned by Friends called to give service on our Central Committees, are central to delivering the aims set out in Our Faith in the Future. We want to work with, as well as for, the Quaker community, moving together towards the world we want to see.
Find out more
We're running three Q&A sessions for Quakers about these developments in our work supporting Quaker witness and worship, where you'll be able to hear from members of our central committees and staff. There is a choice of three sessions on 10, 14 and 19 May.