Average read time: 4 minutes
Examining Quaker privilege and commitment to an equal world
Juliet Prager reflects on how Quakers have been exploring privilege and the work Quakers still need to do to understand and demonstrate that Black Lives Matter.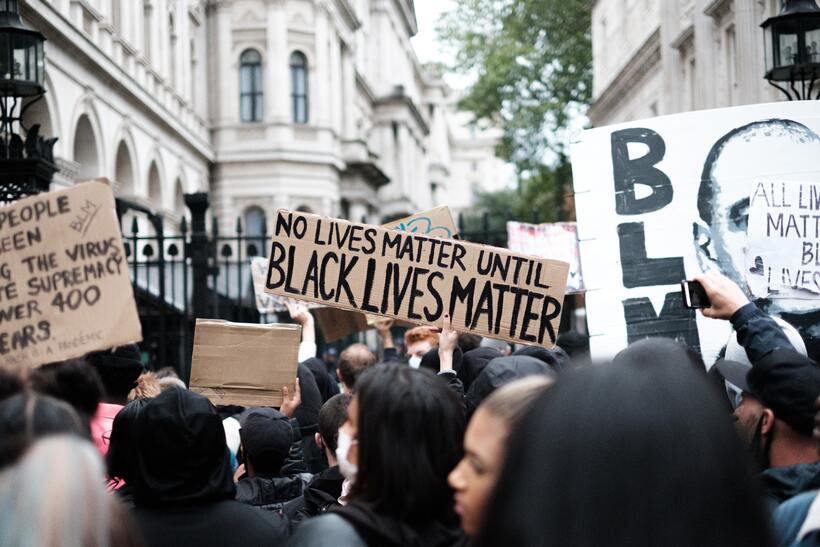 "The roots of racial prejudice lie deep within us, and in seeking a solution to the evil results of racial tensions we need to search our own hearts. Our belief in the significance of every individual in the sight of God and their need for an abundant life can guide us even when we shrink before the vastness of the problem."
– London Yearly Meeting 1952
From our homes during lockdown, Quakers across Britain have been following the news with horror. We've seen images of the killing of George Floyd at the hands of police in Minnesota. We've watched protesters across the USA treated violently by the authorities. And we've been shocked by the high level of Covid-19 deaths amongst Black and minority ethnic people in the UK.
It is fundamental to the Quaker faith that every person is equal in the Spirit, and our hearts are distressed whenever this is denied.
Examining privilege
In recent years Quakers in Britain have set out again on a shared journey to recognise, understand and address our privilege.
We committed to this exploration in 2017, and in 2019 Quakers met together at Yearly Meeting to examine our privilege and assumptions of privilege. As my colleague Edwina Peart, Inclusion and Diversity Coordinator, reflected last year, some of us have struggled with this exploration. At Yearly Meeting and Meeting for Sufferings we've heard Friends challenged to listen to each other and stop behaving as if all Quakers are white and middle-class.
I think we're starting to recognise that for all our strongly held and publicly declared belief in equal lives, too often we fall short of acting as effectively as we could. We need to keep listening, reflecting and responding to those whose lives are directly affected.
This year, we were looking forward to further exploration at our Yearly Meeting Gathering, held over a week every three years and providing space for deeper discernment. Instead our plans have had to be postponed, and from our homes it's not easy to know what we can do individually or collectively about these injustices.
Demonstrating solidarity
In Britain, we've been inspired by Quaker communities in the USA who are taking a stand against racism and white supremacy. We wish to communicate our support for those who are working for change at this difficult time, and to show solidarity.
But we know expressing solidarity isn't enough. Quakers need to understand and acknowledge how our own lives benefit from systemic racism. People in Europe are living in poverty, working to supply us with food. Our government detains immigrants in appalling conditions, to 'protect our borders'. The poorest people around the world are hardest hit by the unequal impacts of climate breakdown, and an economic system that is "often unjust, violent and destructive" (Minute 23, Britain Yearly Meeting 2011).
Living our commitment to equality
Have Quakers always been committed to equality? Quakers have played a part in challenging injustices; but we've also benefited from an unfair world. It's important to recognise and understand this. We need to learn how to be less defensive. We must understand and demonstrate – and not simply say – that Black Lives Matter.
I know Quakers around Britain are talking about all of this. Some meetings have responded by making statements or sending messages of solidarity. Some Quakers have been part of public protests, joined the doorstep actions, donated to solidarity funds, written to MPs, or spoken out online. We can all learn more about Quaker work to build a more peaceful, just and sustainable world through the QPSW Summer Series. And there's lots of very helpful reading online, including from the Quaker Council for European Affairs and Woodbrooke's upcoming reading group on understanding racism.
Together, we can continue to pray; to learn; to support Quaker and other groups working for justice; to remind ourselves of the commitments we have already made; and to seek ways to act, however small.
There's real energy here, and I hope it doesn't disappear. During lockdown and as we emerge, what will it take for Quakers to be part of building a better world? What's your Quaker community thinking and doing? What are we led to say or do together? I'll be delighted to hear from anyone – individuals or Quaker communities – please send your thoughts and suggestions by email to sufferings@quaker.org.uk.
"We pray for those in positions of power. We call on them, as public servants, to work with all of good faith to build the world we seek. …There can be no peace without justice; no love without trust; and no unity without equality. We pray for the courage and steadfastness that will be needed as we uphold our testimony of equality, justice, peace, sustainability and truth. For us, prayer is inseparable from action."
– Meeting for Sufferings 2017
Sign up to Woodbrooke's reading group on understanding racism