Average read time: 4 minutes
Building peace during a pandemic: nonviolent activism in Kenya
Monicah Jepkosgei explains how her Quaker-supported group helped forge a better relationship between police and citizens in a town under strain from Covid-19 restrictions.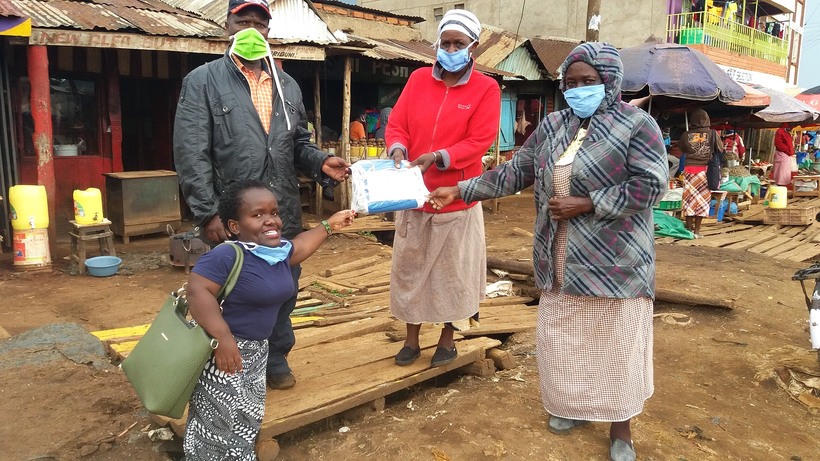 When the Covid-19 pandemic began, no one in Kenya thought it would reach us. In March 2020, we were all proven wrong when the first positive case was reported.

The government was quick to react and put a series of restrictions in place. These included full lockdowns in high-risk areas, a nighttime curfew, closing open-air markets, banning large gatherings and making facemasks obligatory in public.
These restrictions and the socio-economic disruptions that came with them have hit most Kenyans hard. Many rely entirely on casual daily jobs in order to feed and sustain their families. Movement restrictions mean many people cannot work and therefore cannot feed their families. The government started a relief programme, but the support is not enough and the relief is not fairly distributed. Many Kenyans are really suffering.
Testing times
I have been working with Turning the Tide (TTT) Kenya for eight years now. TTT Kenya is a nonviolence training and accompaniment programme by the Africa Center for Nonviolence and Sustainable Impact (AfriNov). Quakers in Britain support our work.
My colleagues and I train small Kenyan grassroots organisations in nonviolent campaigning and support them in their social justice campaign work. In 2019, we facilitated 17 basic workshops on nonviolent campaigning and supported more than 70 different campaign activities.
I have worked with many TTT-trained grassroots groups in North Rift Valley over the years. When the pandemic hit us, my team and I started noticing an increase in emotional, psychological and mental strain in the community. We also became worried about the rising cases of gender-based violence in communities, as well as the abuse and neglect of people living with disabilities and the elderly.
However, the restrictions also meant that we as peace activists had to adjust our approaches. Usually the campaigns we support require campaigners to directly engage, gather people in public, or challenge their adversaries face-to-face. Planning campaigns usually meant bringing people together for meetings. However, this has all become impossible as offices are closed and large gatherings are not allowed to take place.
A better relationship
However big the challenges, some groups I work with saw the new situation as an opportunity. In Langas, which is part of Uasingshiu County, I have been working with the community-based organisation Jicho Pevu.
On the first day of the night curfew, some residents of Langas violently clashed with the police trying to enforce the curfew. Members of Jicho Pevu saw the need to intervene and launched an awareness campaign.
They started to engage with the community by reaching out to each household and within the market to explain the reasons for the government restrictions. At the same time, they confronted the local police about police brutality. They provided evidence of this brutality and urged officers to use nonviolent approaches.
AfriNov and my team supported Jicho Pevu financially by providing funds for locally-made face masks and hand sanitiser so that the group could safely engage with community members while adhering to social distancing. We also helped organise a forum with police, public health officials, and community leaders to develop strategies to help the community during this time of crisis.
Since the group's actions, everyone notices a better relationship between the community and the police, and people now understand and adhere to the curfew. There are no violent clashes anymore and the head of the local police assured his willingness to continue to engage with the group on this.
The success of the intervention brought Jicho Pevu closer together and the group felt empowered to start other activities. Jicho Pevu members set up a group on WhatsApp where well-wishers and friends can coordinate donations to the neediest community members during the pandemic.
Shifting ways of working
The current restrictions have made this kind of work much more difficult. My colleagues and I had to shift our modes of working significantly. We now rely much more on phone calls to support groups. That is not always easy because some areas have a poor mobile network.
Many people do not have smartphones or internet access. It has been difficult, but I am so encouraged by the groups' efforts and willingness to continue supporting and empowering their communities. More groups are now starting to adjust their approaches to the new situation and I am excited that a women's group I also work with has started addressing the rising issue of domestic violence.
There is so much energy, creativity and power in local grassroots groups and I call on everybody to continue supporting their work.
Monicah Jepkosgei will be taking part in an online workshop, 'Lessons from Kenyan peace activists – how to bring people together for change' on Tuesday 30 June 2020 as part of our QPSW Summer Series of events. Find out more and sign up.