Average read time: 6 minutes
8 badass Quaker women
Suki Ferguson takes a look at 'fearless, authentic, compassionate and ethical' Quaker women for #QuakerFacts.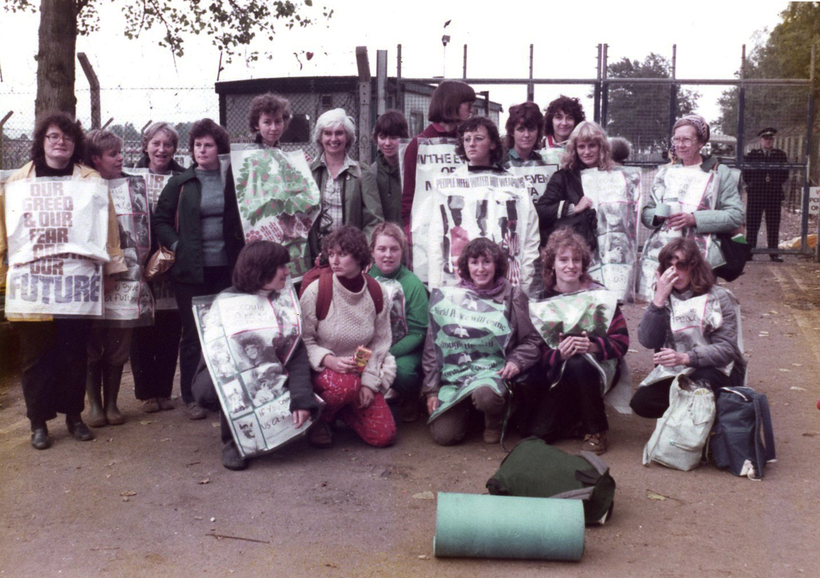 According to Urban Dictionary, the word 'badass' is: "1. A general term used to describe behaviour that is fearless, authentic, compassionate, and ethical. 2. Well above the social standard for 'normal' behaviour." It's also a gender neutral term, which I rate.
On International Women's Day, I felt moved to celebrate the lives of just a few of the many Quaker women and non-binary folk who, by any standard, are pretty badass.
1. Anna Maria Fox
In 1833, seventeen-year-old Anna Maria Fox co-founded the Royal Cornwall Polytechnic Society with her brother and sister. The Poly (as it became known) was supported by her family and the townspeople of Falmouth. It provided workers with a place to meet and share expertise about science, art, music and technological advances. Poly art classes were a precursor of the now-renowned Falmouth School of Art.
Anna Maria lived unusually for her times. Aside from founding the UK's first adult learning establishment, she was an artist, a global traveller, and a keeper of rare birds and pet marmosets.
2. Nozizwe Madlala-Routledge
Nozizwe Madlala-Routledge is a South African Quaker whose career has seen her move from underground liberation campaigner to a politician known for speaking truth to power. She campaigned for women's rights and liberation from Apartheid throughout the 1980s. At one point, the government jailed her without trial and put her in solitary confinement for a year.
Nozizwe helped to negotiate the end of Apartheid, and in 1999, she became South Africa's first Deputy Minister for Defence. In her next role as Deputy Minister for Health she took her own family to be tested for HIV and Aids, and called on other leaders to do the same. Her approach to the Aids crisis turned the government response on its head, ending years of denial.
3. Elizabeth Fry
Born in 1780, Elizabeth Fry was one of the first people to campaign for an end to the death penalty in the UK. She called for humane criminal justice in an era when convicts could be executed for any one of 220 different crimes. By questioning the morality of execution, Elizabeth shaped public discourse. Her ideas spread slowly but surely, and eventually, the last public execution in Britain happened in 1964.
During her lifetime Elizabeth pioneered initiatives that enabled women prisoners to develop employable skills. This work meant that in 1818 she became the first woman to present evidence in UK parliament. Today she is remembered as a champion of rehabilitative justice, and was memorialised on the English £5 note from 2001 to 2016.
4. Alice Paul
Alice Paul was an American suffragist who founded the National Women's Party in 1910, organised silent protests outside the White House, and successfully campaigned for women's right to vote. The 19th Amendment was passed in 1919 as a result of her efforts.
After that victory, Alice kept working for women's rights. When asked why she dedicated her entire life to the cause, she quoted her mother's favourite saying: "When you put your hand to the plow, you can't put it down until the end of the row."
5. Mary Hughes
Born into a wealthy family in 1860, Mary Hughes chose to become a social worker in the slums of East London. Unusually, she opted to live with the same privations as her clients. Though considered eccentric, she lived a life of public service after World War I, as a councillor and magistrate. A colleague noted that 'it was not unknown for her to pay the fine imposed on an offender.'
In the 1920s Mary converted a pub into a refuge. She slept there on a padded bench, or the stone floor if someone else needed her bed. She wore the same shabby red cloak for years on end, never drank alcohol, and was vegetarian. When Gandhi visited Britain in 1931, "he insisted on meeting Mary… Hardly a word was said but 'each had recognised the quality of the other's life'."
After Mary's death in 1941, a passage about her life was considered for what is now called Quaker Faith and Practice, and a Friend objected to her being described as 'sometimes verminous'. However, the phrase stayed when someone declared, "Her lice were her glory!"'
6. The women of Greenham Common
In the 1981, a group of women set up a peace camp outside a cruise missile base in Berkshire. Over nineteen years, thousands of women took part in the nonviolent actions at Greenham. Moved to act by the peace testimony, a generation of Quaker women were part of this very public objection to war. They included the veteran peace activist Sylvia Boyes and Celia Davies, who, despite sustaining significant injuries as a result of forceful policing at Greenham, campaigns against arms fairs to this day.
In 1986 a Friend who participated in the camp described it as "women waiting, watching, just being there, behaving as if peace were possible, living our dream of the future now."
7. Elizabeth Hooten
Once upon a time, it was a crime to reprove a priest. According to The Sufferings of the Quakers (1753) in 1651 founding Quaker Elizabeth Hooten was imprisoned for "speaking to [a priest], who so resented her Reproof that he applied to the Magistrate to punish her. For it is common with men who most deserve Reprehension, to be most offended with those who administer it."
Even though she was frequently persecuted for her beliefs, Elizabeth felt called by God to preach, and did so. She travelled to America to share Quakerism, only to be put in stocks, beaten, taken into the wilderness, and abandoned. She survived by following the tracks of wolves. Back in England, she collared Charles II as he went to play tennis. She refused to kneel in his presence as an assertion of her equality, and succeeded in requesting better protections for Quakers.
8. Lyndsay Burtonshaw
Those who followed the Stansted 15 trial in the news will be familiar with Lyndsay's work. A member of Brighton Meeting, in 2017 Lyndsay lay down on an airport runway with 14 other activists and successfully prevented a mass deportation flight. As a result of the action, Lyndsay faced a lengthy trial – but crucially, 11 people who were to be deported are still in the UK, and at least three of those people have now won the right to remain. That's pretty badass.
Love badass campaigning? For a daily dose, follow 'Badass Du Jour' on Facebook or Twitter.