Average read time: 4 minutes
3 Quakers share their approach to climate justice
In their efforts to tackle climate change, Friends are finding new common ground with other faith groups.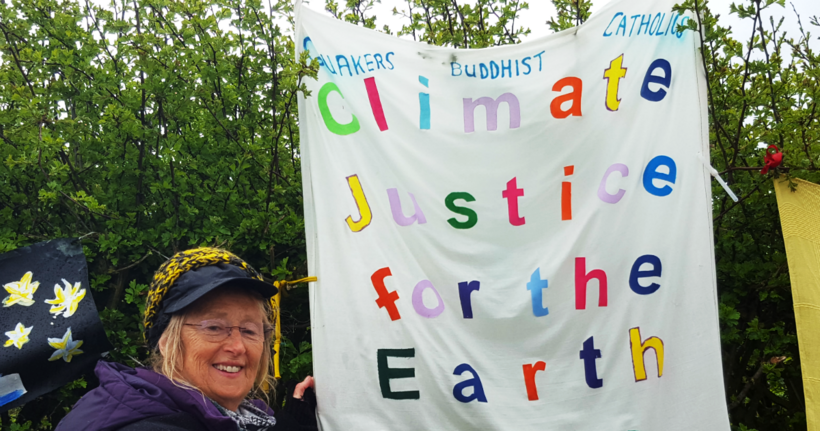 From campaigning against slavery in the 18th century to taking on the arms trade in the 21st, Quakers have a history of working alongside other faith groups for a more just and peaceful world.
We also have a long-standing commitment to living sustainably, reaffirmed in 2011 when Yearly Meeting Gathering called on Quakers to act in new ways to support climate justice. Today, Quakers are connecting with people from other faiths who share a spiritual concern for the Earth. Here are three of the approaches different Quakers are employing.
1. Immersive education
In the run-up to the 2015 Climate Change Summit in Paris, Quakers in Birmingham joined other faith groups in a 'Walk of Witness' through their city, urging world leaders to take decisive action on the environment.
"From this came an enormous swelling of support, with informal interfaith groups continuing to work together," says Chris Martin of Cotteridge meeting. "In response, we set up the Footsteps project. We have links with the six main faith groups in Birmingham and explore the challenge of moving to a low-carbon future. By working together we can take the faith perspective into more secular areas, for example by speaking at Aston University's Go Green Week.
"We are all unpaid volunteers – many aged 70-plus – and younger people have jobs, so it is a big ask for them to help run a conference," Chris explains. They also run a week-long interactive education programme called Small Footsteps, where 8–14 year-olds explore various environmental topics in a faith context. "We have built quite a large team of volunteers who are then drawn into other Footsteps projects," says Chris. "In five years' time, we aim to be seen as a public force for good in building a sustainable future."
2. Taking small, practical steps
Quakers in Merseyside are also learning more living sustainably by taking part in EcoChurches. By completing a survey and taking practical steps to care for the planet, such as using eco-friendly products, churches gain Bronze, Silver and Gold Awards.
"It's an excellent thing to do and so easy," says Alan Vernon of Heswall meeting. "It only needs two or three people to be interested, download the survey and see how well you can answer it. It covers all aspects of sustainability, and as Quakers it ties in 100% with the Canterbury Commitment." By making their meeting house more environmentally-friendly, Heswall hope to collect the silver award in a few months' time.
"We've also started to do more to get other churches involved," explains Alan. "The local Churches Together in England meets at our meeting house, so we're able to tell others how EcoChurches is such a joyful and spiritually enriching ecumenical project to take part in, and that it uses language that churches are familiar with. We also meet representatives from other churches to share ideas and good practice."
3. Taking direct action
Meanwhile, Quakers in Lancashire are taking direct action as a spiritual act of witness against gas fracturing – 'fracking' – in their local area. Encouraged by the Meeting for Sufferings statement against fracking, Cliodhna Mulhern of Lancaster Meeting has joined Quakers and other spiritual activists for monthly vigils outside the gates of the Preston New Road fracking site.
This has developed into the No Faith in Fracking project. During a week of faith-based direct action, members of the Catholic, Buddhist and Druid communities joined Friends in protesting fracking.
"We've also connected with many non-faith, civil society groups," says Cliodhna. "Working alongside people whose style of protest is sometimes more confrontational, we brought a quiet, reflective and joyful presence to the site. People liked that. I think we were all surprised at the power of spiritual witness, disturbing the peace with our silence."
There are many different ways to connect with other faith bodies on climate justice. If you would like more information about how to connect with other churches and faiths in your local area to campaign for climate justice, contact our Economics, Sustainability and Peace team using the link below.