What is a Sanctuary Meeting?
A Sanctuary Meeting is a Quaker Meeting that is committed to:
Joining local initiatives to build a culture of welcome
Building alliances with groups opposing racism
Working with others to change the laws on destitution, detention, deportations and removals.
How a Sanctuary Meeting fulfills the commitments changes from area to area. Actions taken will vary in response to local issues, abilities and passions within the community, and the leadings of the Spirit. Here are some of the things that Sanctuary Meetings are supported to do:
Building alliances with migrant or BAME-led anti-racist groups in your area, including by offering room grants.
Holding at least one public meeting a year with other local groups, especially people with direct experience of being discriminated against by the border system.
Lobbying local politicians. Use our Sanctuary Everywhere Manifesto to inform your demands.
Offering accompaniment to people seeking sanctuary in negotiating 'everyday borders' such as healthcare and the education system
Assisting campaigns that use direct action to resist deportation.
What are Quakers doing already?
Quakers across Britain are working in different ways to welcome newcomers to the country. You can read stories about Quakers providing housing for destitute asylum seekers , supporting and setting up City of Sanctuary groups, welcoming resettled refugees, hosting community gardening projects, and campaigning with the Quaker Asylum and Refugee Network.
Watch the video below to get a quick overview of the work Sanctuary Meetings, individual Quakers and and Quaker Peace & Social Witness staff are doing to support refugees and migrants.
Pressing play on the video below will set a third-party cookie. Please see our cookies page to find out more.
20 Simple Acts: Quakers in Britain #refugeeweek from Quakers in Britain on Vimeo.
There are now 98 Sanctuary Meetings in based in Scotland, Wales and England, and we can support all who choose to join them in this commitment to creating sanctuary everywhere.
International Quaker statement on migration
Shortly ahead of International Migrants Day, working together, Quaker organisations across Europe and America have developed an international Quaker statement on migration drawing on Quaker foundations, and work with migrants and work on migration.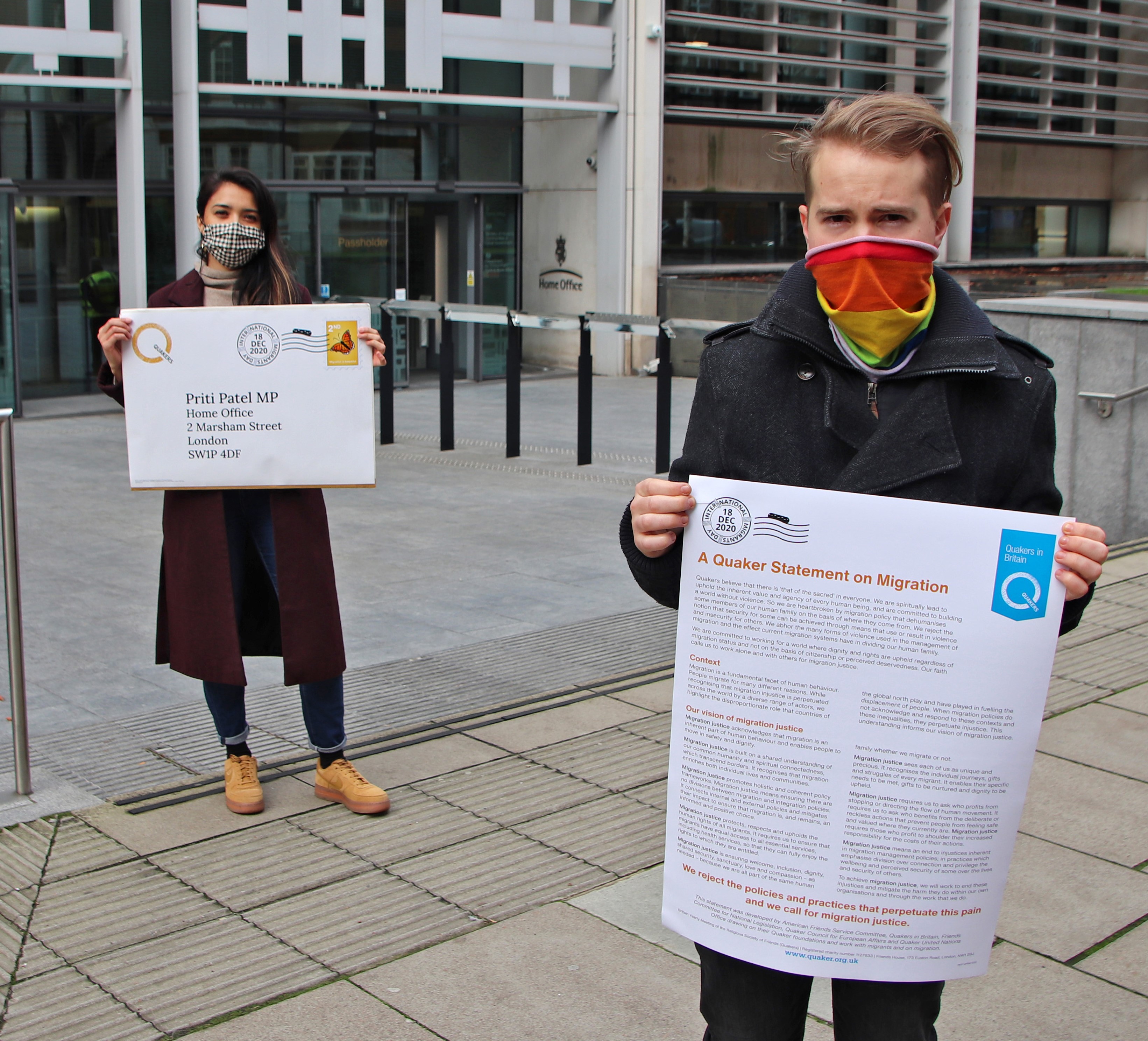 The core of the statement says:
"Rooted in our belief that there is that of the sacred in everyone, our spiritual leading to uphold the inherent value and agency of every human being, and our commitment to building a world without violence, we are heartbroken by migration policy that dehumanises some members of our human family on the basis of where they come from. We reject the notion that security for some can be achieved through means that use or result in violence and insecurity for others. We abhor the many forms of violence used in the management of migration and the effect current migration systems have in dividing our human family."
Please read and share this statement widely. Download a summarised version of the statement (PDF) or read the full version here (PDF).

For International Migrants Day the statement was delivered to the Home Office by Quaker Peace & Social Witness staff.
Ask your MP to back calls to end the UK's hostile immigration system
For 2020 International Migrants Day many Quakers wrote to their MP, or invited them to a meeting, asking their MP to take action to dismantle a system that has caused so much harm and violence to migrant and refugee communities. More collective pressure is needed. We invite others to join this action, asking their MP to back calls to dismantle the hostile immigration system. We have produced a template letter which you are invited to use:
Download our template letter to write to your MP (Word Document) - Please feel free to modify or add your own text.
If you have experience of working with people seeking sanctuary, then please share your stories with your representative.
Useful resources

The Sanctuary Everywhere Manifesto The manifesto agreed by the highest Quaker decision-making body in Britain, Meeting for Sufferings. Among other things, it calls for the closure of immigration detention centres. Download the Sanctuary Everywhere Manifesto (PDF).
The Sanctuary Everywhere booklet of testimonies Quakers share their reasons for working on the issue of migration and racial justice, and the actions they are taking. Download the booklet of testimonies (PDF).
Toolkit for action: Owning power and privilege A booklet designed to help groups work through power dynamics that can emerge in social justice work, particularly relating to migrant and racial justice. Download the Owning power and privilege toolkit for action (PDF).

Podcast episodes To find out more about forced migration and what what it means to be a Sanctuary Meeting, listen to the Sanctuary editions of the Q:Witness podcast:
Video interview Watch Kurt Strauss, a man who escaped Nazi Germany through the Quaker Kindertransport movement, speak about his experience of finding asylum.