Witnessing for peace on Armed Forces Day 2015
On 27 June 2015, Armed Forces Day was hosted in Guildford. The 'tradition' of Armed Forces Day came into existence in 2009, one of the products of a national strategy to build support for the military, and each year a town is chosen as the hub of national activities. John Morris, a Guildford Quaker, wanted to challenge what he saw as a "cruel joke".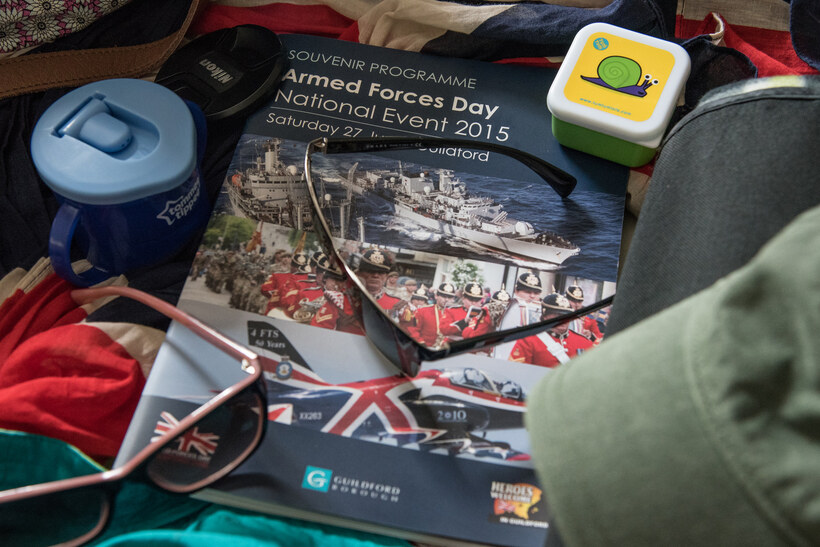 Several Guildford Quakers held a Peace Stall at the Meeting House gates on and around Armed Forces Day. Friends distributed Before You Sign Up cards to younger people, which provide the facts and pros and cons of joining the military.
John also wrote to the Guildford Dragon newspaper questioning Armed Forces Day:
Armed Forces Day? A national event in Guildford? Marching soldiers; martial music; military equipment.
What's it really all about?
We, the British public, are being subtly persuaded that it is totally in order for our government to send troops to go and kill when conflict arises. Young and old won't mind taking the life, as killing is euphemistically described, of another human being.
All for the highly dubious reasons that somehow the rest of us are being protected, being made safe.
What a cruel joke.
Can't they see that military solutions to problems provoke revenge, creating terrorists and terrorism, refugees and asylum-seekers as well as interfering greatly with all aspects of life?
Some possible guidance to reacting to Saturday's junketing in Guildford – ignore them. Visit the Cathedral another time. Go shopping in another town (street closures are likely to make it a nightmare getting in and out of Guildford centre anyway).
Get that breath of fresh air in one of the other gorgeous, peaceful open spaces away from Guildford. And, if a young person starts to think about "joining up", persuade them to check out all their questions on the "beforeyousignup.info" website."
John's letter sparked much comment when published online, most in defence of Armed Forces Day, but with significant support for John's point of view.

This included a response from a Borough Councillor, Angela Gunning, who raised her qualms about the suspension of Guildford Council's ethical sponsorship policy so that funding could be accepted from armed manufacturers such as BAE Systems. She wrote "arms manufacturers exist to fuel wars, where disagreement is solved by killing. Ever been to an arms fair? I have – where every kind of machine for killing and destruction is on show."