White Feather Day marks centenary
One hundred years ago today conscription and conscientious objection became law. In the midst of World War I, Quaker MPs worked in parliament to ensure the recognition of the right to refuse to kill.
This was the first time in history that legal objection to military service for an individual had been granted.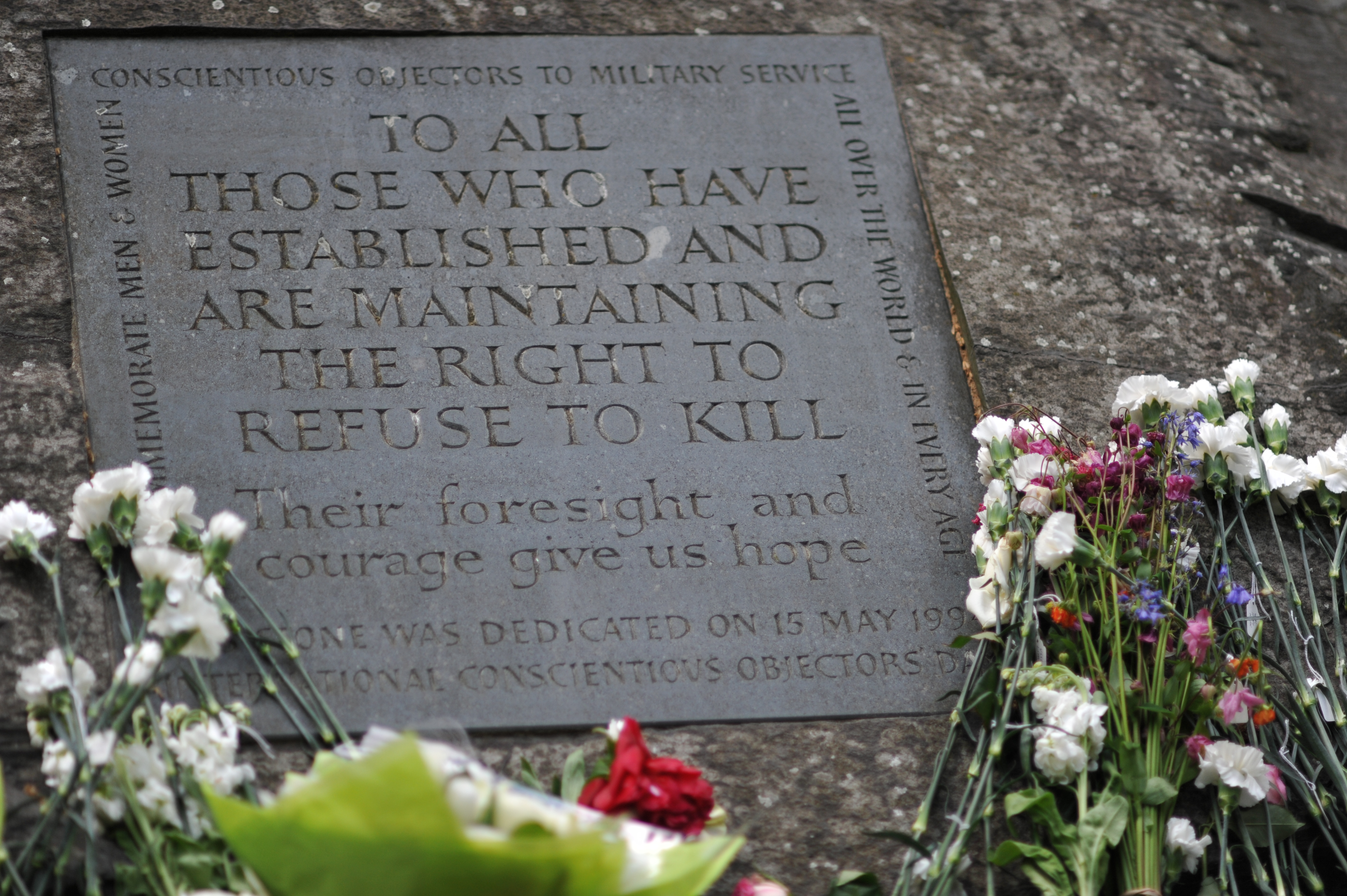 Quaker MPs T Edmund Harvey, Arnold Rowntree and John E Barlow led the fight to introduce exemption on the grounds of conscience into the Bill. The conscience clause encompassed religious and moral grounds. The clause itself was ambiguous and led to some tribunals interpreting the Act differently. Some granted exemption to combatant service only, others to all forms of military service.
To mark the centenary of the Military Service Act, Quakers are running the third instalment of The white feather diaries, telling the stories of men and women who said No to war.
Conscientious objectors faced enormous hostility. The project takes its name from the white feathers handed to those who refused to enlist. Some Quakers did enlist; many more were conscientious objectors, some served in other ways, some were imprisoned, tortured, ridiculed, sentenced to death or were forced to be child soldiers. Many showed that pacifism is not passive, but courageous.

[QUOTE-START]
We were forever being threatened with the death sentence

- Howard Marten
[QUOTE-END]
This extract features 31-year-old Quaker bank clerk, Howard Marten. He arrived in France with sixteen other conscientious objectors knowing that they faced the death penalty if they disobeyed orders while deemed to be "on active service".
"Now Field Punishment can be a very nasty thing…a man can be tied up to a gun carriage, or tied up for three nights out of four… maybe on a fence, or to ropes, with arms extended and feet tied together, or tied back to back. And that's done for two hours. Not exactly a pleasant experience and it happened to me.
"We were forever being threatened with the death sentence. After our second court martial, we were taken out to the parade ground, where a big concourse of men was lined up in an immense square. We were taken to the side of it, and then under escort taken out one by one to the middle of the square. I was the first. I had a feeling of a sinking in the stomach, wondering what was going to turn up."
Set in early 1916, the diaries draw from original writings, photographs and other records. The white feather diaries feature five who were or became Quakers.
One, Hilda Clark is a doctor who risked her life in a war zone. She set up the Friends War Victims Relief Committee.
Another is Howard Marten, sentenced to death for his beliefs.
Laurence Cadbury, son of George Cadbury, then head of the chocolate firm, ran ambulances near Ypres. He saved lives, but would not kill. Meanwhile, his brother signed up to fight.

Bert Brocklesby refused to hate his fellow man and was sentenced to death.

John Hoare, gave up his career to campaign against the war. He volunteered for alternative service.
Why is the centenary significant today?
The centenary of the conscience clause is being marked in ways to show its relevance today:

Conscience: taxes for peace not war launch a Bill that would enable conscientious objectors to military tax to re-direct the military portion of their taxes to non-violent efforts to maintain our national security. Quaker Ruth Cadbury MP hosts the reception and will take the Bill forward. Speakers include Jane Dawson of Quakers in Britain.
Quakers around the country are considering conscience. Some like Wanstead Meeting are holding public vigils.
Resources and speakers are available on Objections to war: a Quaker approach
The Library of the Society of Friends holds many wartime records. Their online exhibitions include one entitled A matter of conscience: Quakers and conscription. There are also records of the work of Quaker MPs during the war.