Speaking out for climate justice
On the opening day of COP26, an interfaith gathering began with stirring prayers for courage as representatives of all faiths and none, declared their common commitment to climate justice.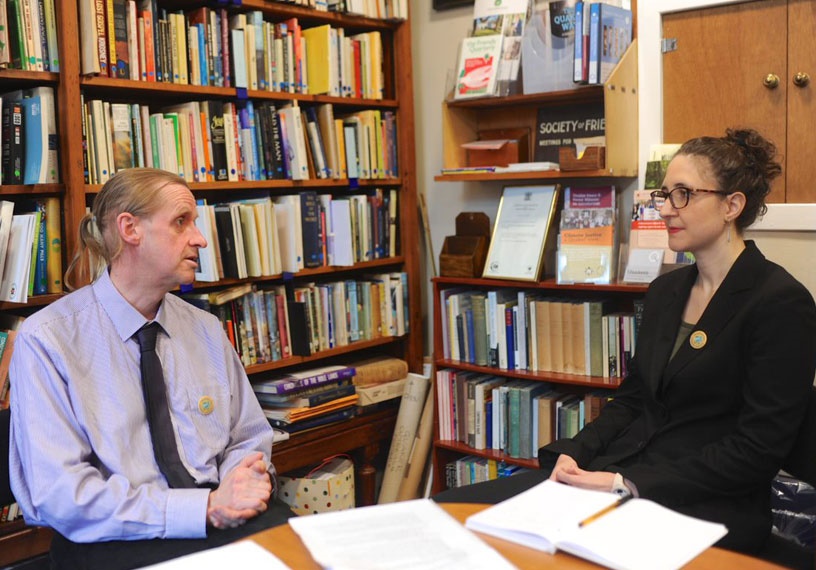 Paul Parker, Recording Clerk, was there to represent Quakers in Britain. "Religion is so often seen as a dividing factor but here faiths have come together and their voice is being heard," he said.
Later he recorded a video of his reflections. Listen here.
He was also a panellist in an interfaith Talanoa dialogue, a Fijian tradition about how communities can solve problems together, by coming together for a very equal dialogue to identify: where we are now, where we want to get to, and how we get there from here.
He spoke about hope and the risks of hopelessness, "that makes me really fearful and angry and sad." He asks what it would be like to grow up in a world where there is no hope of averting this crisis. Read his address here (Word).
A small staff team from Quakers in Britain are at COP26. They are raising the issues of loss and damage, amplifying the voices of marginalised communities bearing the brunt of the climate crisis, and holding the government to account.
Around the country Quakers are gearing up for a global day of action to raise awareness of COP26.
Glasgow: The meeting point for the Glasgow march will be next to Stewart Memorial Fountain at Kelvingrove Park, Glasgow, G3 6BY from 11.30am. Look for the blue Faiths and Beliefs for Climate Justice banner and yellow t-shirts.
London: The meeting point for the London march will be outside St Michael Cornhill Church on Cornhill, from 12pm. Look for Faiths and Beliefs for Climate Justice banner and yellow t-shirts.
Locally or at home: If you are planning to take action locally on the COP26 Coalition Global Day of Action, there is a map of actions around the UK and the world Meanwhile, anyone participating at home can join over 5,000 people and counting in the World Climate March online. Hosted by a coalition of organisations including Christian Aid and Oxfam International and supported by Fridays for Future