Remembrance is just the beginning
Upwards of half a million children were brought together this week to be inspired by peace. On the centenary of the armistice to end World War I, they reflected on the losses of war, determined to build a century of peace.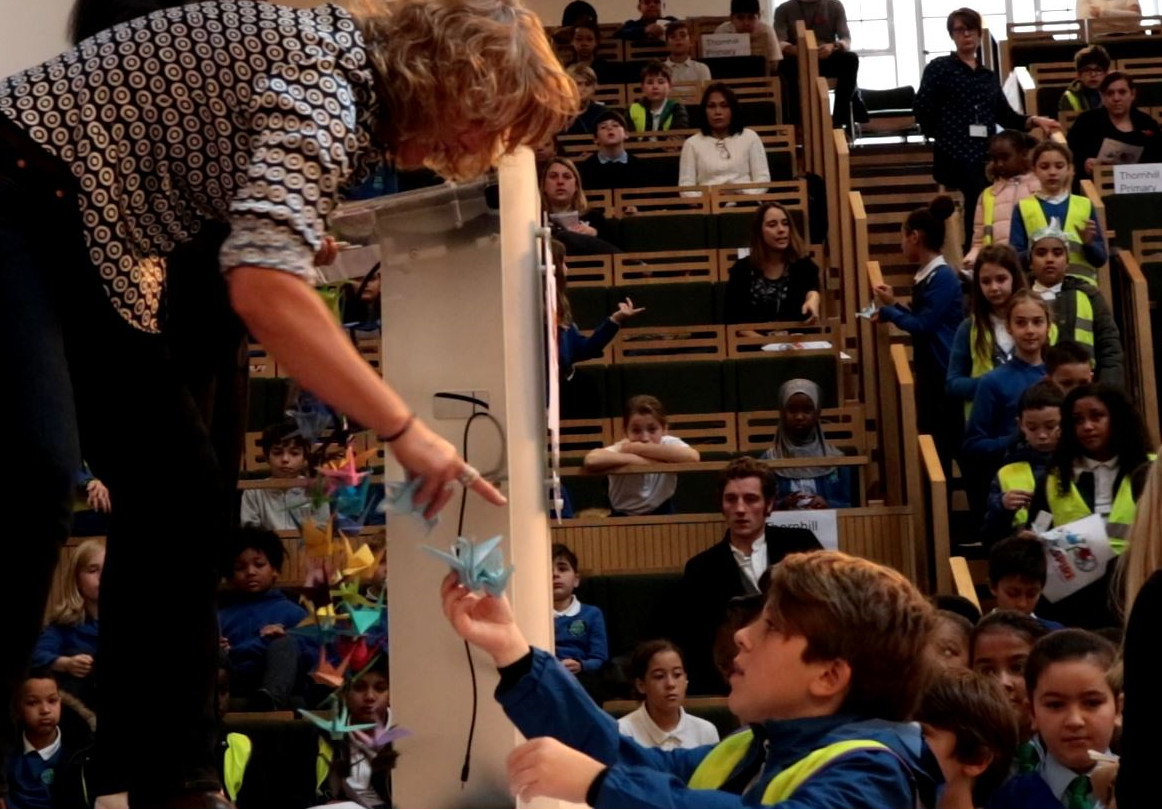 Across the UK, from Belfast to Bristol, Southampton to Scotland, INSPIRE Remembrance for Peace events were held in school assemblies, churches and mosques.
One thousand London children filled Quakers' huge hall in Friends House for a moving mixture of drama, music and reflection. They folded hundreds of cranes [Japanese birds -symbols of peace] and poppies to create a peace tree installation. Young voices spoke of civil war, of learning to disagree without a fight, of pick ups, rather than put downs, of not fighting over land and of knowing that everyone matters "because that's what makes us truly human". And they stood in silence for two minutes.
[QUOTE-START]
We're not resigned to the idea that this generation is going to grow up in a divided, violent world. They have the power to build peace

- Isabel Cartwright, Quakers in Britain
[QUOTE-END]
Marigold Bentley, Head of Peace Programmes and Interfaith Relations for Quakers in Britain, challenged them to listen to the still, small voice of conscience – just as people did who refused to fight, because they refused to kill, during WWI when Britain became the first country in the world to make a law which recognises 'the right to refuse to kill'. Today, people are campaigning to make 'the right to refuse to kill' a right for everyone, everywhere.

Children exchanged ideas for making peace in their communities and the wider world, met Veterans for Peace and sang a musical arrangement of In Flanders Field, conducted with thanks to Sing Up by Leonora Davies of Hampstead Quakers.
Isabel Cartwright, Quakers' Peace Education Programme Manager said "This is the beginning of a journey. The young people are inspiring, but it's not about one day! We're not resigned to the idea that this generation is going to grow up in a divided, violent world. They have the power to build peace."
Quakers are working with INSPIRE partners to help young people develop in a spirit of peace, with the skills to strive nonviolently for justice. This includes peer mediators resolving conflicts, welcoming children fleeing war in sanctuary schools, and responding to the questions of conscience that face 21st century citizens, from gender violence to armed drones.
"Young people are showing us all the time that they can be peacebuilders."
Steve Chalke of Oasis, which operates 51 academies, said: "Those who experienced World War I said 'never again', but instead we've seen a century of war and violence. It's time to INSPIRE a new generation not only to prevent war but build peace".
Listening to the children in Friends House, Jonathan Baggaley, chief executive of PSHE (Personal, Social and Health Education) said, "Peace begins in playgrounds. The children were insightful and inspirational. One hundred years on from the end of WWI, the need for peacebuilding is greater than ever."