Quakers seek a 'climate Budget'
Quakers in Britain are calling for action on climate to be at the heart of the government's Budget (on Wednesday 11 March). They set out six key actions needed to redirect public spending towards a just transition and ensure climate damage is factored into investment decisions.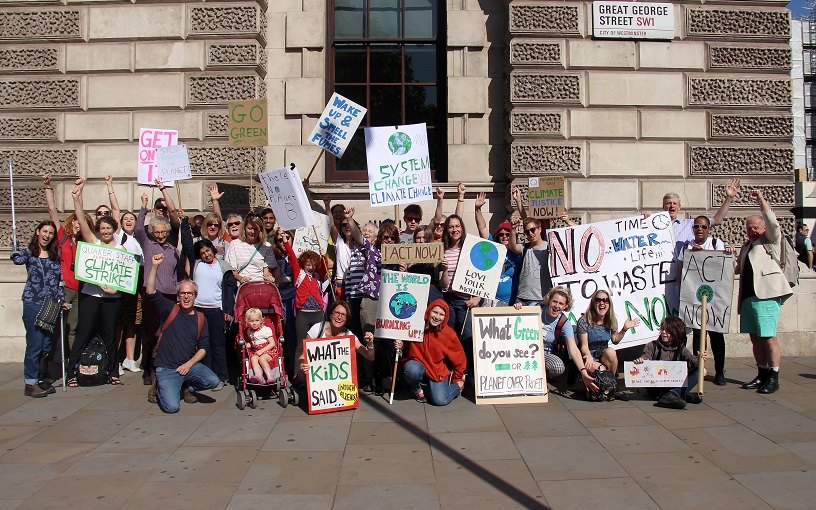 Olivia Hanks, Economics & Sustainability Programme Manager for Quakers in Britain, said: "Quakers have been speaking out for a long time on the links between our economic system and the damage we are doing to people and the earth. Many Quakers are led by their faith to take action for climate justice and more are getting involved for the first time as COP26 approaches.
"The UK government has committed to a net-zero emissions target, but is still propping up fossil fuels and high-carbon infrastructure projects. By setting out our asks for a 'climate Budget', we can add to the pressure on the government to step up its climate action and ensure the needs of the poorest people come first in the transition to net zero."
Highlighting the need for a 'Climate Budget', Quakers in Britain say this:
"With the COP26 climate negotiations rapidly approaching, now is the time for the UK government to show commitment to its net zero target by putting the climate crisis at the heart of the Budget. The deputy chair of the Committee on Climate Change (CCC), Baroness Brown, also called for a 'climate change Budget' recently, while a recent poll found that almost two-thirds of people in Britain think the government should do more to tackle the climate crisis.
"Quakers have a long history of working to address the big challenges facing society. Our work is rooted in our vision of a sustainable and peaceful world, and our experience that there is something sacred in everyone. We see the climate and ecological crisis as one of the defining challenges of our age, interconnected with crises of inequality and violent conflict. The impacts are worst for poor and marginalised people, particularly those in the global south. A meaningful response to the crisis requires transformation of our social and economic structures at every level from local to global. It also requires investment.
[QUOTE-START]
Many Quakers are led by their faith to take action for climate justice

- Olivia Hanks for Quakers in Britain
[QUOTE-END]
"Without major government investment, it will not be possible to achieve a just transition to a zero-carbon economy. The CCC has advised that spending equivalent to 1-2% of national GDP (or 2.5-5% of total government spending) is necessary for the UK to reach net zero by 2050.
"The financial costs of inaction would be vastly higher, even before the human and environmental costs are factored in; while a well-managed transition has the potential for huge social, environmental and economic benefits. It is clear that money spent on the transition to net zero is a good investment, not a burden, and the government should present it as such.
"Much or all of the investment required could be financed from existing sources. For example, the Green New Deal Group has proposed raising £100bn of green investment annually by requiring ISAs to be invested in Green Bonds and a proportion of pension fund contributions to be used for 'Green New Deal' investments.
"The government could also raise revenue for a just transition by ending tax breaks for fossil fuels, while the infrastructure required to support this could be funded by redirecting money from expensive and polluting infrastructure projects such as road building.
Quakers ask the government to:
End all fossil fuel subsidies, including tax breaks for North Sea oil and gas, and immediately ban new public investment in fossil fuel projects including through UK Export Finance
Commit at least five per cent of government spending to funding a just transition to zero carbon. Measures should include retrofitting homes for energy efficiency, improving walking and cycling infrastructure, investing in natural flood prevention, and a funded strategy to support workers and communities dependent on high-carbon industries
Provide funding and support for local authorities and communities to cut their emissions and build resilience to climate breakdown
Lead international efforts to establish new and additional public finance for global climate adaptation and loss and damage
Ensure that the costs of inaction are factored into the proposed net-zero funding review, and into all investment appraisals
Require the carbon impact of all spending decisions to be assessed, and publish a carbon impact account alongside future Budgets to show the overall carbon impact of government spending decisions.
"Commitments such as these are vital if the UK is to show leadership in its COP26 presidency and convince other nations to adopt ambitious emissions targets. The UK's net-zero target must be embedded across all areas of government and it can only be achieved with full support from the Treasury. There is no more time to lose."