Quakers open new Yorkshire Centre
For the first time in maybe 100 years, Quakers in Britain have a new base for national Quaker work outside London. The new base is in Leeds.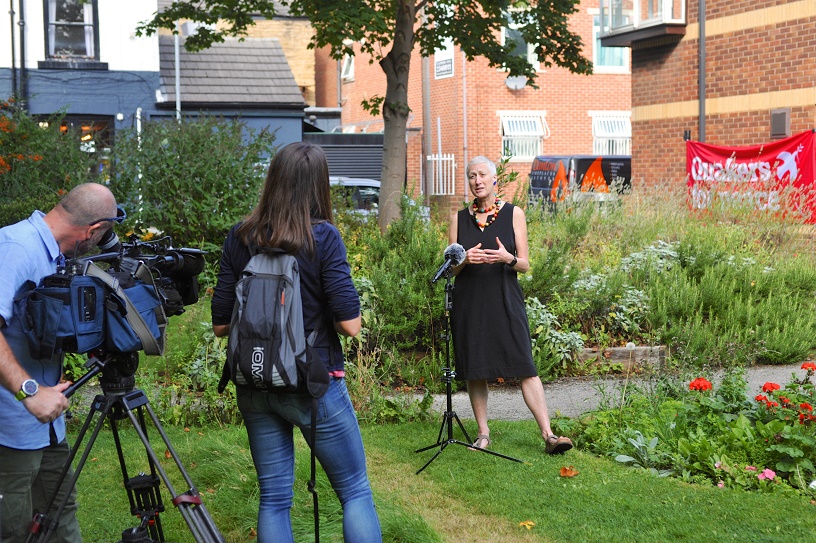 A warm welcome awaited all at the grand opening on Saturday. Open to Quakers, their neighbours and anyone curious about Quakers whose commitment to equality, justice, peace, simplicity and truth leads them to seek social and legislative change.
The Quakers in Britain Yorkshire Centre is at the Central Leeds Meeting House, 188 Woodhouse Lane, Leeds LS2 9DX.
As well as films and displays, crafts and treasure hunts, there was time and space set aside for quiet Quaker worship.
Quakers in Britain set up this new base for national Quaker work as part of a pilot to test different ways of working. The Yorkshire Centre is attached to Central Leeds Quaker Meeting House and is an important step in enabling Quakers in Britain staff to become more responsive to the communities they serve.
[QUOTE-START]
Our mission is to help Quaker communities thrive.

- Juliet Prager for Quakers in Britain
[QUOTE-END]
Juliet Prager, deputy Recording Clerk for Quakers in Britain, will be based in the Yorkshire Centre. She said, "After years in the planning, it's so exciting to have the centre up and running. With new patterns of working we need a centre outside of London which is reasonably easy to get to. Our mission is to help Quaker communities thrive, and this centre brings some staff nearer to Quakers in the North. We now have a safe, comfortable space and all visitors are assured a warm Yorkshire welcome."
Margaret Bryan, a member of York Area Meeting and clerk of one of Quakers' decision making bodies, welcomes this development. "Quakers have always had a strong presence in Yorkshire and having Friends House staff based in our area will be a tremendous support to our spiritual community."
The aim is for the hub to help Quakers in Britain become an organisation which is less centred in London, more supportive of flexible working and better placed to serve the needs of Quaker communities across the whole of Britain.
The hub is a self-contained office suite attached to Central Leeds meeting house, a short walk or bus ride from Leeds railway station.
Other Quaker Centres offering a Quaker welcome outside London include Woodbrooke Learning Research Organisation in Birmingham and Swarthmoor Hall in Cumbria. In the 1600s, Swarthmoor Hall was the headquarters for Quakers. It was the home of Margaret Fell, Judge Thomas Fell and George Fox. Courses and retreats are held regularly at the Hall.