Quakers consider living equality and truth in a time of crisis
An inspirational array of events highlighting Quaker faith in action are lined up for the Fringe around the Yearly Meeting Gathering (YMG) of Quakers in Britain – including mindful dancing, singing and theatre, worship, business and lectures.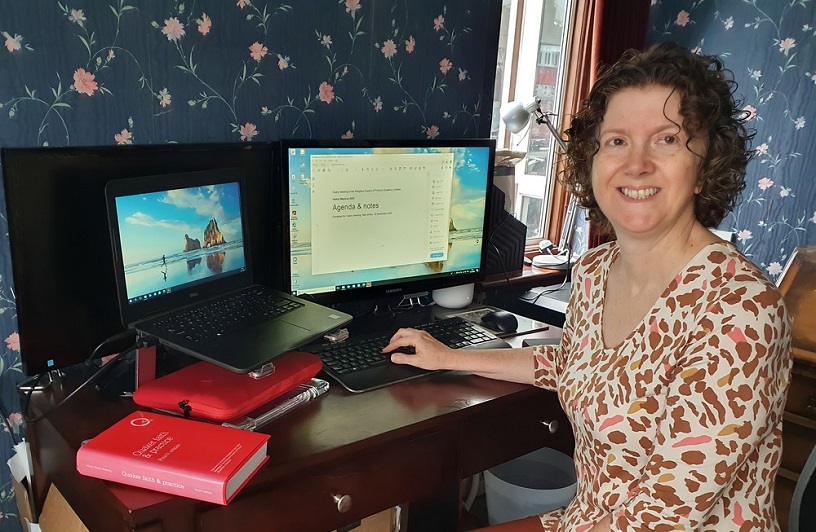 Already nearly 1,500 have booked their place on this virtual Gathering. Changing public health restrictions around Covid-19 led to adventurous planning, designed to take care of each other.

Clare Scott Booth, clerk for Yearly Meeting said, "For centuries, Quakers have come together in fellowship to see each other's faces. This year we'll be together on our screens, though apart. In deep stillness we can listen for the promptings of love and truth in our hearts and discern the work we are emboldened to do. We're delighted to welcome so many, particularly children and young people."
The Gathering begins on 19 July and runs for three weeks. Yearly Meeting will be in session on 30, 31 July and 1,6,7 and 8 August, exploring the theme, "For our comfort and discomfort: living equality and truth in a time of crisis".
[QUOTE-START]
In deep stillness we can listen for the promptings of love and truth in our hearts and discern the work we are emboldened to do.

- Clare Scott Booth, clerk of Yearly Meeting Gathering
[QUOTE-END]
Yearly Meeting Gathering is an opportunity to come together in community to learn, worship and enjoy activities together. There will be time for drawing, sewing and sharing, while Friends Fellowship of Healing will be knitting for kindness, making blankets for homeless people.
And there are notable lectures in the Gathering:
On Saturday 24 July at 4.30pm, Nozizwe Madlala-Routledge will give the annual Salter Lecture 2021: "Quaker values in South Africa's Struggle". A Quaker, she will explore life decisions in the struggle for racial and social justice. She was elected to the first democratic parliament and served as a pacifist Deputy Minister of Defence. As Deputy Minister of Health she was dismissed for speaking truth to power.
On Monday 26 July, at 7.00pm Sam Donaldson will give the George Gorman Lecture, "Old Roots, New Routes". He will be sharing some personal reflections, punctuated with contemplative pauses, exploring the two questions "Who are we?" and "Where are we going?" as a Quaker community in these uncertain times of global pandemics, social, political and economic turmoil and climate catastrophe.

On Saturday 31 July, at 7.00pm journalist Thomas Penny will give the annual Swarthmore Lecture 2021, "Kinder Ground: Creating Space for Truth".
Thomas Penny's lecture will address truth in the era of fake news. He says, "It's important to create space to listen and understand – a cool sanctuary away from the easy answers of propaganda and the heat and hostility of so much political discussion. And it's something Quakers have a history of being able to do."
Thomas Penny has worked for 29 years as a journalist for local, national and international news organisations, most recently as a political correspondent based in Westminster. He is a member of Blackheath Quaker Meeting and has a decade of youthwork experience with young Quakers.
Find out more and watch the lecture live at www.woodbrooke.org.uk/swarthmore
The Swarthmore Lecture generally takes place alongside Quakers' Yearly Meeting. The lecture is funded and organised by Woodbrooke, an international Quaker learning and research organisation.
Spaces for some YMG sessions and Fringe activities are filling up fast! Closing date is 19 July.
Receive

an invitation to register on YMG Planner and view the schedule

To access YM sessions etc. you must book a space on the YMG Planner

It is essential that you book for everything you wish to attend, including Yearly Meeting Sessions. Unless you book an event/session you will not have access to it. We recommend you do this as soon as possible as some events may reach capacity.
Here's a short video for guidance www.quaker.org.uk/ym/bookings