Quaker agency heads urge Quakers to be both humble and bold
The heads of seven international Quaker organisations met over three days this week. They shared ideas on Quaker concerns over climate justice, peacebuilding and dismantling institutional oppression.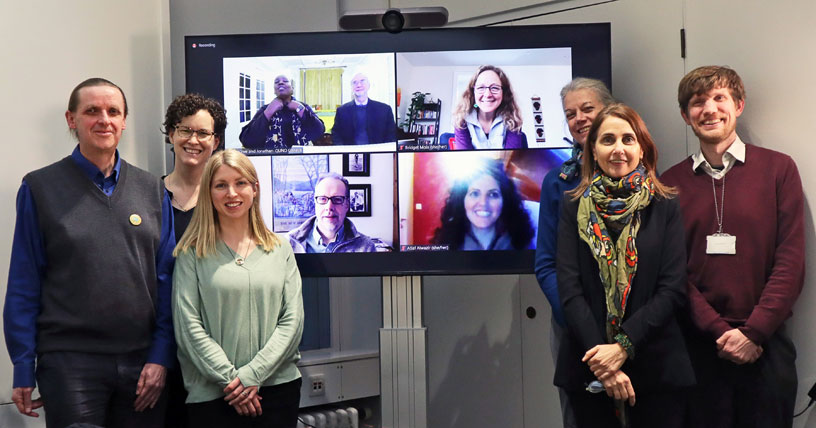 At the end, they offered a message, which Quakers call an epistle, urging all Quakers to be both humble and bold as they work for a just and peaceful world.

The epistle concludes, "we call on Friends to be humble and to be bold, to be faithful and determined, to work inwardly and outwardly, within our Quaker communities and outside them, to build the just and peaceful world God tells us can be ours".
The group met at a time of transition in leadership. Five of the seven agencies represented will have new leadership from 2022. The meeting was seen as an opportunity to build relationships of trust and collaboration between Quaker organisations, bringing the strengths of each to Quaker work.
The meeting shared and discussed approaches to four key areas of concern:
In the wake of the COP26 climate conference, they explored the difference between climate justice and sustainability. They recognised the need to look at the climate crisis holistically, as a social, political, ethical and spiritual issue, beyond a focus exclusively on emissions targets and personal lifestyle change.
They examined what 'peacebuilding at home' may entail in their different contexts, and how it relates to closing space for civil society and dismantling systems of oppression.
They reaffirmed their commitment to dismantle and prevent the presence of institutional oppression within the lives of Quaker organisations, exploring what it means to be anti-racist and anti-oppression organisations.
They considered the future of multilateralism, seeking a vision of how to help improve international relations at the UN and reform the ways its institutions work.
Paul Parker, Recording Clerk of Quakers in Britain said, "bringing agencies from around the world together makes valuable connections that knit together the work of own organisation and others. This strengthens our collective work on behalf of Quakers to build the just and peaceful world we know is possible".
Read the full epistle from the meeting (PDF).

The agency heads taking part were:
Joyce Ajlouny, General Secretary, American Friends Service Committee
Atiaf Alwazir, Head of Peace Programme, Quaker Council for European Affairs
Sarah Clarke, incoming Director, Quaker United Nations Office New York
Nozizwe Madlala-Routledge, incoming Director, Quaker United Nations Office Geneva
Susanna Mattingly, acting General Secretary, Friends World Committee for Consultation
Bridget Moix, incoming General Secretary, Friends Committee on National Legislation
Paul Parker, Recording Clerk, Britain Yearly Meeting
Diane Randall, outgoing General Secretary, Friends Committee on National Legislation
Oliver Robertson, General Secretary, Quaker Peace & Social Witness
Andrew Tomlinson, outgoing Director, Quaker United Nations Office New York
Jonathan Woolley, outgoing Director, Quaker United Nations Office Geneva