No Arms Trade in Telford, say local Quakers
Six people, including four Quakers, have been charged following a protest at a defence fair in Telford on 1-2 November.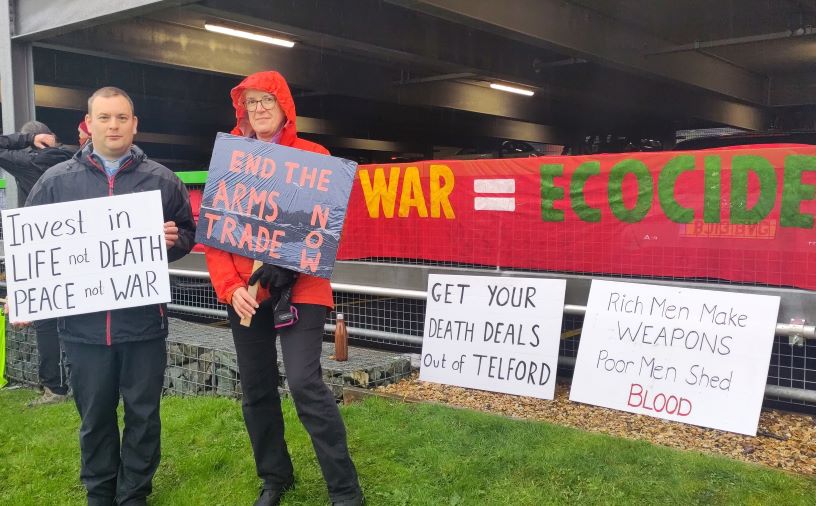 The Specialist Defence and Security Convention (SDSC-UK) was previously held in Malvern, but moved to Telford International Centre following protests from local Quakers and others.
Rajan Naidu, 72, Louise Scrivens, 52, Fran Wilde, 69, and Ralph Wallin, 80, all from Birmingham were charged alongside three others with intentionally or recklessly causing a public nuisance at the protest on Wednesday, 1 November.
They are due to appear at Telford Magistrates' Court on Tuesday, 12 December.
In an open letter to Telford International Centre five local Quaker meetings and many others said: "To host an arms fair is not an apolitical act and this is not a straightforward third-party booking.

"Such an event will stain the Telford International Centre's reputation and betray the values of Telford's community, in particular disrespecting those of us who have experienced armed conflict or had to flee war and persecution."
On Thursday, 2 November, Quakers held a meeting for worship outside to draw attention to the link between the trade in weapons and the killing and maiming of human beings.
SDSC-UK exhibitors include companies linked to the Saudi-led coalition's war in Yemen, to antidemocratic surveillance and repression, and to the drone bombings, night raids and the killing of civilians in many countries.
Previously held at Three Counties Showground in Malvern, SDSC-UK changed its name from Three Counties Defence and Security Expo and moved to Telford this year.
Organisers insist that the move was prompted by the need for more space and transport links, rather than the local campaign against it.
But they face similar opposition in Telford from Stop SDSC-UK, a coalition including Quakers, XR, and others, which has campaigned hard against the fair.
A popular live music venue in Southwater cancelled the arms fair's booking for 'welcome drinks and nibbles', and residents have written to their councillors asking them to oppose it.
DSEI, the world's biggest market for weapons, recently went ahead at the ExCeL Centre as usual, despite opposition from faith groups and the Mayors of London and Newham.
But similar weapons markets were banned from Glasgow in 2018, following strong protests from organisations including Trident Ploughshares, Food Not Bombs and Catholic Workers.
The UK is one of the biggest exporters of arms globally, including to repressive regimes and those suspected of violating international humanitarian law.
It has sold billions of pounds worth of arms to Saudi Arabia, which has waged war in Yemen killing many civilians and creating a humanitarian crisis.
Conflict can and should be addressed through conflict prevention, diplomacy and peacebuilding, rather than the use of arms, Quakers believe.