Quakers disappointed by reversal on climate commitments in King's Speech
The King's Speech has left Quakers in Britain deeply disappointed and concerned about the UK's commitment to protecting human rights and to taking urgent action in response to climate breakdown.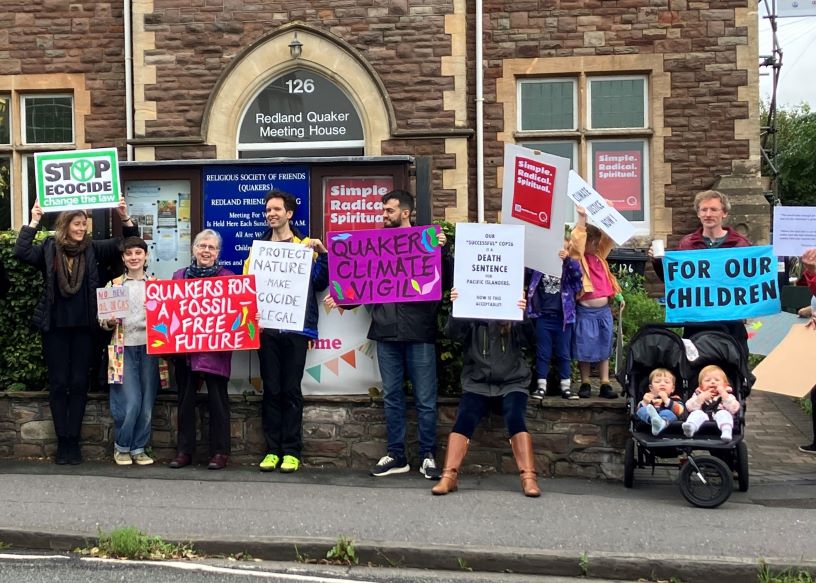 The decision to introduce a new annual system for awarding oil and gas licences and outlaw action against foreign countries engaged in human rights abuses is a step in the wrong direction, they said.
Long trailed by the government, the decision to ramp up awards of North Sea licences has faced huge opposition, including from Quakers who have held climate vigils up and down the country.
[QUOTE-START]
If the government is serious about its climate commitments, it should be taking concrete action
- Paul Parker
[QUOTE-END]
Giving the green light to yet more oil and gas exploration contradicts the urgent need to respond to climate breakdown, Quakers believe. It also flies in the face of warnings from the Intergovernmental Panel on Climate Change and won't bring the energy security or lower prices the government claims.
Instead, the government should invest in clean, renewable energy sources and develop foreign and domestic policies that uphold human rights, equality and peace.
The Economic Activities of Public Bodies Bill (Anti-Boycott Bill) will prevent local authorities, universities, and other public bodies from pursuing investment and procurement policies that align with their environmental and human rights obligations, Quakers said.
Paul Parker, recording clerk of Quakers in Britain said: "We believe that individuals and organisations should have the right to use peaceful means to protest against human rights violations.
"By criminalising such actions, the government stifles the voices of those advocating for a more just world."
Quakers welcomed the government's "support for developing countries with their energy transition" but noted that these words had not been matched by legislation or funding.
"If the government is serious about its climate commitments, it should be taking concrete action to put financing into a loss and damage fund for global majority countries that are bearing the brunt of the climate crisis," said Parker.
"Together, we must work towards a future where our actions align with our values, fostering a world that respects both the environment and the dignity of all human beings."
Quakers were also disappointed by the new Sentencing and Criminal Justice Bills, and they condemned the absence of a ban on conversion therapy in the King's Speech.
"Conversion therapy has long been discredited as harmful and inhumane, causing immeasurable suffering to LGBTQ+ individuals," said Paul Parker.
"Quakers firmly stand against any form of discrimination and call for decisive action to ban conversion therapy, ensuring the safety and dignity of all in the LGBTQ+ community."