Join the Hibakusha's call to eliminate nuclear weapons
In the coming weeks, Quakers across Britain will be among millions around the world solemnly marking the 75th anniversary of the atomic bombs which destroyed Hiroshima and Nagasaki.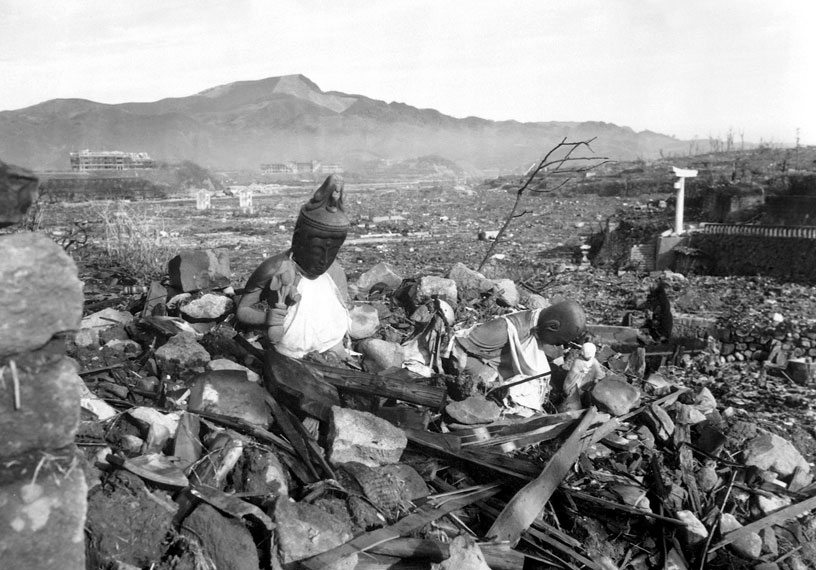 Between 100,000 and 180,000 people were killed in Hiroshima. Three days later, between 50,000 and 100,000 died in Nagasaki. Many more people died in the days and months that followed.
While large-scale commemorations have been set aside to avoid the risks of COVID-19, online events will mark the disastrous days. Many will join the Hibakusha's (survivors) call for the total elimination of nuclear weapons.
Marigold Bentley, Head of Peace Programmes and Faith Relations for Quakers in Britain, explains why Quakers are involved: "Humanity finds itself in 2020, 75 years since the world realised with horror the devastation it was able to inflict on itself, shamefully still unable to reject nuclear weapons. Quakers have consistently regarded them as both faithless and sinful, and are committed to working for nuclear disarmament, holding hard to our religious vision of a world without war. We are tasked with educating each generation of the danger of nuclear weapons, and to the many opportunities we have before us to rid the world of them. We remember what happened in Hiroshima and Nagasaki in 1945 in order to recommit to work against them."
Ahead of the anniversary, Quakers in Britain are supporting Christian CND's call on the UK government to work for a global ban on nuclear weapons and to cancel the current programme to replace Trident
The full text of CCND's letter is here:
"August 6 marks 75 years since the dropping of a nuclear bomb on the Japanese city of Hiroshima. Three days later another bomb was dropped on Nagasaki. The bombings killed tens of thousands of people and caused environmental damage and suffering which many people continue to live with today.
"Shortly after the bombings the international community came together at the United Nations to say "never again" and pledged to work for the elimination of nuclear weapons around the world. Sadly, 75 years on, that goal has yet to be met, and many nuclear-armed states, including the United Kingdom, are currently pursuing upgrades to their nuclear arsenals, spending hundreds of billions of pounds in the process.
"As Christians we reject nuclear weapons. We believe that their capacity to indiscriminately kill millions of our brothers and sisters, and to catastrophically destroy God's creation, makes them contrary to the teaching of Jesus Christ. Recent events have shown that the global community must work together to overcome the challenges facing us in the 21st century. We must speak out and call for action to ensure that the horrific events witnessed in Hiroshima and Nagasaki are never repeated.
"We call on the UK government to make every effort to engage in meaningful international disarmament, most importantly by committing to the cancellation of the current programme to replace Trident."
Signed by Juliet Prager, Deputy Recording Clerk for Quakers in Britain
How to join in
Quakers will be joining many online events, webinars, teach-ins, fasts, vigils, drama and exhibitions, including these:
Quakers' Teach Peace Pack includes 'Sadako and the thousand cranes' https://www.quaker.org.uk/resources/free-resources/teaching-resources-2
CND Peace Ed has some great resources https://cnduk.org/education/free-teaching-resources/sadakos-cranes/
Alongside CND's Cranes for Peace Challenge, CND Peace Education is hosting a 'School Vacation Creations' event to help young people to think about the bombing and think about peace. They're invited to send to peaceeducation@cnduk.org their creative writing (including poems and short stories) and artworks (drawings, paintings, photography and/or film)

CND have an online exhibition and CND events page
Trident Ploughshares, with the support of CND, have organised a Fast and Days of Action and Protest from 6 to 9 August across Britain: London, Bristol, Iona, Knighton, Edinburgh, Plymouth, Barnstaple, and others to follow
This Evil Thing, written and performed by Michael Mears, is the compelling and inspiring story of the men who in 1916 said no to war; and the men and women who supported them. Since its world premiere on the Edinburgh Fringe in 2016 This Evil Thing has been performed over 100 times in the UK and in the USA. See the lockdown version filmed at home by Michael Mears.
At 7.30pm on both 6 and 9 August, Sands Film Studios, London, will be live-streaming two tales from survivors of the atomic bombings. Adapted and performed by Michael Mears with live atmospheric musical accompaniment by Chihiro Ono. www.sandsfilms.co.uk
The International Campaign to Abolish Nuclear Weapons (ICAN) is a coalition of nongovernmental organisations in 100 countries promoting adherence to and implementation of the United Nations Treaty on the Prohibition of Nuclear Weapons. The UK has not yet signed the Treaty.
Image of temple statues Cpl. Lynn P. Walker, Jr. (Marine Corps) / Public domain