Conscientious Objectors' extraordinary rebellion preserved
When Norman Gaudie refused to participate in World War I he acted from the deepest conviction that all life is sacred.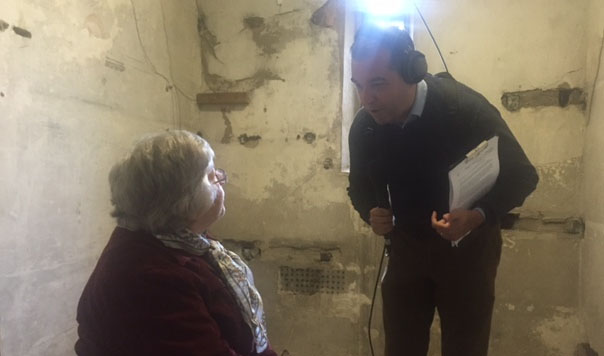 He knew it was wrong to take a life and so he refused to fight. Faced with conscription, he was prepared to die for his belief.
One hundred years on, his courage is recognised by an English Heritage project announced today at Richmond Castle to preserve the graffiti written on the cell walls by men who waited alongside Norman Gaudie, to be sent to the battlegrounds in France, to face court martial and the threat of firing squad.
The men, known as the Richmond Sixteen, had death sentences commuted to imprisonment.
On International Conscientious Objectors' Day (15 May) they are remembered among 16,000 men who said 'No'.
English Heritage say they are committed to preserving "this extraordinary record of rebellion". Etched on the cell walls are poems, final messages to loved ones and drawings, including one of Norman Gaudie's mother, Eva. But the graffiti is crumbling with age and damp.
[QUOTE-START]
He was prepared to die for his belief and that took immense courage.

- Marjorie Gaudie
[QUOTE-END]
Marjorie Gaudie, from Osmotherley Quaker Meeting says it is important to remember men like her father in law. He became a Quaker after getting to know Quakers during the war. She said, "He was prepared to die for his belief and that took immense courage. He and the others paved the way for conscientious objection to be able to come into force, for it to be legal. Although even in World War II men had problems and were put into prison, it was more acceptable because of the stand he took. He must have been amazingly courageous to take that stand."
As the Lottery funded preservation project was announced, a BBC reporter recorded a live interview with Marjorie in the cells at Richmond Castle. Media have widely reported the project which respects the conscientious objectors: courageous and no longer cranks and cowards.