Average read time: 5 minutes
Why compassion needs to be at the heart of our response to Channel crossings
Bridget Walker outlines why safe routes and a culture of belief need to be central to the UK's response to Channel crossings.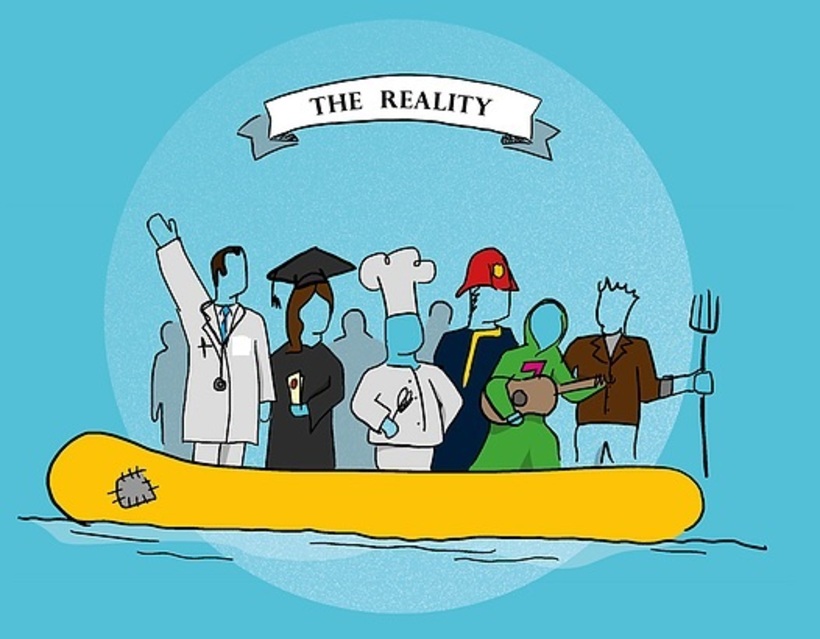 Over the past months hundreds of fragile, overloaded boats have made the perilous crossing over the English Channel in search of refuge. For many of the men, women and children on board this is the last stage of a dangerous journey that may have taken them months or even years. They have been fleeing from war torn countries such as Syria, Sudan, Libya and Iraq, from repressive states such as Eritrea, and from countries like Mali where climate change and political unrest put lives at risk.
Some come here because they have connections, perhaps through our colonial history, some because they speak English and have skills to offer, some because they believe that the UK is a democratic country which respects human rights.
Dehumanising language
The government has called these arrivals 'invaders' as though they had come to wage war rather than to seek refuge. The response has been a military one, calling on the Navy in an attempt to block crossings. The Prime Minister has said attempts to cross the channel are "a very bad, stupid, and dangerous and criminal thing to do". Both government and media have called the crossings and those making them 'illegal', saying that France should exert stronger control, in the words of Minister Helen Whately, "to stop the flow of illegal migrants".
This is inflammatory and misleading language, part of a long history of myth and disinformation. It is not illegal to seek asylum and people are taking dangerous routes because safe ones are not available.
The need for safe routes
The refugee resettlement scheme, with which many of us are familiar and which takes people selected by UNHCR, is currently suspended because of the pandemic. The men, women and children we are hearing about have no legitimate way to claim asylum here unless they set foot in the country. The Home Secretary has blamed criminal gangs, and there is no doubt that the needs of vulnerable asylum seekers have been exploited by those looking for a business opportunity. (The price of a place on a smuggler's boat is very much more than the cost of a ferry or plane ticket). The most effective way of undercutting those who exploit the asylum seekers would be to create regular, safe and legal pathways.
There is a gap between rhetoric and reality. On numbers for example, we are given the impression that the UK is the destination of choice, the government arguing that asylum seekers should apply for asylum in the first safe country they reach. In fact, many do. Care4Calais has shown that for every 100 people setting out on the asylum journey only 5 are aiming to come to the UK.
[Pressing play on the video below will set a third-party cookie. Please see our cookies page to find out more.]
Overcoming a hostile environment
There is a culture of disbelief which doubts the stories of refugees. Yet, in the year to March 2020 more than half of initial asylum applications were successful. On appeal, that number increased substantially, demonstrating the legitimate reasons for claiming asylum in the face of a hostile environment whose devastating impact was seen in the Windrush scandal.
A young person, let's call him Abdul, told a Quaker involved in asylum support,
"There are no possibilities here. I put my hand [fingerprints taken when first stated intention to claim asylum in Europe] in Switzerland three years ago, I learned German and had work, but my asylum has now been rejected. It is not safe for me to go back to Sudan, what choice [do] I have? There is no life here living on the street with no papers.
"Why can I not ask if the UK wants me? Many people in my village have the names of the British who were there to take the land before, your grandfathers, James, William. Many have these names.
"Across the water was very bad, but not like before, not like coming Libya – Italy.
"Now we are here. We wait to know our future. Many people they say we will be taken back to France, but what we can do? We just wait in the room."
What can we do?
As Quakers, guided by our testimonies to truth and equality, we can begin by challenging inflammatory language and refuting lies wherever we hear them. Together with other faith communities, we have a lot of experience through our Sanctuary Meetings Network and the work of the Quaker Asylum and Refugee Network. Truth telling matters. Rescue at sea is a moral imperative and legal obligation. Giving a full-hearted reception to suffering people and meeting their protection needs is our witness.
As the Windrush Lessons Learned review put it, the Home Office "must change its culture to recognise that migration and wider Home Office policy is about people, and whatever its objective, should be rooted in humanity". These lessons have still to be learned. We must continue to advocate, speak up and – along with others – work for justice and compassion in asylum policy and practice.