Average read time: 3 minutes
The climate can't afford the cost of war
This week, the ExCel Centre is hosting an exhibition of weapons of war in the London Borough of Newham. Phil Laurie from Quaker Roots reflects on the contradiction of spending money on the military when we need to be responding to the climate emergency.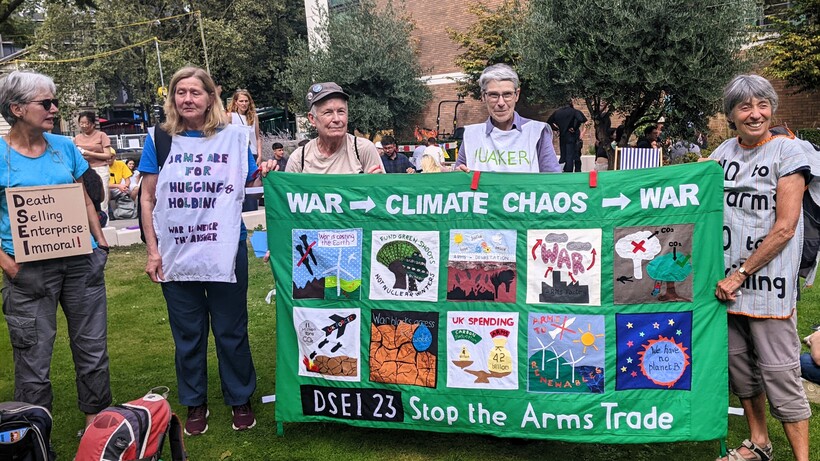 It is impossible for me to imagine a sustainable society when we are still selling and exporting weapons and hosting large military equipment shows such as the DSEI Arms Fair.
We need to finance climate adaptations and put money towards loss and damage to mitigate against climate change in our country and abroad. Every pound spent on the military is money not spent adapting to our new reality. Last year, £45.9 billion was spent on so-called 'defence' in the UK. That money is money not being spent on flood defences, not going towards a Green New Deal, and not being spent transitioning to the systems we need for people and the planet.
Military emissions
Climate change is leading to increasing violent conflict and war. And in the other direction, in addition to the immense injustice and human impact in conflict, war can cause biodiversity devastation and creates a huge amount of carbon emissions. Militaries around the globe consume enormous amounts of fossil fuels and produce an estimated 6% of all greenhouse gas emissions, which contributes directly to global warming.
As reported in the Guardian, many governments don't report data on emissions from military activities. Stuart Parkinson, Executive Director of Scientists for Global Responsibility, told the Guardian "those that do often report partial figures. So figures for military aircraft could be hidden under 'aviation', military tech industry under 'industry', military bases under 'public buildings'." Therefore, it is not just the public who are unaware of the cost of conflict to the climate, policymakers and even researchers are unaware of the true impact.
In terms of biodiversity, Joe McCarthy, writing for Global Citizen, says war crimes could warrant the charge of ecocide. These include attacks on industrial facilities that contaminate groundwater supplies and airways, as well as the deliberate bombing of grain supplies, wildlife refuges and other important ecosystems. With each day at war, countries such as Yemen, Afghanistan, Sudan, Eritrea, and Ukraine have less ability to recover their vibrant culture and protect their beautiful nature. What can we do to ensure a just, green transition for all?
What can Quakers do?
It has been 18 months since I decided to oppose the UK Government's inaction on climate collapse. I felt I needed to stand with those who have said "enough is enough"! I felt that not standing with those speaking out would be to be complicit in a tragedy. A tragedy so great and so avoidable it would constitute a crime. We are all complicit in certain ways and we can all try to stand in solidarity in different ways.
Some of us have the privilege to do certain actions, others are not able. I am white and consider myself to be in the liberal, middle class. I have no future that can be impacted by my actions and so I have an especially privileged position. So, I act. I act to try and draw attention to our imminent peril, and to highlight actions we can take which can begin to solve the problem.
Friends, ask yourselves and your neighbours: what is your role? What will you do? how will you show up in solidarity in this climate emergency? How will we ensure that peace is the outcome?
All my love, you brave wonderful people. See you on the street.
Get involved with Quaker action on the arms trade or join Quaker actions on Make Polluters Pay Action Day on 23 September.