Average read time: 3 minutes
Sharing the costs: Opening access to Yearly Meeting 2018
Ann Pfeiffer outlines how the support of Friends will help more Quakers in Britain take part in our annual gathering.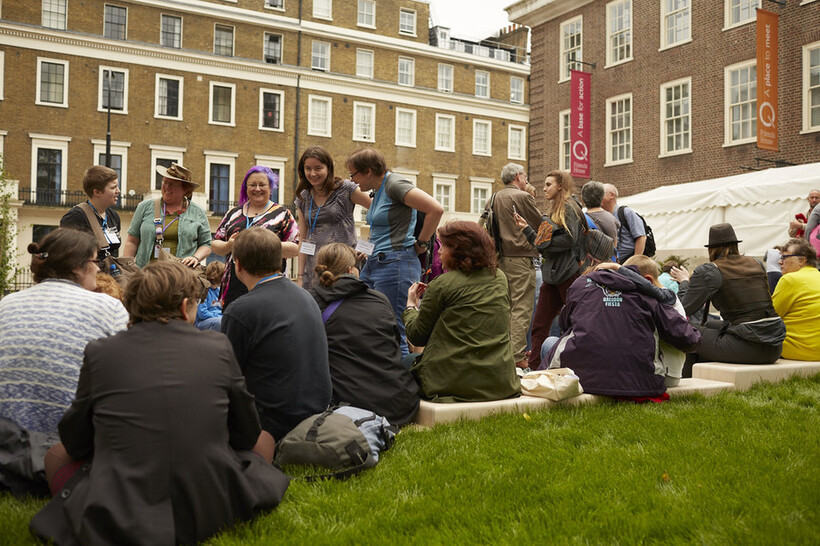 Yearly Meeting, the annual gathering of Quakers in Britain, is set to take place on 4–7 May 2018 at Friends House in London. The four-day event will see Friends come together to worship, make decisions, and spend time together.
This year we will also be asking ourselves an important question: how should Quaker faith & practice look for the next generation of Friends? During the event Yearly Meeting Agenda Committee will be asking us all to join in the process of spiritual discernment that will "find the way forward for the book that inspires, guides and expresses our faith and our life as a community."

Funding for Friends
Yearly Meeting is a key date in the Quaker calendar, one that shapes important decisions about our faith and work, and one all Quakers in Britain have a stake in. We are determined to remove as many obstacles to attending as possible, including lack of money. While the event is free to attend, there are still travel and accommodation costs to consider for those who do not live nearby. That's why this year we will again be setting aside funding to help people be there who might otherwise be prevented for financial reasons.
This support has previously proved very popular and is only made possible each year thanks to donations from fellow Friends. Last year participants at the week-long residential Yearly Meeting Gathering were given the opportunity to make a donation to the bursary fund when they booked. Thanks to the generosity of nearly 300 people we raised over £7,000 and made 28 grants to individuals, families and carers who would not otherwise have been able to take part in person.
In the run-up to Yearly Meeting Gathering, Recording Clerk Paul Parker and Deputy Recording Clerk Juliet Prager organised and took part in a four-day sponsored cycle ride from Friends House in London to the site of the gathering at Warwick University. They did it to raise money for bursaries for young adult Quakers, as well as demonstrate a commitment to sustainability, and managed to raise over £1,200.
It meant that for the first time ever we were able to specifically help young adult Quakers with these funds. If you'd like to raise money for Quaker work through a sponsored activity, you can do this through JustGiving.
A new system
Younger Quakers will again be able to apply for funding to support their attendance at Yearly Meeting 2018. To make it easier for them to do this we have changed the application process so that they no longer need the support of a local meeting to apply.
Because many young adults frequently move area, making it harder to connect to a local meeting, they risk missing out on local support. Hopefully this new system will mean that they too can participate as fully as possible.
In addition to all this, Yearly Meeting 2018 will again see local Friends offering low-cost accommodation in their homes.
Of course there will always be reasons why people can't, or prefer not to, attend Yearly Meeting, and we are continuing to work on ways to enable those who aren't there physically to better participate in the proceedings. But for anyone finding finances difficult, this way of sharing the costs may help make it that bit easier to attend in person.
Please do spread the word.