Average read time: 5 minutes
Is peace too controversial for the classroom?
Isabel Cartwright explores why teachers shouldn't shy away from 'controversial' issues in the classroom.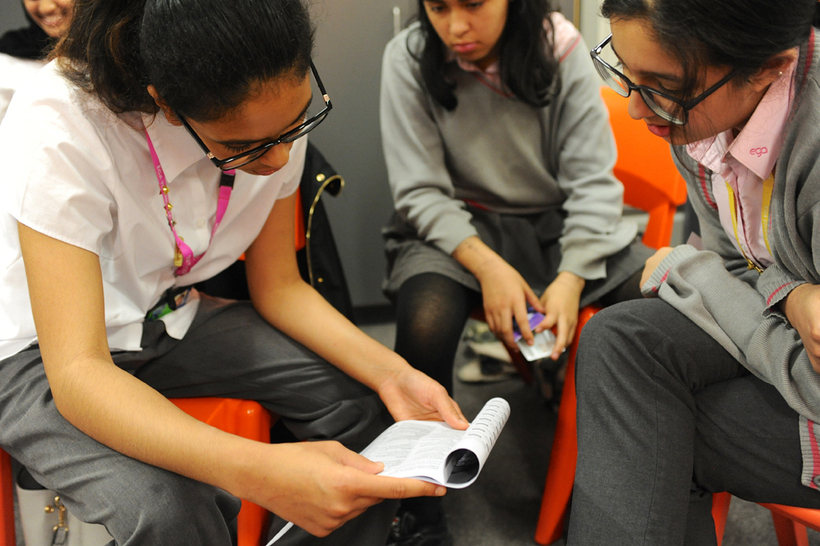 "If someone came to you with a video of their family shot by weapons you had sold or traded, would you see the defence exhibition in the same light?"
"We have a 100% legitimate show organised with the MoD."*
"That has nothing to do with my question. Would you get upset?"
"Of course I would."
"Why do you still do it then?"
This was a 15-year-old interviewing the chief spokesperson for Defence & Security Equipment International (DSEI) – the world's largest arms fair. This was 2003, but DSEI has remained controversial. Working at her school at the time, we prided ourselves on active citizenship, but no-one was explaining to the children why tanks were rolling in and out of the Excel Centre, clearly visible from their classroom windows. I brought in a filmmaker with experience of participatory filmmaking and we worked with a group of students for six months exploring the arms fair. We'd been lucky to get that interview. The spokesperson had underestimated this group of young people.
In the process of researching and making the film, the students became more politically aware. They were shocked to learn that people profit from war, and that Britain arms both sides of violent conflicts. Getting to know local older people and learning that this was the most heavily bombed area in Britain during WWII – a place now selling weapons – angered them. They began drawing a link between war, the arms trade and refugees. They were becoming what civil rights campaigner Bayard Rustin termed "angelic troublemakers".
Grappling with moral questions
But was it my job as an educator to encourage this? Some teachers didn't think so. They saw it as politicising young minds, as pedalling propaganda. The same dilemmas surface in my work today. We produce teaching resources on topics such as armed drones and Israel/Palestine. In a recent teacher-training session one of the trainee teachers asked whether we should be bringing such political issues into the classroom. Was it too much for both teachers and students to grapple with?
I was glad these concerns had been voiced. I do believe it's part of the role of an educator to teach 'controversial' issues, but what constitutes controversial, why these issues should be tackled, and how, needs to be explored and owned by the teacher themselves.
Active citizenship
What constitutes controversial? We could be talking about Donald Trump, nuclear weapons or human rights – anything that generates great public interest, strong emotions and divides society.
For me, part of the why is to support young people to become active citizens, locally and globally. Children have the right to express views in all matters affecting them, and for these views to be heard.
As adults, we need to respect children's right to be heard and support them to develop their own moral compass. Many controversial issues already touch their lives. The majority of 10/11-year-olds I've worked with are aware of drones. They've heard about violent conflict and war, and in some classrooms they've experienced it directly. By creating a safe space for exploration, children can test out what they've heard, learn to separate myth from reality, and build skills of analysis and judgement.
But how do we do this effectively? In our peace education work we emphasise three components: critical thinking, empathy development and a clear value base. Ideally, the group or class are used to meeting regularly to discuss issues and have learnt to do so respectfully. Tackling controversial issues should take place in a context of positive relationships and through activities that build trust and encourage understanding of different perspectives.
The role of teachers
Oxfam presents a spectrum (PDF) of where teachers can stand on an issue, and different approaches are useful at different times. The assumption that a teacher can and must always be impartial is problematic for me, as children can usually see through this. Authenticity is key to meaningful relationships. We shouldn't be afraid of bringing our values to our work; we do anyway, so we need to be conscious of it – it's part of what makes us educators.
Exploring different views
The curriculums in England, Scotland and Wales provide ample justification for exploring controversial issues, and there's also a requirement to provide a "balanced presentation of opposing views". This legitimises critical exploration but only applies to political issues, and many controversial (and arguably political) issues are not considered as such. A school can host as many military talks and presentations as it likes without being obliged to hear opposing views, as the armed forces aren't considered political.
The 'Prevent' (Preventing Violent Extremism) agenda seems to have increased anxiety around tackling controversial issues. We've had schools wary of taking part in peace education projects such as hosting a group of Hibakusha (atomic bomb survivors), citing 'Prevent' as the reason. Yet the legislation actually says, "Schools should be a safe space where students can discuss social and political issues, including extremism and terrorism. Building their resilience will put them in a stronger position to reject extremist views…"
A moral craft
As the world's largest arms fair returns to East London in September 2019 I'd encourage educators to take this opportunity to explore the arms trade with their students. Many of the arms companies, such as BAE Systems, have found ways into schools through STEM (Science, Technology, Engineering and Maths). Yet they rarely address their controversial arms production and sales, instead focusing on talking robots and giant hamster wheels as if this technology exists in a moral vacuum. This denies students the chance to grapple with these moral questions and develop as active citizens. Education is a moral craft; let's embrace that.