Average read time: 4 minutes
Finding patterns and examples in Edinburgh
Quaker role holders are key to Quaker meetings and help keep the faith alive and vibrant. Oliver Waterhouse reflects on the first of three events aimed at supporting people in their service.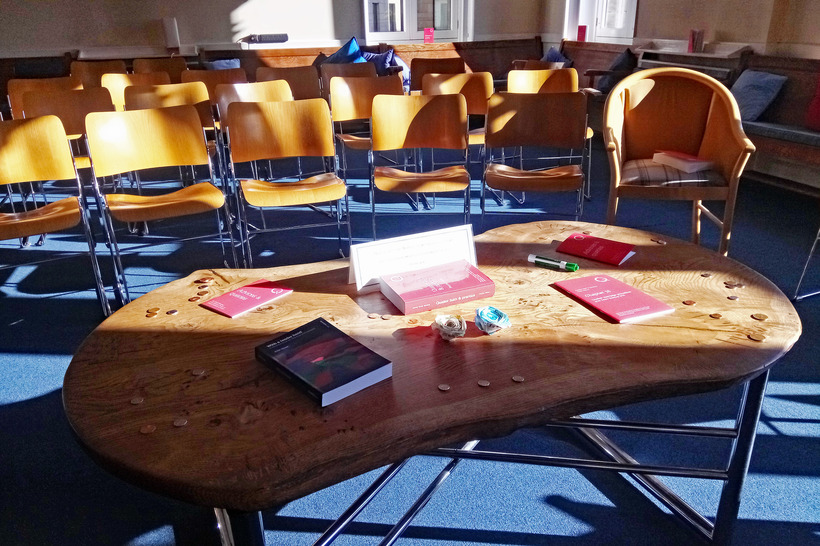 The sun is streaming through the windows of the main meeting room at Central Edinburgh Meeting House. It is a cold and bright February morning and there is a buzz of excited conversation filling the room.
47 Quakers from across Scotland and the north of England have come together for the first of three Patterns and Examples events. The gatherings bring Quaker role holders together and make a space to share experience and learn from one another.
Quaker role holders are a vital part of Quaker meetings, which have no paid clergy and are run by their members. There are a number of key roles that are appointed to members of meetings, from overseers to treasurers, and these work to keep the meeting running smoothly as well as contributing to the wider structure of meetings of Quakers in Britain.
Telling stories
In the room participants are meeting and greeting one another. Some for the first time, some who know each other well and a few who are rekindling friendships after not seeing one another for 30 years or more. There is a feeling of deep fellowship, and the sound of stories old and new fill the air.
After a time the room clears and people move away to the morning sessions, where they have a chance to explore one of several areas. These include ministry and service (looking at ways to live out our faith in the world and support the faith itself), the method and structure of Quaker business meetings, pastoral care and stewardship (taking good care of our resources).
As they leave I reflect on the coins left on the meeting room table that have been used in an exercise to get attendees talking to each other. It's as though the stories are still there waiting to be picked from the table and re-told over again.
Becoming clear
The hum of conversation returns at lunchtime as the group comes together and finds the energy for the afternoon sessions. These are of a more reflective nature and give the opportunity to try something out for the first time.
Again, there are a few options to choose from. There's a session on opening the door to talking about mental health in meetings – something that we are continuing to develop our support for this year. Or there's a chance to try out a meeting for clearness, where an individual (or couple in the case of marriage) can take a situation in their lives and look within for guidance, working towards 'becoming clear' as to the right way forward for them.
Another option is to experience Godly Play – a form of storytelling with props that also serves as a way to discuss and reflect on themes of faith and theology.
While telling the Godly Play story I found myself reflecting on the last time I told this story. It was to a group of children, and I remember clearly their look of wonder as the story was revealed in front of them. I was hoping for the same response from the group of adults. Though their response was different, the wonder and excitement conveyed by storytelling in this way was still very obvious.
Fresh enthusiasm
Coming together as a group at the end of the day, it became clear that this event had given many participants what they had hoped for.
"I felt supported by the thoughtful, willing, helpful and positive examples of servant leadership all around us," said one Quaker. Another reflected on how they were "taking away more ideas and fresh enthusiasm, including inspiration from Godly Play" that would help to support their meeting.
This was the first of three events of this kind being held in 2018, and organised by Quaker Life and Woodbrooke. The next one is in Ashford (Kent) on 24 March (bookings close 12 March) and the last is in Liverpool on 26 May.