Average read time: 4 minutes
Crunch time for Policing Bill
The Police, Crime, Sentencing and Courts Bill is reaching the final stages of the parliamentary process, where changes will pass or fail. Grace Da Costa explains what changes are needed and how you can help influence the outcome.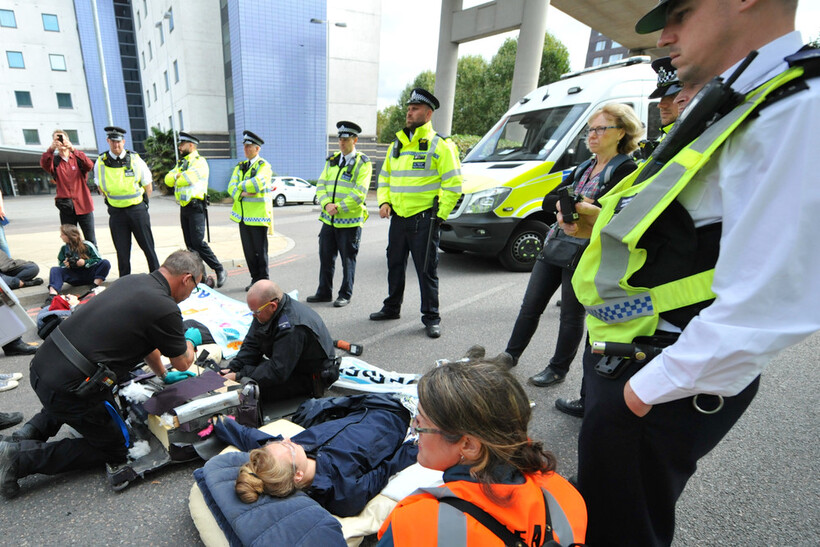 The Policing Bill is a massive piece of legislation that includes many measures that go against Quaker values. These include longer sentences, expanding stop-and-search powers, restricting protest, and criminalising trespass. A lot of these will disproportionately affect people from marginalised communities.
The need to focus
Quakers in Britain is on the steering group for a coalition campaigning against Part 3 (protest) and Part 4 (trespass) of the bill, as well as supporting the campaigns against parts 2, 7 and 10 (criminal justice).
We oppose almost everything in the bill. But the government has a huge majority in the House of Commons and a strong position in the House of Lords. So, we have to focus on where we can really make a difference. We do this by persuading MPs and Peers to push for amendments on the issues we care about most.
New government amendments
Unfortunately, while we've been working to improve the bill, the government has been making it even worse. In November it published more than 15 pages of new amendments to the bill. Liberty has produced an excellent briefing on the amendments (PDF), but here's a quick summary of some of the most important proposals:
New Serious Disruption Prevention Orders (SDPOs) aimed at preventing people from taking part in protests. These could ban individuals from participating in certain activities, meeting certain people, or saying certain things for up to two years – even if they haven't been convicted of any wrongdoing.
Massive expansion of stop-and-search powers for protests. This could deter people from attending protests, result in protest items being confiscated, and disproportionately affect minority groups.
New criminal offences of locking-on (when protestors attach themselves to people, objects or land); being equipped to lock-on; and obstructing major transport works. These would criminalise an incredibly broad range of acts.
These amendments are a huge threat to human rights and civil liberties. They're being added at a late stage to an already extensive bill that's being rushed through parliament. We have to speak out against this.
What can we do?
At the time of writing, the government shows little sign of shifting its position on parts 3 and 4 of the bill. This means the bill will have a terrible impact on the right to protest and the ability of Gypsy and Traveller communities to live a traditional, nomadic way of life.
However, if we can cause enough of a fuss about these issues in public, in the media and in parliament, the government might change its mind. We are seeing the seeds of discontent among MPs and Peers – now we just need to nurture them. It worked with the Overseas Operations Bill, and it can work with the Policing Bill.
Here's how you can help:
Write to your MP now using our template letter (Word) before the bill returns to the House of Commons for its 'ping-pong' stage (when amendments go back and forth between the Commons and the Lords). This will encourage your MP to vote to keep any good amendments made in the House of Lords.
Share social media posts by @BritishQuakers, @GypsyTravellers and @LibertyHQ about the right to protest and to live a nomadic way of life.
Sign the petition against the bill if you haven't already. You can find it on Friends of the Earth's website.
For more ideas about how to take action against the bill, download our recently updated briefing for Quakers (Word).
Sharing hope
This bill is a blatant attack on fundamental pillars of our democracy, such as the freedom of assembly and the protection of minorities. It's dangerous now because it could prevent us from speaking out on all the issues we care about – from the climate crisis to refugee rights. And it could be even more dangerous in the future if these sweeping powers are abused further by future governments.
But if COP26 taught me anything, it's that faith groups can give hope to people where others can't. So, I call on you to stay hopeful on the Policing Bill, no matter the odds, and take action now for all those who will be affected by it in the future.