Average read time: 5 minutes
After the Gathering: 11 ways to live out our Quaker faith in the world
Following Yearly Meeting Gathering, Suki Ferguson suggests different pathways to action.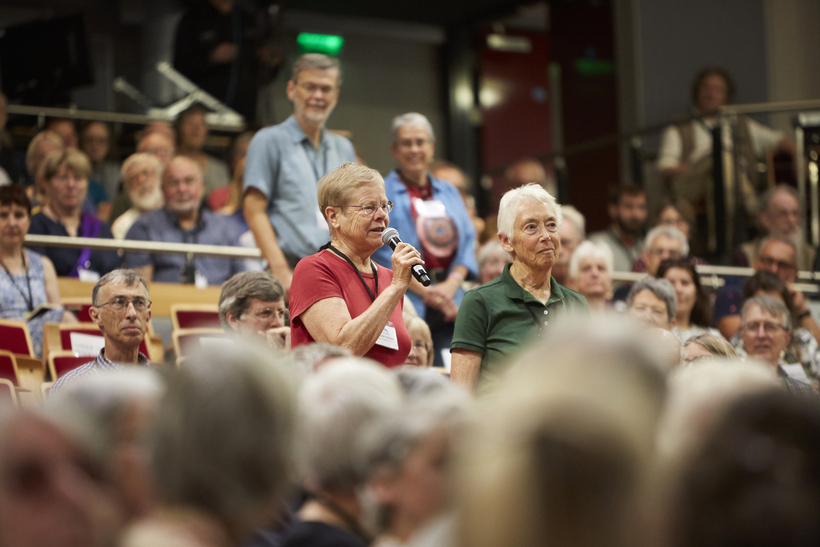 I left Yearly Meeting Gathering with a sense of hope for the future. It took me a while to identify this, given that the daily news discourages a feeling as impertinent as hope. This Yearly Meeting Gathering was the culmination of a three-year arc looking at living out Quaker faith in the world, and it felt like many seeds for change were sown. Which of these seeds will grow? Which will take root? Which will flourish for years to come?
Hope wasn't the only feeling ricocheting around the Warwick University campus. The joyful jumble of faith in action discussion created some confusion too. Which actions are most effective? What can one Quaker, or one local meeting, take away from hundreds of approaches and examples? Here is a short skim through some of those possibilities. Which of them speak to your condition?
1. Tell your stories for change
Pressing play on the videos below may set a third-party cookie. Please see our cookies page to find out more.
Tell your own stories – especially the ones that make you feel raw, humble, proud, human. These are the stories that connect you to others, helping them feel their own sorrow, their own anger, their own joy. Your story may serve as a touchstone for when someone feels doubt, or feels alone. That is a powerful thing.
Sharing the facts and figures behind why change is needed is essential, but transformation comes when we address the whole of a person. Through stories, Quakers can inspire changes of heart, and make space for changing minds.

2. Be strategic
If you want to tackle a local issue, map out where you are now, where you want to be, and the routes you can take to get there. Learn about those who oppose you. Develop a strategy for persuading the undecided. Ask sympathisers to help you. Be realistic about the impact of your action – how can its power be multiplied? And once you achieve your goal, what could happen next?
3. Build each other up
Perhaps two of you share a concern, but differ on how to take action. Or perhaps a Friend feels strongly about an issue that doesn't move you. In either case, supportive empathy helps all involved. Quakers are not crabs in a bucket, pulling each other down when someone reaches towards the Light. Social change demands a variety of tactics. Celebrate and use the different skills, experiences and enthusiasms within your meeting or group, even when that abundance challenges your status quo.
4. Make a donation to support Quaker witness
Britain Yearly Meeting works on behalf of all Quakers in Britain to strengthen the Quaker community, speak out in the world and promote peace, justice, equality and sustainability. You can support this work by giving money or time. Find out more about giving.

5. Challenge yourself
How can you make your meeting more open and inclusive? Find inspiration through this year's George Gorman Lecture.
6. Have difficult conversations
Every conversation has the potential for change within it. It might be with a family member, a friend, someone in your meeting, someone you work with, or a neighbour. Download Having difficult conversations (PDF).
7. Become part of your local government
Council meetings may feel like an unlikely place for change to happen, but this is civil society in action. Perhaps Quaker values are lacking in your council. A Quaker presence may help.
8. Bear witness to people living under occupation in Palestine
Ecumenical Accompaniers spend three months doing just this. They return with stories to tell – perhaps your meeting can host an event to raise awareness. Or you could apply to become an Ecumenical Accompanier yourself. Find out how to get involved in bringing about a just peace in Palestine and Israel.
9. Speak plainly
It's important to name the inequalities that people experience in Britain today. There is racism, sexism, Islamophobia. There is transphobia and homophobia. Classist attitudes are commonplace. Bigotry and violence happen within our communities. Learning to recognise these specific wrongs is necessary; plainly naming them is part of the practice of righting them.
10. Build up your local meeting on social media
Not everyone uses social media. But millions in Britain do – and it's a free way to connect with new people who are open to the Quaker way of life. Find a Friend who uses Facebook and support them in running a page for the meeting. A Facebook presence alerts people – particularly young adults – to the openness of your meeting.
11. Throw a party!
Celebrate the life you live as Quakers by sharing it – have a ceilidh night in your meeting house and invite friends (with and without a capital F) to come along, with families in tow. There's little point in working to create the Commonwealth of Heaven if you can't share it with those you love!