Average read time: 5 minutes
Our faith, our work: a look back at 2017
With the launch of our latest annual review, we take the opportunity to celebrate a vibrant year of Quaker activity.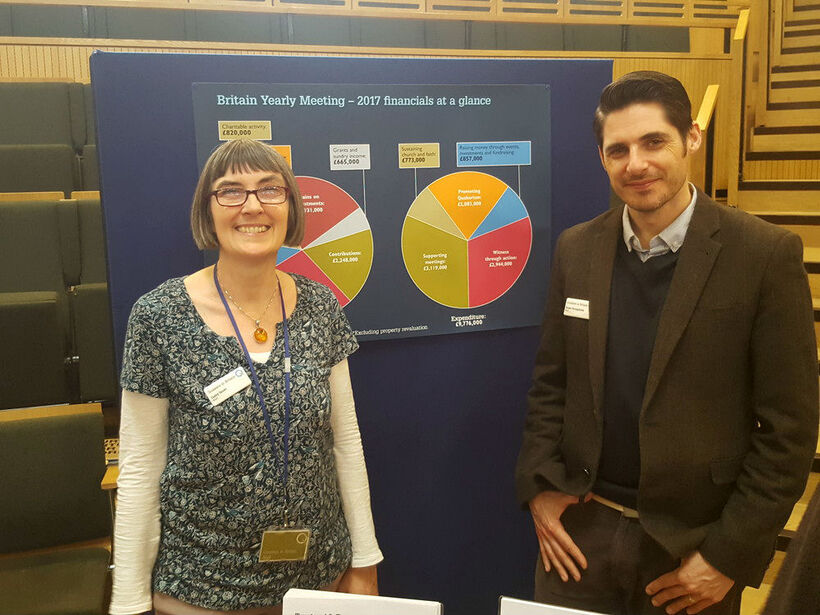 I am continually inspired by the breadth, depth and conviction of Quakers' work. Across Britain meetings are taking action inspired by their faith, working to nurture and diversify their communities, and supporting Quaker work to make the world a better place.
Here, in a nutshell, you have a year of Quaker witness. When you read it I hope you too will feel inspired – whether you are a member, an attender, or simply curious about the Quaker way. The full Annual review is available online or in every meeting house in the country if you want to read more.
January
We became the first major UK religious body to be awarded the Pay Compare Mark for disclosing the gap between our highest- and lowest-paid workers. We have two pay scales, both with a maximum ratio of 1:4, making 1:4.7 overall.
February
We made a public call for a ban on new forms of intensive fossil fuel extraction, saying "The UK needs to be investing in efficient and renewable energy, and reducing demand, not in additional fossil fuels. Fracked gas is incompatible with tackling the climate crisis. It is destructive of the environment, land and communities."
March
We responded to a consultation on fracking in Scotland, calling for a ban and increased support for renewable energy. In October the Scottish government effectively banned fracking. As our hospitality company celebrated its tenth year, it revealed that it had reduced the carbon footprint of Friends House by 29 per cent since 2009.
April
Young people aged 13–17 gathered in Devon for 'Living out our faith in the world' – five days of sustainable living that, for many, was a life changing experience. They camped in yurts and helped plant crops, chop wood and light fires. They met daily for worship and found it powerful and moving. Each day they reflected on a different Quaker testimony and how to live it out.
May
More than 1,000 people visited our stand at the Hay Festival of Literature & the Arts. Over 700 people bought tickets to see three Quaker writers talk about their spiritual journey. At least four people have started attending meeting as a result. Our library loaned eight objects to the Imperial War Museum London for its exhibition 'People Power: Fighting for Peace'. This was a significant public reminder of the Quaker role in the British peace movement.
June
We launched 'Engaging Young Adult Quakers', a three-year project that will ensure our yearly meeting is truly open and welcoming to young adults aged 18–35. We also launched a new blog offering Friends and the public a way to find out more about our faith, our work and the issues that matter to us. By the end of 2017, the 30 blogs posted had received 12,750 views.
July
Staff member Tim Wallis made substantial contributions to the negotiation of the Nuclear Weapons Ban Treaty at the United Nations in New York. He spent time encouraging the positive engagement of diplomats and helping to coordinate civil society contributions. The treaty was eventually agreed by 122 states.
August
More than 1,700 people attended Yearly Meeting Gathering. It was a joy to come together as an all-age community to worship, make decisions and of course have fun. In Kenya, peacebuilders trained by our Turning the Tide programme ran a national campaign to prepare citizens for the general elections. They organised 124 events, reaching thousands of people.
September
Quakers joined other faith groups to stage seven days of nonviolent action that disrupted preparations for the DSEI arms fair. As truckloads of equipment arrived, Friends from across Britain were among those peacefully protesting against war profiteering. Staff helped plan a week of action and provided meeting space at Friends House for the coalition that coordinated it.
October
Our outreach team helped coordinate more than 160 events during Quaker Week 2017. These events engaged local communities with shared meals, speakers and craft activities, from Shetland to Devon. Almost a quarter of Quaker meetings in Britain were involved.
November
During Living Wage Week we celebrated the fact that 13 Quaker organisations had become Living Wage employers – including Britain Yearly Meeting, Woodbrooke, and several area meetings. The Quaker Living Wage campaign, run by Lancaster Meeting, supports meetings to make the change.
December
We marked the 70th anniversary of receiving the Nobel Peace Prize for Quaker relief work during and after the two world wars. We also congratulated the International Campaign to Abolish Nuclear Weapons (ICAN) on being awarded the 2017 prize. ICAN is a global coalition of non-governmental organisations that includes Quaker Peace & Social Witness.
2017: a year in numbers
7 days of nonviolent action to disrupt DSEI arms fair
20 people trained as human rights observers based in Israel-Palestine
50 Quaker meetings committed to welcoming forced migrants
183 people trained in nonviolent direct action techniques in Rwanda
200 Friends at an anti-fracking meeting for worship on Pendle Hill
720 people experienced Quaker worship at the Hay festival
877,500 people saw our Quaker Week advertisements in magazines
2,944,000 pounds spent working for peace, justice and sustainability