Wheel Stop Trident
Around 14 young people, most with a Quaker background, formed Wheel Stop Trident in early 2015. Since then, we've pedalled cheerfully from London to Reading, and from Trident-linked arms company offices to Parliament, calling for the government to scrap Trident and spend the £100 billion on services that ensure true security.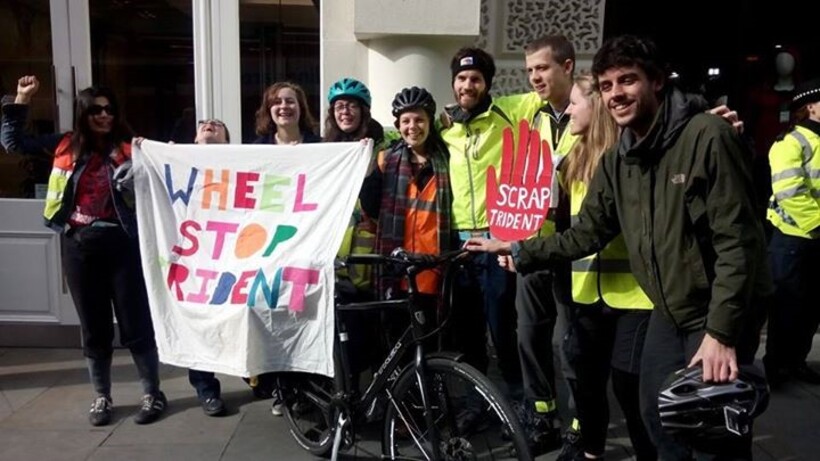 Nuclear weapons: immoral and useless
We're all deeply convinced that nuclear weapons are both immoral and useless against the pressing threats that we face, such as climate change and terrorism. For several of us, this conviction is rooted in our journey as Quakers, and has been tested in Quaker worship. We have been supported by Friends in two main ways: Meeting Houses have hosted us, and several Quakers have joined us for parts of our actions.

Our first action
Our first significant action was a 75 mile bike ride from central London to Atomic Weapons Establishment (AWE) Burghfield from 27-28 March 2015, to protest against the possible renewal of Trident at a time when the more genuine, sustainable security of strong public services and renewable energy are facing massive cuts and obstacles respectively. Nine of us were cyclists; the others helped with organising the route, promoting our ride on social media, and carrying extra bedding to Reading for the second night.
We started at the London offices of Lockheed Martin, the world's biggest arms company, which stands to profit a lot if Trident renewal goes ahead, and stopped off at: Ealing Save Our NHS, Grow Heathrow, Slough Quakers on the first day; and Reading Quakers (where Young Friends General Meeting were gathered for a 'challenging Trident' weekend), before reaching AWE Burghfield, on the second day. Spirits were high throughout, despite three punctures on the first day through the same tyre (a new one was purchased on the morning of the second day!).
What next?
Pressing play on the video below will set a third-party cookie. Please see our cookies page to find out more.
We made an excellent one and a half minute animated film to promote this first action, and have made a slightly longer video using footage from the two days. On Thursday 30 April, we did a shorter, second bike ride action, going between the London offices of Trident profiteers Serco, Jacobs Engineering, Lockheed Martin (again), and BAE Systems, before finishing in Parliament Square, where we joined the Peace Picket that is there in the run-up to the general election.
Support us
You can view videos, look at photos, and read written pieces from both our actions on our Wheel Stop Trident blog. We've had quite a significant impact on social media, with retweeters including Green Party politicians and Campaign for Nuclear Disarmament (follow us if you are on Facebook and/or Twitter!). We also had media coverage in The Morning Star, New Internationalist and Russia Today.
It has been great to be involved in Wheel Stop Trident because the atmosphere in the group is a hopeful one. We have cycled cheerfully over parts of the UK (to paraphrase George Fox!), meeting up with others who think that real security in the UK ad globally needs very different government spending priorities, but that ways to drive that change need to be positive and creative, as well as persistent. Friends: support us and learn about our future actions by following our blog, Facebook and Twitter.