Walking the Pilgrimage to Paris
When my friend and fellow walker Frances sent me an email about a pilgrimage from London to Paris I knew it was for me. I'm not much of a talker, haven't much money and don't think of myself as an activist, but I like walking. So walking to make a statement about the effects of climate change seemed like something I could do.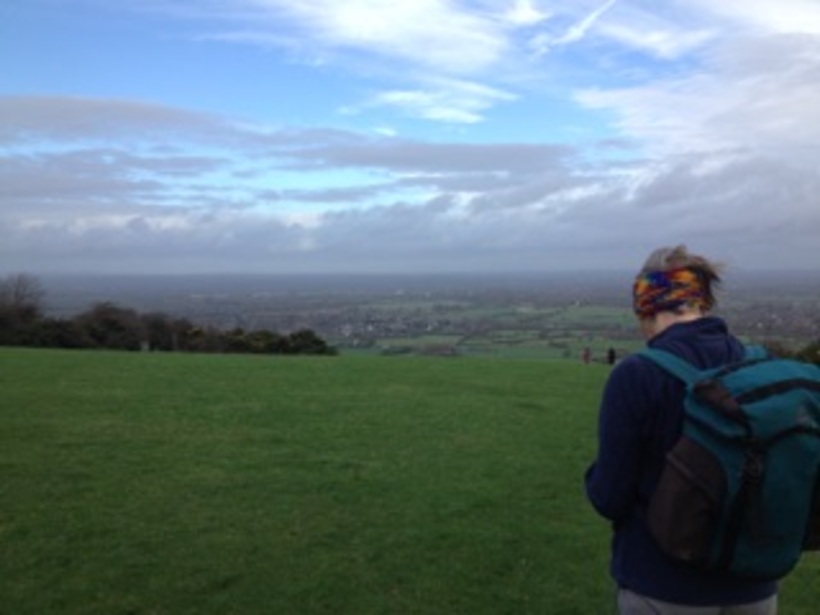 Leaving London
A bit of training to get up to speed and off we went. St Martin-in-the-Fields, the start of the pilgrimage, was crowded with fellow pilgrims, church leaders and the media. Odd that until then I hadn't considered the media, pilgrimage to me being a sacred, inward looking act, a journey with a spiritual purpose. During the service at St Martins it hit me that for this one, it was going to be important to engage with the media and with everyone we met along the way to get our point across.
I felt a shift in myself at that point and realised that my internal journey was accompanied by a responsibility to the cause I was walking for. I had a job to do and didn't feel well equipped to do it, but spent time thinking about other walkers in the world at this time. Thousands of people all over the world, like us, walking to Paris. Victims of floods and other catastrophes looking for something to hold on to. People fleeing conflicts exacerbated by climate change, needing somewhere safe to rebuild their shattered lives. I was walking in solidarity with them all.
The terrorist attacks in Paris that happened on the day we left were sobering, but didn't affect my decision to walk and I soon put into practice my need to spread the word, responding to a group of teenagers who asked where we were going: 'To Paris!', with a sentence or two about why.
The road to Paris
Over the next two weeks I learnt something about my fellow walkers and a lot about myself. Walking long distances is a form of meditation, a communion with God and with nature. I can be totally absorbed in the world around me, or oblivious to it, and the effect can be the same: my soul is at peace. Coming out of this place, I would sometimes find someone next to me, walking companionably, and sharing their thoughts and experiences.
At the end of a day's walking, anything from 10 miles to 20, we would be met by people wanting to hear about our journey, and to share their stories, to feed us and look after us. We slept on hall floors, on church floors in front of the altar (a wonderful experience), and in beds provided by host families. One good thing about the last being access to showers!
My new self-inflating mattress decided to 'pop' on the second night so that I found myself sleeping – or not sleeping – on something resembling a balloon. A quick trip to a local shop sorted it out and I slept well enough after that.
[QUOTE-START]
Walking long distances is a form of meditation, a communion with God and with nature

- Liz McPherson
[QUOTE-END]
I was struck by the number of people who contributed to the pilgrimage. The many lovely people who came out in the dark and rain, who cooked for us and wouldn't let us clear up. Whose homes we invaded, who gave us their beds, their bathrooms, their food, washed our clothes (and ironed them!). The many who asked us to walk for them, who walked with us in spirit when they were unable to walk with us physically.
Walking with a collection of mainly older people and fitting into the group was challenging. The youngsters among us, Josh was only 23, were working for NGOs, and I thank God for their energy and enthusiasm walking with us. The sound of their laughter drifting through the air every day, in sometimes awful conditions, was really heart-warming. It truly lifted us, a gift to carry us through.
We discussed our lives and what had brought us together. For many the belief that God's creation, instead of being cared for, was being destroyed, contrary to God's teaching. For all of us it included the inequalities of the effects of climate change, how the actions of a few major powers impact so profoundly on developing countries. We were walking to express solidarity with those affected by climate change. To urge world leaders in Paris to produce a universal and legally binding agreement, one that supports developing countries.
I'm glad that I walked. Glad that I'm playing a small part in this. I'm not a campaigner, but I try to be the change I want to happen, to live the life I hope for. And always to be kinder than necessary, for everyone I meet is fighting some kind of battle.