Walking in stillness with the People's Pilgrimage
News of the People's Pilgrimage for the climate bounced into my inbox last April. I am one who loves big symbolic gestures. And walking all the way from climate-chaos-threatened places in Indonesia to the UN Climate Summit in Paris in December, seemed like a very big gesture indeed.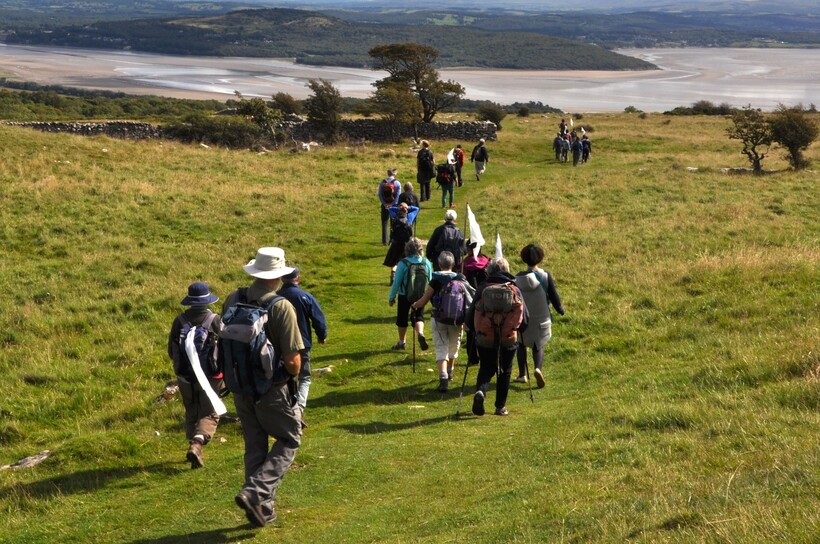 Growing up in Ireland in the 60s pilgrimage was part of my world. People would fizz with whispered excitement about climbing holy Cnoc Patrick, walking rock beds in Lough Derg (both bare-footed) or making their annual pilgrimage to Lourdes or Knock. For me, there has always been something simple, ancient and profound about the idea of a purposeful journey with a sacred or a spiritual purpose.
So in spring 2015 when the People's Pilgrimage was called by Yeb Sano – an ex-diplomat from the UN climate talks – I responded immediately. All over the world people of all faiths and none were joining together to walk as a symbol of solidarity and commitment – to encourage world leaders to take audacious action to combat climate change. Within a few weeks thousands of local pilgrimages, big and small, had popped up all over the world in support. In the midst of all of that enthusiasm the Morecambe Bay People's Pilgrimage came to life…
On the pilgrimage
So it was that on a glorious sunny weekend in early September a group of us walked quietly through woodland and over high fell in Cumbria, our People's Pilgrimage banners attracting curiosity and support from unsuspecting walkers.
Quakers at Yealand laid a feast for us, gave us comfortable beds for the night, shared their worship with us and readied us for an entirely different adventure on our second day. This took us to the lively, populous and popular Morecambe Prom on the busiest weekend of the year where day-trippers and families were keen to know why we were walking. Their hand written messages written on colourful hearts urged world leaders to stand up for the love of our children, for the love of clean food, for the love of the birdlife of Morecambe Bay, for the love of beauty, for the love of life…and so it went on.
Some hundred people joined and left the pilgrimage at different points and we spoke with hundreds of people along the way. Our pilgrimage came to a close at the ancient St Patrick's Chapel at Heysham within view of Heysham power station. Gathering to the strains of a traditional lament we then stood in silent reflection before entrusting our messages to Anna, a young pilgrim who would cycle with them all the way to Paris…
Pilgrimage carries us out of the petty fury of the everyday and into a slow, silent, ancient place where stillness speaks, where we see more clearly and act more courageously…more than a big gesture.