Vigil for defenders of the planet
Melanie Jameson shares why some Malvern Quakers are called to join Malvern XR's vigils 'in love and rage for the Earth'.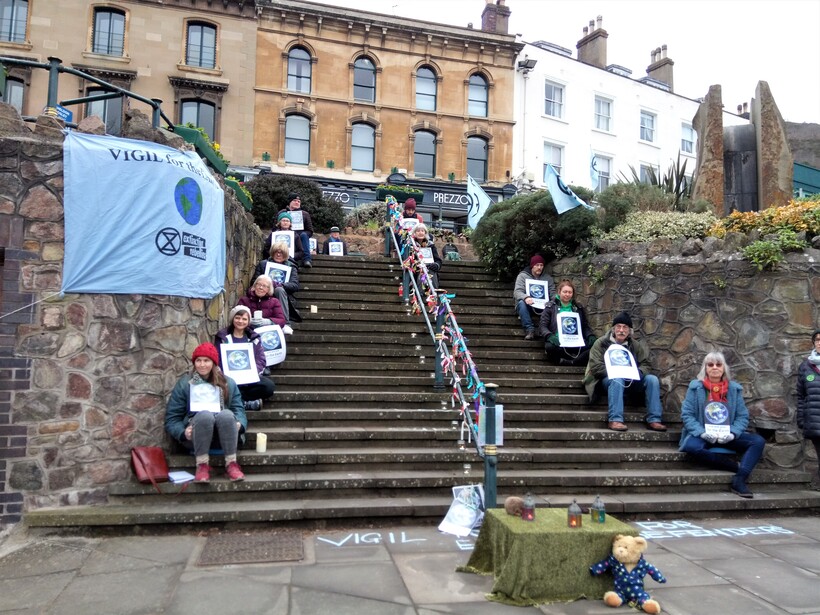 Every Saturday for more than two years, Malvern Extinction Rebellion (XR) group has held an hour's vigil on the steps to the Elgar statue in the centre of town. This group includes a number of Quakers. The silk XR flags flutter and an A-board invites people to join us 'in love and rage for the Earth'.
On 4 February we had a specific focus, as part of the run up to XR's national 'The Big One' action in London on 21 April. Twenty of us, including two local Quakers, commemorated the brave actions taken by people throughout the world who face persecution, imprisonment or even death for the environmental stand they have taken – those who we call 'Earth Defenders'.
200 people died in 2021 alone while protecting their land from extractive forces, such as mining and illegal logging. According to the Global Witness report, "over 40% of all fatal attacks target indigenous people, despite them only making up 5% of the world's population".
A ribbon fluttered from the railings for each murdered 'Earth Defender'. We also lit tea lights on the steps to represent protesters nearer to home. Many people do not know that the UK has political prisoners. 14 candles burned throughout the vigil with each light representing a brave activist from Just Stop Oil, HS2 Rebellion and Palestine Action who have been put in prison in the UK for taking direct action for climate, environmental, or social justice.
Those present felt that bearing witness to the truth in this way was moving and powerful. We were able to draw in passers-by who wanted to find out more.
If you live locally to Malvern and would like to get involved, you can keep up to date with what the XR group is doing at their Facebook page or contact Quakers locally through their local meeting. If you would like to connect with other Quakers planning on travelling to London for 21 April 2023, please email faithinaction@quaker.org.uk
If you feel inspired to organise your own vigil, you can find our Toolkits for Action here with tips on how to get started.