Urban Harvest
Northfield Ecocentre's Urban Harvest project takes the unwanted fruit that is so often left to rot in gardens and community spaces, turning it into an exciting community resource and learning experience.
Northfield Ecocentre is a project of Central England Area Meeting. In 2015, the centre was supported by a QPSW Sustainability & New Economy grant.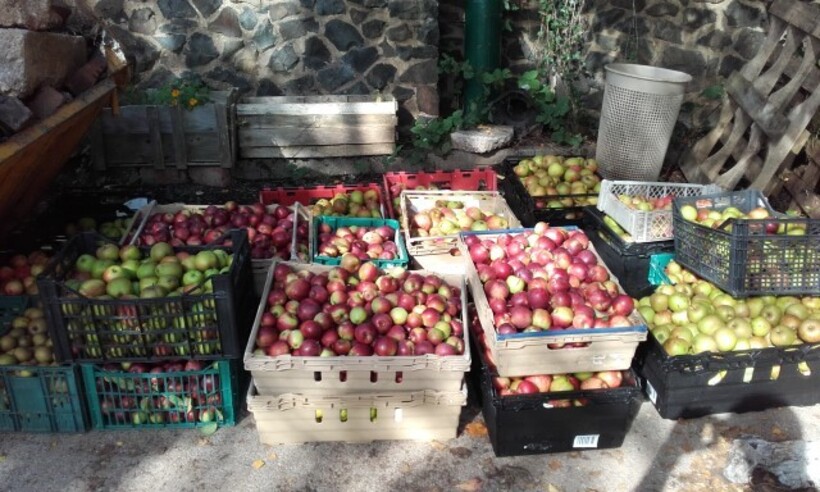 Urban Harvest has been running for two years and was initially set up due to recognition that many local fruit trees remain unpicked during harvest time, leading to large amounts of waste and a potential community resource being unused. Picking this fruit, and distributing or juicing it, means that people in need can access fresh fruit. The juice also provides income, as well as encouraging people to use local resources and reduce food miles.
[QUOTE-START]
We do not own the world, and its riches are not ours to dispose of at will…Work to ensure that our increasing power over nature is used responsibly, with reverence for life.

- From Advices & queries 42
[QUOTE-END]
Over the last three years, the Ecocentre has planted community orchards across the local constituency. Many of these orchards are starting to come into fruiting age and the community groups who planted them are keen to start using the fruit.
As a project of Central England Quakers, the Urban Harvest aligns with our commitment to live sustainably and simply.
Harvesting in 2015
This year, we managed to run the harvesting project over eight weeks in September and October. We collected over three tonnes of fruit (mostly apples) that would have otherwise gone to waste.
Around half of the fruit was redistributed to community groups serving the homeless, children, and the disadvantaged, including local food banks. The remaining half was juiced, bottled and sold, to re-finance the project for future years as part of a circular economy approach. We had an increased number of volunteer groups from corporate partners, which helped to spread the word and facilitate the project.
Preparing for next year
Coordinating the mix of hosts, volunteers and distribution points is always a logistical difficulty, and the volume of the task is immense. We are considering looking for ways to empower communities to pick and distribute the fruit themselves, with the Ecocentre being a place to deliver excess fruit and collect it for use. We can then use our skills in a more effective manner, for example by giving picking and juicing demonstrations to groups, as well as hiring out materials for picking and juicing.