Working together to support refugees locally
In late 2015 a group of people in Llangollen, north Wales joined together to work out what they could do to support refugees. They formed the Llangollen Refugee Support Network. Maria Haines tells us how they have gone on to support refugee families in their area.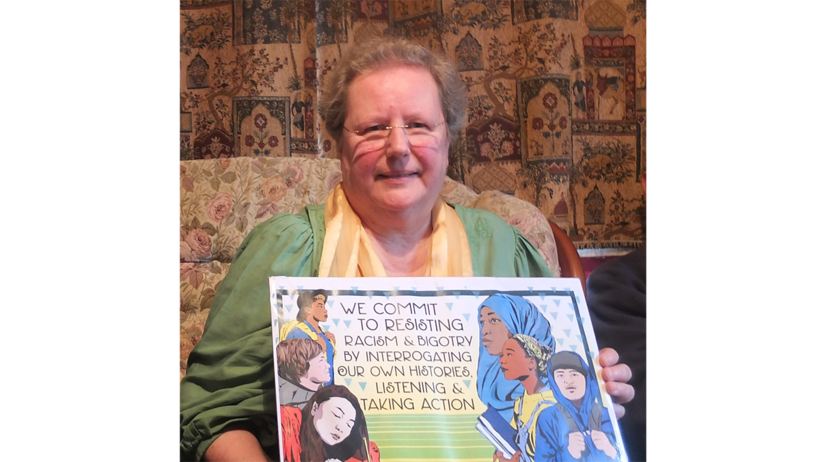 A year and a half ago, a group of Friends, friends and friends of friends from around Llangollen, North Wales got together to work out what we could do to support people fleeing from their homes, given that there weren't any refugees or asylum seekers in Llangollen. We called ourselves the Llangollen Refugee Support Network (LRSN). Some of us were willing to host refugees and asylum seekers in our own homes, and had already registered that willingness with appropriate bodies; others were willing to support those who felt able to host.
We agreed that it was important to raise awareness about asylum seekers and refugees, to counter some of the nonsense put out by parts of the media. So, whilst awaiting responses to the hosting offers we had registered with the voluntary organisations, we organised awareness-raising events, hoping to promote a more empathetic response to the plight of those forced to flee their homes.
A family in crisis
Then a news item brought our attention to a Syrian family who had recently arrived in Wales as refugees and tragically became separated from their baby in the process. I phoned the news reporter to offer financial help to sort out the visa problem which was preventing the baby from being reunited with his family. In the course of the conversation, I said, "You've probably had loads of calls from people like me" and she said, "No, we've had lots of 'I see they have an iPhone' comments. Nothing positive."
This was three weeks before Christmas, so I asked the reporter to pass an invitation on to the family to spend Christmas with us in our home. They accepted the invitation, and the group rallied round in support. One person paid the family's train fares, another travelled across Wales to escort them; people came to the house to express welcome and to help while our guests were with us, and one couple invited us all to tea on Boxing Day.
We hastily bought a Christmas tree, and we and others bought and wrapped presents for our guests. The network also got on with raising money for the family. Quakers and others across North Wales were very generous and £2000 was raised in three weeks.
Reunited with family
At the beginning of February, the baby was brought to the UK and reunited with his family, who then brought him to stay with us again over a weekend. Already we felt we were good friends, and it was wonderful to share in our friends' joy. We don't speak Arabic, and our Syrian friends are not yet fluent in English, but this has not prevented us from becoming close friends.
Since then we have kept in close contact with the family, helping with all sorts of things which can feel incomprehensible when one doesn't understand how a new culture works. As a network we also held a further fundraising event to help the family furnish the house they were eventually allocated, and to help support a widowed relative and her young children, who are still in Syria.
Expressing welcome
A year after we first met these friends from Syria, and to coincide with another visit from them, the network organised a 'New Year - New Friends - New Beginnings' party in Llangollen, to which we also invited refugees and asylum seekers living in Wrexham and Oswestry, and local people who wanted to express welcome.
As a group, we are now working towards having two families settled in Llangollen under the Syrian Vulnerable People's Resettlement Scheme. Last week we met with two Denbighshire council representatives to discuss the practicalities of this, and it was agreed that if we can identify suitable rented housing, we will be able to welcome two new families into our community.
Llangollen Refugee Support Network consists of a small core group, there are usually between six and twelve of us at meetings, and Llangollen itself is a small town (population 3000). If each community this size welcomed just one refugee family, Britain as a whole could be integrating twice the number of people that currently apply for asylum here each year. It's really not difficult. The only skills it needs are those that lots of people have – of being friendly and welcoming. If we can do it, so can anyone.