Supporting local action on climate change
In the run-up to the COP21 Paris Summit, local businesses, organisations and faith groups were encouraged to sign the Wiltshire and Swindon Climate Action Network (WiltsSCAN) declaration.
SCAN often meets at Swindon Meeting House and is well known to Swindon Friends.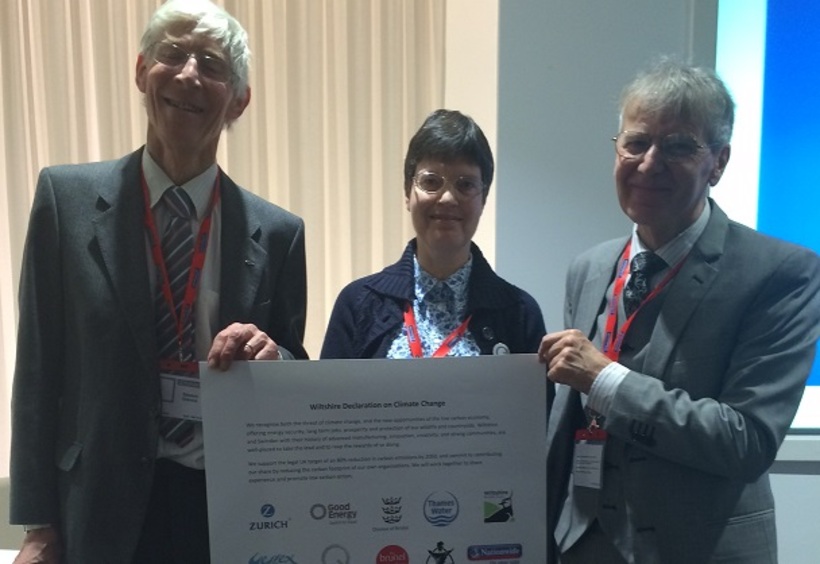 The declaration commits signatories to:
'support the legal UK target of an 80% reduction in carbon emissions by 2050, and [contribute] our share by reducing the carbon footprint of our own organisations. We will work together to share experience and promote low carbon action.'
This declaration aligns well with Britain Yearly Meeting's Minute 36, and Swindon Meeting was readily able to sign the declaration at Meeting for Worship for Business.
In addition to asking for signatures to the declaration, SCAN sought information on sustainability actions taken to date and future plans. Swindon Meeting was able to describe our work to reduce the carbon footprint of the meeting, which has brought our annual gas consumption down by 42% over the past four years at a time of increasing utilisation of the building.
Launching the declaration
At the launch, we heard a brilliant action song about the importance of climate change action, performed by two choirs from local primary schools. Over breakfast, we also heard short speeches from Bernadette Barrett, a sixth form student at St. Joseph's Catholic College, Paddy Bradley of Swindon Borough Council, Robert Buckland the Swindon South MP, and Alison Robb from Nationwide Building Society. Bernadette spoke very powerfully about the impact of climate change on her generation and the importance of action.
WiltSCAN created a video from interviews with people at the launch, and we used our interviews to emphasise the spiritual importance of action on climate change for Quakers; fundamentally, that all people have equal value. Climate change is already impacting some of the poorest people in the world, whilst the West has benefited the most from carbon emissions.
Led to action as Quakers
John Woolman pointed out in 1772 that 'to impoverish the earth now to support outward greatness appears to be an injury to the succeeding age.' Current levels of carbon emissions risk wrecking the planet. Our children will need the diverse, beautiful and fully functioning world that we have enjoyed. Paris is the opportunity which must not be missed.