Settle Quakers welcome people seeking refuge in the UK
By challenging the law, hosting guests and families, and raising funds.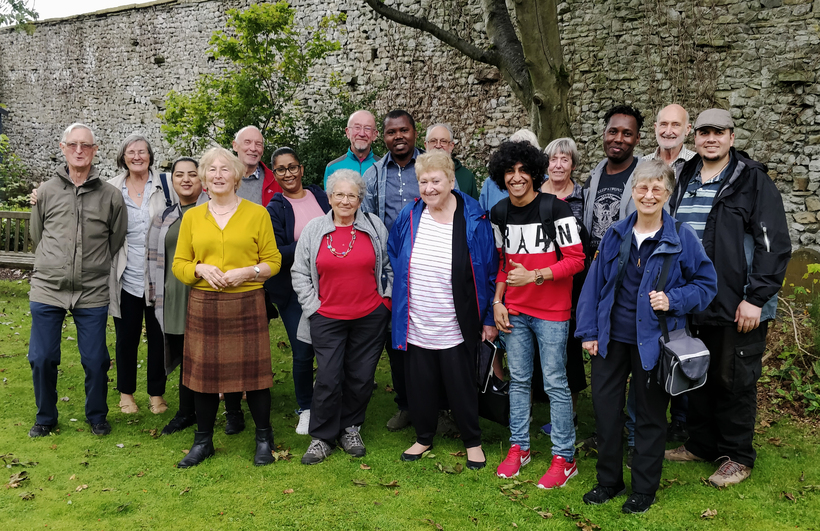 Because UK law discriminates against people who are seeking asylum and refuge in this country, Settle Quakers work on remedying this discrimination. We are part of the Quaker Sanctuary Meetings network across Britain, and our work involves challenging discriminatory laws whilst offering hospitality to newcomers.
Settle Friends and a Lancashire refugee support group have a longstanding relationship of many years. The group are based in the industrial town of Darwen, an hour or so away from us. Each summer, the support group brings sanctuary seekers to Settle, where they can enjoy a lunch prepared by the meeting and experience our small market town and the scenic Yorkshire Dales.
We find that the children relish the freedom of the lovely meeting house garden, freeing up their mothers, who explore the charity shops. We play Pooh Sticks by the river and enjoy afternoons spent storytelling.
In May 2019 we met with our MP, Julian Smith, to register specific concerns about the indefinite detention of asylum seekers, and the prohibition on them being able to work. We felt listened to, but as our MP was the Government's Chief Whip at the time, his response was guarded.

Later this summer, we also helped welcome a group of asylum seekers from Leeds. The group travelled by train to Settle, and stayed with local hosts for the weekend. Our meeting house provided the venue for evening meals and a concert on the Saturday night.
Settle Quakers are also part of the Refugee ReSettlement group who recently welcomed a Syrian family to the town. There were challenges along the way – the Home Office had to approve our application, and we had to find housing, no easy task in a small tourist town with many holiday homes.
We were offered a flat in April and then had to pay the rent for four months, until the Home Office and the UNHCR finally arranged for the family to travel to the UK. We went to the airport to meet the family; welcoming them to their new home was an emotional experience.
We think about how we can share our resources, and this has led us to put Settle Quaker Meeting House to use as a free venue for English classes, and a space for the Refugee ReSettlement steering group meetings. We also host our own charity fundraisers, for various causes. At one coffee morning this summer, the community baked and sold a huge array of cakes, and raised £360 for Settle Area Refugee Support!