Remembering John Woolman outside Vanguard
The Bristol EarthQuakes group organised a meeting for worship outside the Vanguard offices in the City of London.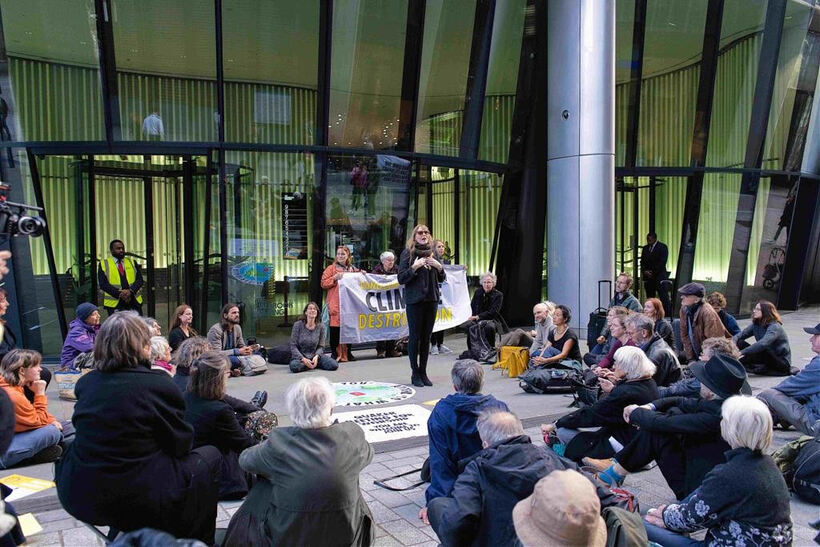 Vanguard is the second largest global assets management company, with huge investments in fossil fuels. The date of our Meeting was 7 October 2022, exactly 250 years after the death of John Woolman. We wanted to commemorate Woolman's spiritually inspired defence of our planet against the consequences of human greed and aggression, and to link this to the present-day environmental crisis.
Our action was planned in solidarity with a campaign by Quakers in the USA against Vanguard's reckless investments. The Earth Quaker Action Team in Pennsylvania was directly linked into our London action through an online meeting for worship organised by another American environmental project, Quaker Earthcare Witness. As we gathered in the City, the EQAT Friends were gathering for worship outside the home of Tim Buckley, Vanguard CEO.
Bristol Quakers brought a well-rehearsed choir to London to lead the singing as 60 Friends and other supporters walked slowly from St Paul's Cathedral to the Vanguard offices in Walbrook. Helen Yeoman's beautiful song 'You will never take away my voice' movingly expressed both sadness and determination.
It chimed with a banner quoting John Woolman – 'Nature hath a Voice'. The leading banner of the procession quoted from Advices and Queries: "We do not own the world and its riches are not ours to dispose of at will."
A letter to Tim Buckley was handed in at the Vanguard offices, asking Vanguard to assess and report the impact of their investments on the climate and to benefit their investors by supporting transition to a low carbon economy and a liveable future.