Quakers raise funds for refugees with sold-out choir concert
By combining the skills and passion of meeting members, Nailsworth Quakers raised over £8000 for local and international charities. Their Quaker Peace & Social Witness Correspondent Jane Samuels reflects on how they did it.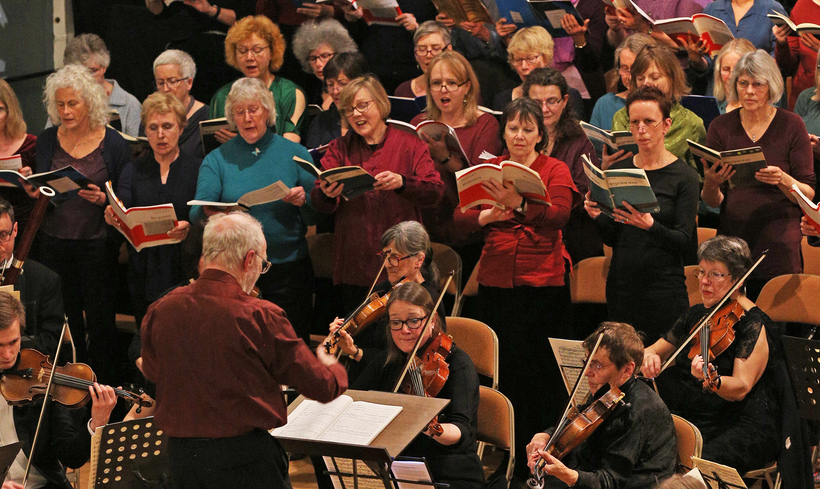 Last year, members of Nailsworth Quaker Meeting helped put on an open choir concert in the largest neighbouring town, Stroud. Hugh Barton, one of the Friends who helped to organise the event, and a confident amateur conductor, envisioned a second larger performance, this time of Mozart's Requiem – a piece of music that he felt would offer "an overwhelming experience, that reaches parts that other music doesn't reach."
Hugh suggested the concerts at a monthly Meeting for Business, and each was approved. Because of Hugh's belief that singing can hold a powerful, emotional and spiritual significance to those who take part, he made the choir open to everyone irrespective of background or experience. Nailsworth Meeting has a long and passionate history of helping refugees; over many years we have supported Gloucestershire Action for Refugees and Asylum Seekers (GARAS). We agreed that this event would fund raise for two charities: the International Rohingya Crisis Appeal and our local Stroud Women's Refuge.
In supporting both local and international causes, we sent a message of support to all refugees forced to leave their home, whether it be the Rohingya fleeing Myanmar or women seeking refuge from abuse in Gloucestershire. To unite these concerns, it was decided to call the choir group the Stroud Refugee Aid Choir. The government matched funding for the international refugee appeal, and with taxpayer relief our final aid donation came to £8000.
Taking shape
Hugh described the response to the public invitation as marvellous as so many volunteer singers came along. Meg Walker from Meeting kept everyone recorded and informed. Capriol, a local chamber orchestra, agreed to accompany the choir. We secured the Stroud Subscription Rooms, a large venue in the centre of town, at their charity hire rate. As a professional events company they were able to promote the event to people across the Stroud Valleys.
Melding 140 people with very varied abilities into a cohesive and strong choir was a challenge for Hugh, who took on conducting duties. He managed by finding out from volunteers about their prior learning, and offering optional warm-up rehearsals before the big day. Hugh observed, "People responded magnificently, and there were sufficient experienced singers on the day to give confidence to others".
On the night
Everyone was delighted when the concert sold out. Demand was so high that some people had to be turned away on the night. For Hugh, the performance itself was everything he had hoped: "Just marvellous." Many singers have afterwards demanded another such event for the future.
For me, as a Quaker Peace & Social Witness correspondent, it was an inspiration to see our local Quaker meeting having such a profound impact on the community. It was a successful way to raise funds and much-needed awareness for refugees whilst attracting community participation.
There were challenges – making financial arrangements with the venue required dedicated attention. Meg and Eliot, two members of our meeting, took on the role of administrators to look after this, and their persistence paid off.
The Stroud Refugee Aid Choir event was one of several examples of our faith in action this year. Two other big projects came to fruition in 2018. The meeting has worked on a green timber eco building for children for years, and we celebrated its opening. Another group within the meeting worked hard preparing for the opening ceremony of the Nailsworth Peace Garden, again several years in the making.
A culture of action
Nailsworth is a very active meeting and there are several factors as to how the culture of faith in action has developed over time and helped us in our witness.
Location Nailsworth Quaker meeting is a historic 1680s meeting house in the middle of the town, and it serves a large area. George Fox visited Nailsworth twice, and a visit from Humphrey Smith brought the Meeting into being around 1655. Over the last twenty years Nailsworth has attracted a large membership, and holds two Meetings for Worship on Sundays.
Nominations Our nominations committee takes care and consideration when proposing members and attenders for roles and the faith in action groups agreed at monthly meeting for business. Many members are retired professionals who give a lot of time, energy, and expertise to the many faith-led projects. Family members coordinate children's activities and there are many active attenders who share skills and take inspiration to create initiatives with others.
Communications Our key communication tool developed by Eliot Walker is the 'News of Friends' email facility. Each meeting has a coordinator who provides live email updates which includes all the working groups and serves as a hub for sharing news and events to all the Gloucestershire area meetings.
Close ties Our Nailsworth meeting has worked closely with others in our Area Meeting. Members have taken on AM responsibilities like taking stock of the challenges in overseeing the different needs of the AM Quaker meeting buildings and wardens, or updating the AM contact list. Friendships grow from this work with outreach into the wider community.
Geography Finally, and perhaps significantly, the Stroud valleys around Nailsworth are located in the beautiful rural Cotswolds. Many people who live here are drawn to the sense of place, reflection, peace and appreciation of nature and humanity. It is an inspirational and very active place, known for progressive thinking and activism.