Edinburgh Quakers reflect on Extinction Rebellion day of action
Quakers in Scotland are taking action for climate justice through Extinction Rebellion. Rosemary Hartill of Central Edinburgh Quakers reports.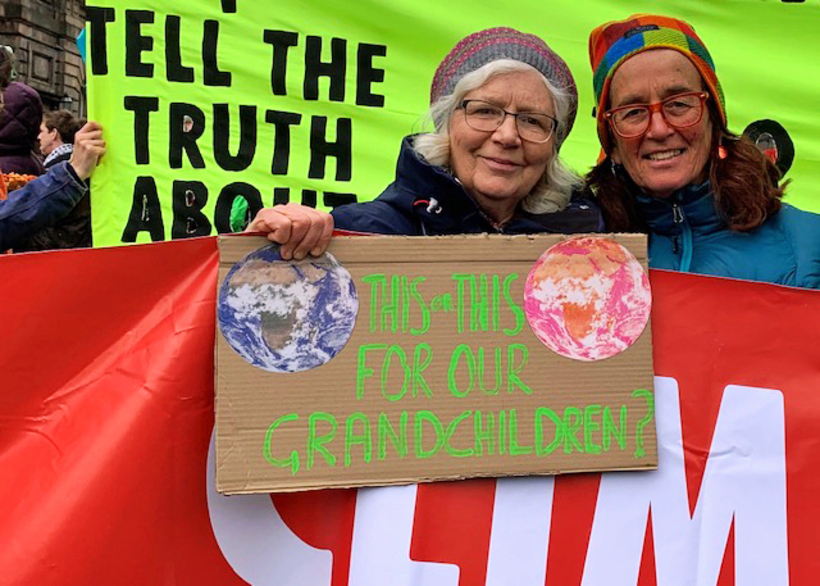 On 16 April, North Bridge, one of the busiest arteries in Edinburgh, was blocked for six hours in one of the many global actions that week by Extinction Rebellion (XR).
Their three key demands were that the government should: tell the truth by declaring a climate and ecological emergency; act now to reduce greenhouse gas emissions to net zero by 2025; create and be led by the decisions of a Citizens' Assembly on climate and ecological justice.
A number of Quakers from South-East Scotland Area Meeting and beyond took part, and some were arrested and are facing charges as a result. They include Justin Kenrick, from Portobello and Musselburgh Meeting, Lesley Morrison, who attends Tweedale Meeting, and retired GP Cath Dyer, from Polmont Meeting. Cath's non-Quaker husband Richard Dyer was also arrested. Cath writes:
"The road block started at 3pm and we were charged with breach of the peace and arrested at about 7pm. I think 29 folk were arrested altogether. Most were very committed young people.
"Richard and I and about eight others were taken to a police station, where we were searched, had all our possessions confiscated, and then put in cells for a few hours. We were released with all our possessions at about 3am and charged to appear in court on Tuesday 14 May."
Cathy Holman, who attends Portobello and Musselburgh and occasionally central Edinburgh, was in one of the four groups of XR cyclists. She says, "it was a really good atmosphere with all ages represented, and apart from the police preventing our group of XR cyclists from cycling in a procession up to North Bridge and telling us that there would be no demo and closure of the road, they were friendly and helpful."
A calm and joyful process
Robin Naumann, from Portobello and Musselburgh Meeting, was among the cyclists coming in from Leith. "It started off low-key with about 30 of us gathering on Leith Links and almost the same number of police. With bells ringing and campaign flags flying from panniers we received a lot of positive responses from bystanders on Leith Walk.
"The police strongly advised us against going to North Bridge, telling us that no-one was allowed to halt traffic there and we'd be liable to be arrested if we [went that way]. Instead they encouraged us to head to Parliament, where we were greeted by well over 70 officers and many, many police vans. We then made very obvious goodbyes to our fellow riders and made our way in ones and twos to North Bridge, which happened to be on the way home for all of us."
Robin found the scene there quite different to what the police described: "Hundreds of people, mainly in their twenties, were gathered at the top and bottom of the bridge with many beautiful banners and drummers, and a gorgeous dragon. Quakers in Protest in Harmony – led by Jane Lewis from Portobello and Musselburgh Meeting – sang many powerful songs, handing out songsheets."
"What was striking," says Justin Kenrick, "was the diversity of people. It was a very calm and joyful process." He also went down to XR actions in London. "Some members of the public have been strongly irritated.
"But when we explain that we are in danger of passing the tipping point where we can halt damaging climate change, that we have written to our MPs, done all the usual things with little or no effect, and what else can we do, people are aware of why we are doing this."
The XR organisation seems to have been impressive. The Edinburgh roadblock followed a day of peer-education and creativity called the Festival of Climate Reality. Cath Dyer commented:"the half-day XR nonviolent direct action training we were given beforehand was excellent."
Cathy Holman has attended XR strategy meetings that "feel so Quakerly. You listen to everyone, get the mood of the meeting through hand signals, act out equality, with no shaming of anyone."
A zeitgeist moment
Jonathan Baxter, who attends Edinburgh Meeting, and who was one of the two creators of the Dragon of Environmental Justice, reflected: "The emphasis here is on action following reflection. There's nothing kneejerk about XR."
He found it heartening to see a few other Edinburgh Quakers on the bridge, "but I was surprised not to see more. While there were lots of folk in their twenties and thirties there were also plenty of teenagers (who walked the dragon) and older folk, especially women.
"One older woman who remained to the very end said that XR was the most inclusive group she'd ever experienced and she was enjoying finally being listened to as an equal without discrimination because of age."
Jonathan thinks XR captures "a zeitgeist moment" that many Quakers – and others in the climate justice movement – have been waiting for: "It allows us to put flesh on the bones of the Canterbury Commitment made by Yearly Meeting. I personally see those involved in the XR movement as living out what we understand by the Quaker testimonies.
"I also think that recognising XR's kinship with Quakers – especially in their cultivation of a regenerative culture – would help address many other Quaker concerns. For example: how to sustain vibrant meetings; how to encourage Quaker attendance and membership; how to broaden diversity, etc.
"At one point during the roadblock I thought it would be wonderful to sit down in the road and have a Quaker meeting for worship. That's something I'd like to encourage for a follow-up XR action in Edinburgh."
A day in court
"Cath Dyer and I," says Lesley Morrison, "see our appearance in court as an opportunity to say publicly that we see this movement as part of our responsibility as doctors to the local and global community. Many professionals agree, but are concerned about the impact on their career if they get involved in direct action.
"We want our professional body, the General Medical Council, to declare that non-violent direct action supporting urgent action against climate change is a valid part of the profession's medical responsibility."
Two meetings sent minutes in support of Extinction Rebellion (XR) to the last Area Meeting. Though the AM decided that we can't help XR financially directly through the AM account, the minute reads: 'We are clear that XR is a vibrant, active organisation, working on a set of principles similar to those of Quakers... We encourage individual friends to support XR through direct financial and practical support.'