Opposing immigration detention
Immigration detention is an important issue for many Friends. Bridget Walker details the conditions she witnessed and those endured by detained peoples. Find out how you can take action to help end immigration detention and oppose this cruel practice.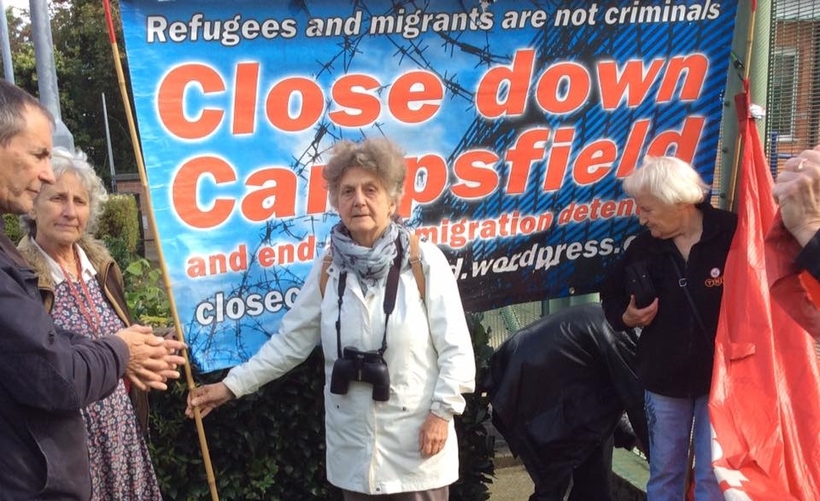 When I first visited someone in immigration detention I knew I must speak out. It is one of the darkest corners of our asylum system and not widely known. It is against our testimony to equality and must be brought into the light and brought to an end.
Every year around 30,000 people are detained in immigration detention centres in the UK. This is a vast increase since the 1980s when numbers were in the mid-hundreds.
Indefinite detention
Anyone with 'irregular status' can be detained – new arrivals, people with no papers or 'wrong passports', overstayers. Most have not been charged with any crime. Those who have, if they had had British passports, would have been released on licence or walked free. Any foreign national offender who has served a sentence of more than 12 months is now subject to forced removal.
The decision to detain is an administrative one – there is no judicial oversight and people can be held indefinitely. The recommendations for a time limit from the all-party parliamentary inquiry of 2015 and the more recent Shaw report, have not brought change. Nearly half of all those detained are subsequently released back into the community. Detention has served no purpose.
Poor conditions
Indefinite detention affects mental health. Yet men and women are detained who should be exempt, under the government's own rules; these include those with severe physical and mental health problems and torture survivors.
Most detention centres are run under licence from the government by private companies for profit, often in difficult to access locations. The annual cost to the tax payer is around £75 million but there is limited accountability. The Independent Monitoring Boards play an important role, but often lack the authority to make changes.
Conditions are variable, with no consistent standard. At one IRC there can be up to 6 men in a room, there are problems over food, and health care is poor.
Take action
There are many ways in which Friends can and do act. These include demonstrating outside detention centres and visiting those inside, supporting their families, standing surety when they apply for bail and offering help on release. Friends also challenge the system, lobbying MPs, campaigning for a 28 day time limit on detention, contributing to submissions to parliament and engaging with the private companies which run the centres.
Based on this experience, we believe that immigration detention is neither right nor necessary. Detention is not the answer – for anyone.
Bridget Walker is part of the Quaker Asylum and Refugee Network. Her prepared ministry at Yearly Meeting Gathering 2017 can be viewed below.

Pressing play on the video below will set a third-party cookie. Please see our cookies page to find out more.