Mourning victims of war in Inverness
Friends from Inverness Local Meeting take part in a silent vigil on the last Saturday of each month in Inverness town centre to mourn all victims of war and conflict. The vigil is organised by Women in Black Scotland.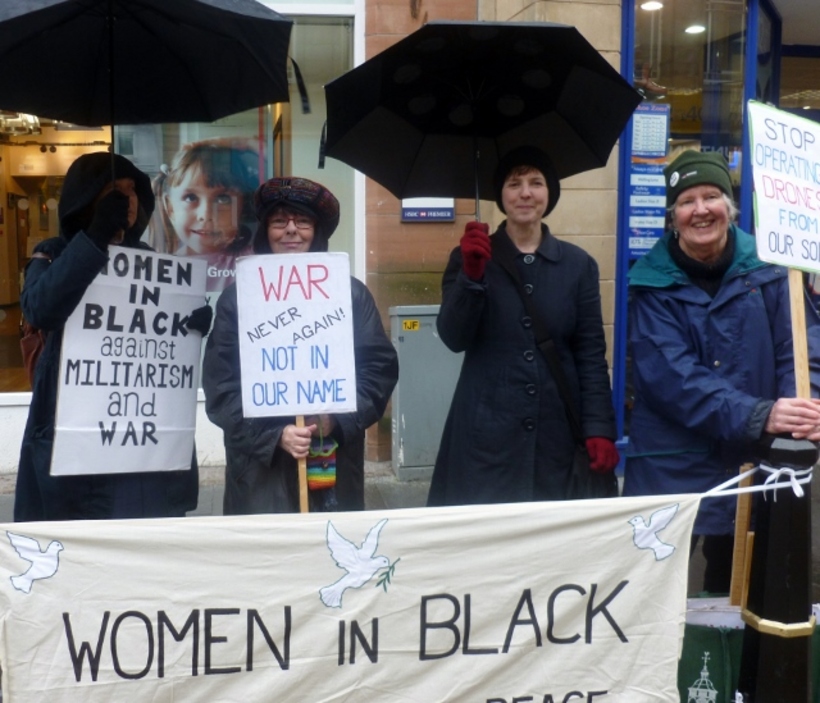 Women in Black vigils are held for everyone be it soldier, civilian, and for every victim of war and conflict around the world. We are a women-only vigil and appreciate the invaluable support of men.
Although not a Quaker initiative Women in Black is supported by Friends who feel concern for the forgotten victims of conflict and violence. One Friend has been a supporter for many years and has inspired others to participate.
From passive mourning to active refusal
Women in Black was started by Israeli and Palestinian women protesting against the actions of the Israeli Army, resulting in vigils all over the world. It is committed to peace with justice, and actively opposes war, injustice, and militarism and all other forms of violence. Wearing black in some cultures signifies mourning and feminist actions dressed in black convert traditional passive mourning for the dead of war into a powerful refusal of the logic of war.
Early women's movements
Women in Black was inspired by earlier movements of women who demonstrated in the streets: Black Sash in South Africa, the Women's International League for Peace and Freedom formed in 1918 and the Greenham Common Women's Peace Camp. A group of women anywhere in the world may organise a WiB vigil in a public place to take action against any manifestation of violence, militarism or war.