Leicester weekly peace vigil
Leicester Quakers maintained a weekly peace vigil for 40 years, holding fruitful conversations with passers-by.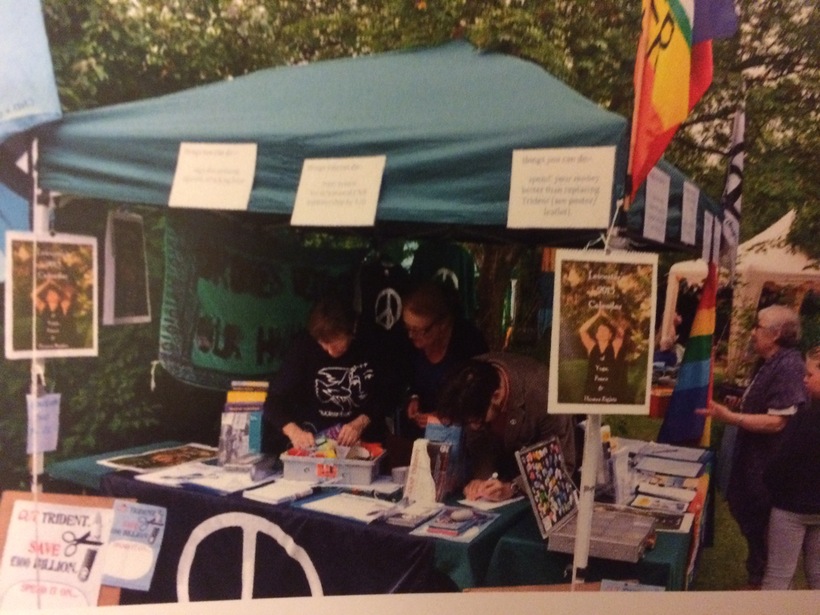 When we came to live in Leicester at the beginning of the 1970s, there was already a peace group in our meeting. But the main memory is not of vigils, but of peace films and discussions, though at the beginning I was not a very active member.
A hive of activity
Then came Prime Minister Margaret Thatcher and cruise missiles, in 1979, and the peace group was fired up! A large number of very creative ideas were put in motion. Meetings on 'positive peace' were set up – music and poetry on peace themes, peace education in schools, Ecumenical Action for Peace and one set up by our Labour Council on peace action, when the city claimed itself nuclear free.
A positive hive of activity, which of course included CND initiatives, and support of Molesworth and Greenham Peace Camps and the Peace Pagodas. Our Leicester Quaker meeting peace group wrote regular letters and petitions to ministers and councillors, which we got the public to sign, and offered the chance to Quakers to sign also after meeting for worship on a Sunday.
Regular peace vigils
When all this activity quietened, our regular Quaker peace vigils outside the meeting house began. We set up our peace stall on the grass in front of the meeting house, which is also near the university. We got a regular flow of students and other passers-by, engaging them in discussion and asking those who were willing to sign the current peace letter or petition. It was held on a Wednesday and two Quakers in next door flats would make us a welcome cuppa. Rain was always a practical problem!
It was a new age, when headphones and listening to music and mobile phones, became common, and passers-by would be totally unaware and in a world of their own. When we approached them they would unplug their devices. A few hostile people came by, and those who simply enjoyed an argument, but we also had the chance of some really worthwhile discussions.
New issues absorbed younger friends – climate change, refugees, and so much more, and being a rather elderly and small group by now, we have finally and with great sadness have laid down our long-lived and very worthwhile peace vigil. The work for peace continues, of course.