Inspiring children with a love of the natural environment
Quakers in Central England are supporting children from different faith backgrounds through the Small Footsteps sustainability programme.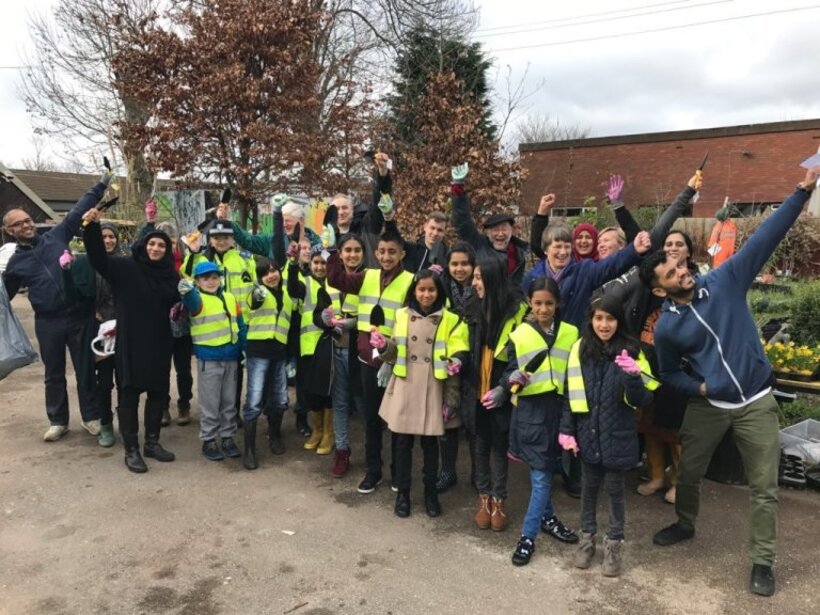 Two years ago 30 children, aged between eight and 14 years old, spent five days together at an unusual summer school in Birmingham. It was unusual because each day of workshops took part in a different place of worship: a Mosque, Sikh temple, Christian church, Buddhist centre and Jewish synagogue.

These locations reflect the interfaith focus of the summer school, an initiative from Footsteps – Faiths for a Low Future (offsite link) a project within the Birmingham Council of Faiths. Following the 2016 success, Small Footsteps returned in 2017 – this time happening on the grounds of Fircroft College, just up the road from Woodbrooke Quaker Study Centre.
Small Footsteps' overall aims for the two summer schools were to:
Inspire youngsters with a love of the natural environment;
Demonstrate how all faiths agree on the need to look after the planet;
Demonstrate how different faiths can work to together;
Bring to faith leaders' attention the need to work together on care for the planet;
Work to a professionally informed, high quality standard.
Environmental activities
The Small Footsteps programme is built around eight themes: trees, food, water, the cycle of life, bees, recycling & waste, and energy. Each theme has an accompanying activitiy for the children, such as beekeeping, so they can experience it in a hands-on way. On the final day of the course, climate change is used as a unifying theme, explaining the threats facing the planet and how we can work together to face them. At the end, all participants are presented with a certificate to celebrate their attendance.
This eight minute video of the 2017 summer school at Fircroft gives an excellent insight into the programme: please take a look!
Weaving in faith
While the activity leaders brought practical knowledge and skills about sustainability, a faith perspective underpinned the summer schools. All faiths share a reverence for life and view humans as part of the totality of the earth and its creatures. The volunteer team emphasised the shared teachings of different faiths: on the value of every creature; the sanctity of the natural world; the earth as a source of life; and on stewardship of the environment.
Sharing resources
The Small Footsteps team is now developing what has been learned from the two summer schools into a website and resource package that will help Quakers and other faith groups deliver interactive activities for children.
These Small Footsteps resources will help youth leaders, faith and community groups to design, plan and deliver both one-off sessions and full five-day summer schools: whatever the format, the activities will help make connections between faith and the environment.
The Small Footsteps programme receives funding from Quaker Peace & Social Witness, through the Sustainability & New Economy Grants programme. Applications for 2019 grants are now open.
Find out more about QPSW Sustainability & New Economy Grants