Quakers join water protectors in Lancashire to stop fracking
Lyndy Raine writes from Preston New Road, the frontline of fracking in the UK, to share her journey from concerned citizen to active campaigner.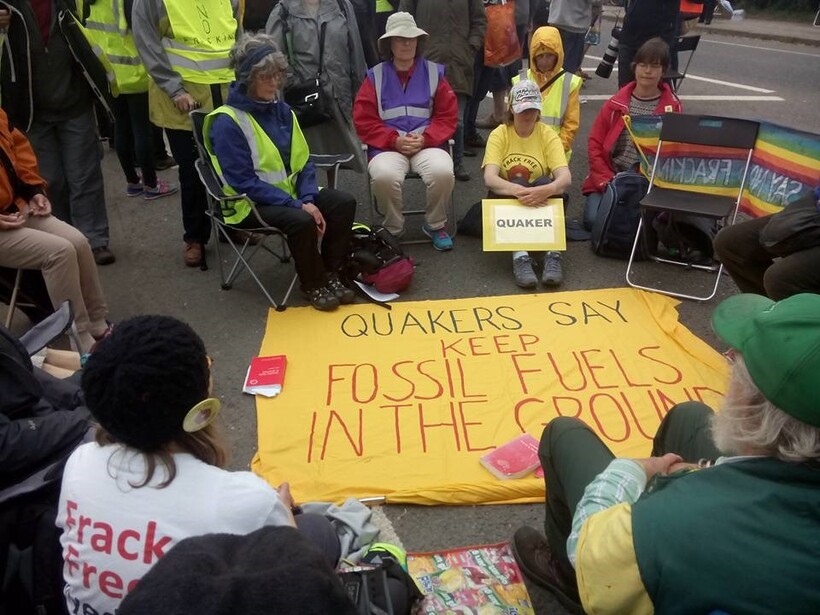 I first became aware of the danger of fracking in 2011 when the news reported links between a 'test frack' and earthquakes in Lancashire. The council responded by imposing a moratorium on fracking for three years. I began to raise awareness of the need to keep fossil fuels in the ground, hosting a screening of Gasland, a documentary about communities affected by fracking in the USA. It showed a human cost cost to shale gas extraction; people were suffering chronic health problem caused by contaminated water. I will never forget the footage showing residents turning on their water taps and igniting what came out!
One step forwards, one step back
In 2014, after the moratorium elapsed, 'British exploration and production company' Cuadrilla applied to Lancaster County Council for permission to frack two more sites. Lancaster Friends joined the protest that emerged around the council meetings in Preston.
We celebrated when the council refused to give Cuadrilla planning permission. However, the Secretary of State later overruled the council's decision. Unless the decision is overturned at the appeal, fracking will go ahead at Preston New Road. Already a lot of the infrastructure has been completed and drilling will start once the rig is delivered.
So far this has been delayed by a constant presence of 'water protectors', local campaigners who have set up a camp outside the gate. They slow Cuadrilla's progress by blocking deliveries to the site by locking themselves together.
Responding to the call
This spring the water protectors issued a call for all faith groups to come and bear witness to what was happening at Preston New Road. In my area meeting a group of ten Quakers – myself included – decided to respond.
We met other Quakers and individuals from other faiths and joined together to hold meeting for worship. At our first gathering there were 13 of us. We formed our circle in the road, inches from passing cars that honked horns in support. There were loud and angry confrontations, verbal and physical, between protectors and police. Amid the chaos, we held the silence between us.
The impact of Quaker witness
Our meeting for worship at Preston New Road has now become a regular feature. On one Friday, a Friend spoke over the PA and our meeting went from 10 regulars to 30 attenders. Pictures and video livestreams of our meetings have been shared widely on social media. The responses have been positive, with people remarking how our presence changed and calmed the dynamic there. At times confrontations between some of the protectors and the security guards and police are violent and difficult to deal with. The atmosphere can be hostile and aggressive with tension high and the language and abuse can be distressing.
Some of us have been moved to join the actions – to nonviolently resist pressure to be moved quickly when the police try to clear the gate. But being there does not compel anyone to join any action. There is a great need for all forms of support.
This can mean practical things, like financing the legal challenge to the planning decision, or paying off fines and costs for those charged with obstructing the highway. But most of all the people of Little Plumpton, whose lives are blighted by this threat, need us to be there. They need us to come to the site, and show our collective humanity and solidarity on the frontlines of fracking.